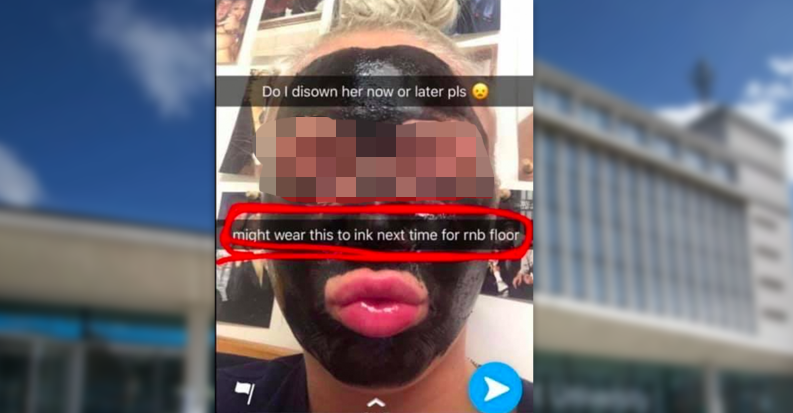 NTU investigate after student in black mask says 'might wear this to Ink RnB floor'
NTU are treating it as a 'matter of urgency'
Nottingham Trent has begun investigations after a student pictured in a charcoal face mask says she "might wear this to ink next time for rnb floor".
A screenshot was shared by another student on the Nottingham Buy/Sell Facebook group, captioned, "#blacklivesmatter. I am actually so tired of this."
The post was removed about an hour later, after it had received furious reception from other group members.
The girl in the photo is believed to be studying at Nottingham Trent University.
The photo was brought to Trent's attention on Twitter, with a tweet captioned "THIS IS DISGUSTING".
Nottingham Trent announced that they are investigating the issue as a "matter of urgency" and that they "do not tolerate any form of racism at NTU."
A Nottingham Trent spokesperson added, "We are aware of a post on social media which contains offensive content and have launched an immediate investigation into this matter. As part of this investigation we are talking to a current NTU student.
"Racism is not tolerated at NTU – we are a large and diverse university and incredibly proud of our inclusive community. Any complaints regarding alleged racist behaviour are dealt with seriously and swiftly and, where necessary, appropriate action taken under our Student Code of Behaviour."
After furious replies to the tweet, it was suggested that this student should be banned from INK Nottingham.
The Nottingham Tab has contacted Ink and the girl pictured for comment.