Campus Style: Mid-term fashion
Outfit on point…degree slowly crumbling
It's that great time again; the middle of the semester. Struggling between longing for Easter and dreading assessments beneath a pile of books, a guilty hangover and a bank account calling out for the overdraft, not a new pair of vans. Your body's telling you no but your outfit's telling you suck it up, go to uni and show me off. Nottingham students show us how to survive mid-term on-trend…
Zoe, 4th year Politics and American Studies
Zoe brings America to the industrial Midlands.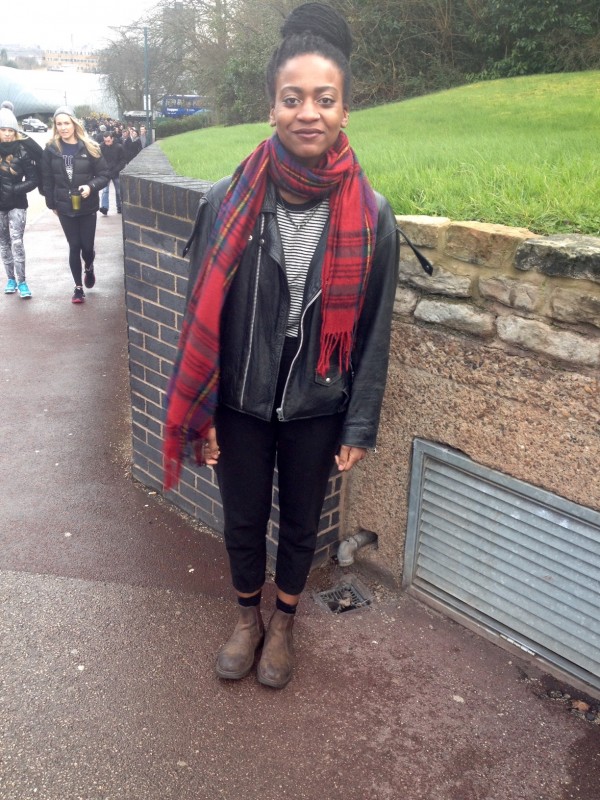 Details
Scarf: Asos
Jacket: Vintage
Top: American Apparel
Trousers: Topshop
Shoes: Dr. Martens
Go to shop: American Apparel
Adam, 2nd year American Studies
Turn mid-term 'don't look at me, talk to me or breathe near me' into on-trend Grunge…
Details
Coat: Topman
Shirt: Ralph Lauren
Jeans: Topman
Shoes: Dr Martens
Staple wear: Anything black  and baggy
Iain, 1st year History and Politics
Smile through the pain and cover up the exhaustion with a tailored coat
Details
Coat: New Look
Shirt: Asos
Jeans: Asos
Shoes: Lambretta
Go to shop: Zara
Holly, 3rd year History of Art
You wake up 5 minutes before your 9am and can't be bothered to throw on multiple items of clothing? Combine them all with the shirt dress…
Details
Dress: TOAST
Shoes: New Balance
Fashion inspiration: Anything minimal and TOAST when there's a sale on!
Georgie, 2nd year Biology
Put an end to bed hair with a cap and channel your inner vintage
Details
Jumper: Vintage
Polo neck: Vintage Gap
Hat: My brothers vintage cap (I sound like an advert for recycling)
Jeans: Topshop
Shoes: CAT
Go to shop: Asos Marketplace
Dorothy, 2nd year International Communications
I mean. Can we just take a moment out to appreciate how cute she is?!…Or how must of a mess she makes us feel?
Details
Coat: Manbridge
Jumper: UrbanOutfitters
Shoes: New Look
Go to shop: UrbanOutfitters
Jack, 3rd year Ancient History
Throw on that puffer jacket and cap for effortless 'I go to uni and have multiple friends'
Details
Coat: Tommy Hilfiger
Jeans: I got them somewhere in Italy (on your gap yaah?)
Shoes: Adidas Stan Smith's
Favourite Place to shop: Carnaby Street
Surviving the semester in style. It's easy right? Yeah easier said than done after that ambitious trip to Crisis.