Cult Culture: Top 5 British TV Shows That are Inexplicably Huge in America
The Tab gives you a rundown of surprise hits across the pond
| UPDATED
America
Cult Culture
tv
Everyone in entertainment wants to 'crack America'. Yet throughout history, the formula for transatlantic success has been shrouded in mystery. It's something Robbie  Williams could never quite perfect, but Natasha 'I wanna have your babies' Bedingfield somehow could. But that's just for music.
Attempting to pin down the recipe for TV programs is like trying to watch this year's X Factor: extremely difficult. So, as we settle back into another Autumn of fine British televisual viewing, The Tab gives you a run-down of our own beloved shows that somehow wowed over the pond.
1. The Office
David, Dawn, Gareth, Tim. Ask any person in the UK and these names, strung together, are like part of our own family, something mostly due to it's inherent Britishness. The travails of a Slough-based paper company were comedy crack to both critics and the masses, appealing both to our love of social awkwardness and fetish for futility.
Yet who would have predicted the show would've had the quite the same impact over in the happy-clappy US? Prior to their own saccharine portrayal of the daily grind, the yanks managed to fall in love with the original, earning Ricky Gervais three BAFTAS, two Golden Globes, and eventually an ego the size of Keith from accounts.
Inexplicability: 3/10. Yes, it was terribly British, but the premise was global, and will always remain comedy genius.
Keith on America: 
2. Sherlock
Look at them. Just look at them. Pale skin, floppy hair, overly ominous background and not a holster in sight.
There's little about a mildly homoerotic crime-fighting duo based on a  historical novel, solving mysteries in gloomy London that you think would appeal  to the land of Miami Vice and CSI. 
If you were to look any American gif-based tumblr in the last three years however, you'd be hard pressed to find one that wasn't dedicated to comparing Benedict Cumberbatch to aquatic mammals, or trying to isolate camera angles where him and Tim from number 1 nearly kiss.
The show turned from bubbling cult hit in the USA to a fully-fledged smash, with viewers now waiting almost as excitedly as the rest of us for season three to air.
Inexplicability: 5/10. With gripping plotlines and a lack of pretension, the series was bound to have gained some appreciation elsewhere. Just no-one realised how much.
3. Skins 
Joining The Office in 'shows where the American version is like the diet substitute of the UK original,' is Skins.
What's bizarre is that while most of the US populace ignored their flaccid re-make of the tragi-com centred around a gang of out-of-control teens, they lapped ours up like laughing gas at a warehouse rave in Bristol.
Part of the reason the American homage flopped was that they focussed too hard on the controversial aspects of the teen set-up, believing it to be the sole reason for the UK version's success, while ignoring the relevance and depth of character that the first two series managed to pull off so well. And since that relevance and depth came mostly from a feeling of overall 'Britishness', makes the show's prominence stateside all the more perplexing.
Inexplicability: 7/10. A show that says 'stiffy' in it was never going to be a sure-fire hit in the states.
4. Downton Abbey
"Things are different in America. They live in Wig Wams."
Above is one of a multitude of classic one-liners from the Dowager Countess of Grantham, otherwise known as national treasure Maggie Smith. She's a  part of something so classically British it's basically just the Queen condensed and regurgitated onto a reel of celluloid.
Therefore it's hard to see where the attraction lies for Americans in a world filled with upstairs/downstairs gossip, drama about spoilt puddings  and terror at the advance of electricity, but the show has been so successful over there it even got name-checked in an episode of Gossip Girl.
Many people put the unexpected smash down to the fact that the closest thing America has to aristocracy is the Kardashian Klan, and since their most famous daughter just named her child after a compass direction, they yearn for a touch of class, swapping Kourtney and Khloe for Sybil and Ethel.
It's just a shame Violet despises those pesky Americans so…
Violet: "I'm so looking forward to seeing your mother again. When I'm with her, I'm reminded of the virtues of the English."

Matthew: "But isn't she American?"

Violet: "Exactly."
Inexplicability: 8/10.
5. Doctor Who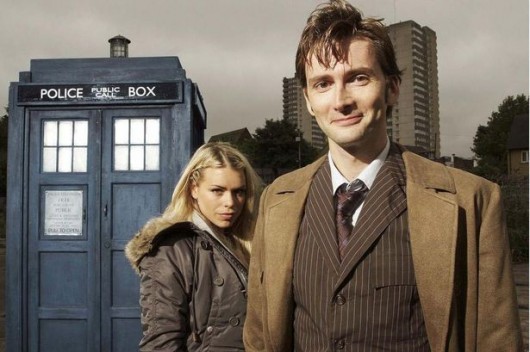 This is it: the Holy Grail of British TV. Dr. Who is so fantastically relevant to our shores it might as well be a bunch of bulldogs Morris dancing their way across Stonehenge, led by a union-jack clad Sir Ian McKellan off his face on London Pride.
Dr. Who screams Britishness. It's silly, homely and ever-so-slightly low budget entertainment at its best, drawing together the young and old alike to goggle at aliens that look like those papier mâché things you made in year 1. It's as far away from glossy US dramas as you can get, but with crackling scripts by Steven Moffat and Russell T Davies, it also feeds the mind.
Having said that, there also episodes like the one where Agatha Christie gets attacked by a giant wasp while everyone keeps saying "We're British!" Yet somehow the post-2005 incarnation of the show gained a cult following that burst forth into an all-out, nationwide geek-fest, the internet awash with talk of fish fingers and custard.
Inexplicability:  10/10.  A giant wasp.