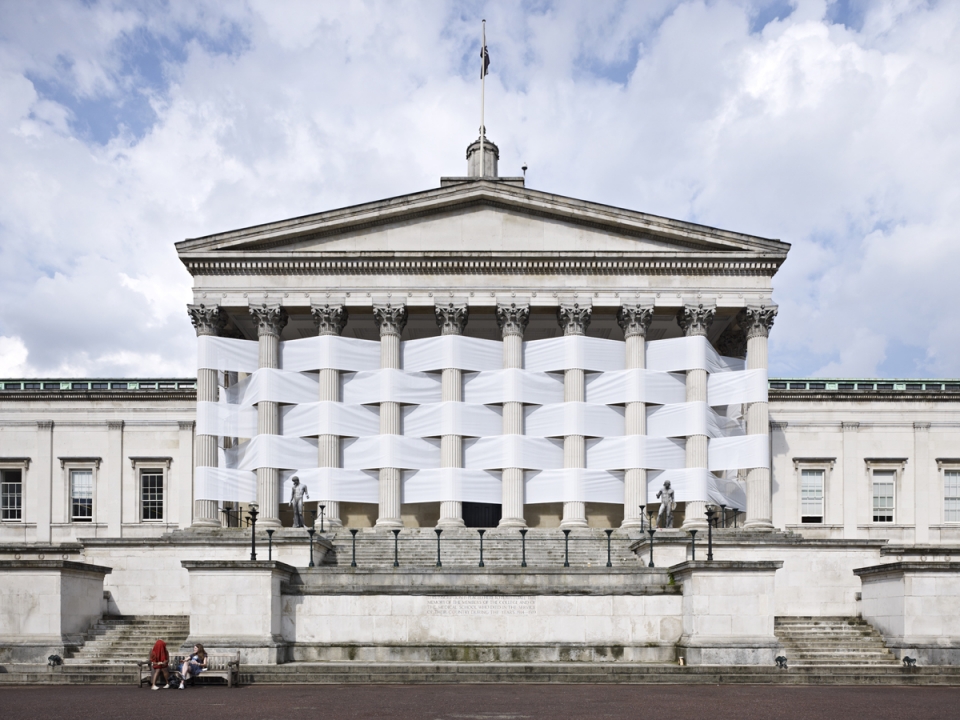 SLADE SCHOOL: Painting UCL Pretty
Laura Piccirillo takes a look at the art hub buzzing away at the heart of UCL
| UPDATED
The Slade School. You no doubt know of its existence or have seen the fruit of its work around campus (Wondered why white material was woven around the Portico last year or thought it was simply Malcolm Grant's idea of fun?), but how much do you really know about our 260 something arty UCL associates?
Marking their territory as the North Side of the UCL quad on Gower Street, The Slade School of Fine Art consistently ranks as the premier Art and Design educational institution in the UK. And whom can we thank for giving us this artistic gem I hear you ask? All hail Felix Slade! The school was founded in 1871, upon a generous donation by a certain Mr. Slade, whose vision it was to set up a school where fine art could be studied within a liberal arts university. It is not surprising then that the Slade has been at the vanguard of developments in the world of contemporary art since it's establishment 142 years ago, welcoming students from around the globe in true UCL Global University style.
As well as popping out many leading artists over the years (see below for famous alumni), The Slade School of Fine Art is also a great contributor to the study of contemporary art on both a national and international level. In fact, a Research Assessment Exercise carried out in 2008 demonstrated that 70% of the Slade's department of research activity, carried out by the practicing artists of the studio staff, was considered in the premier two categories of 'world leading' and 'internationally excellent'. No wonder they are recognised as one of the most outstanding art institutions in Britain.
Not only providing a canvas for our generation's greatest painters, an art form typically associated with Fine Art, today's Slade houses the staff, studios and technical facilities for sculpture and fine art media such as electronic media, photography, print, film and video and sound.
Below are just a few famous names that have graced UCL's corridors over the years using this variety of media…
Too cool for Slade school: Famous Alumni
Antony Gormley, sculptor
One of his best known works is the Angel of the North, a public sculpture in the North of England.
Sir Eduardo Paolozzi, artist and sculptor
Designed the mosaic-patterned walls of the Tottenham Court Road tube station.
His sculpture, "Piscator" can be found just outside Euston Station London.
Jenny Saville, artist
Saville's painting Strategy (South Face/Front Face/North Face) appeared on the cover of Manic Street Preachers' third album, The Holy Bible as well as her painting Stare (2005) used on the cover of the Manic's 2009 album Journal For Plague Lovers.
Rachel Whiteread, artist
 The first woman to win the prestigious annual Turner Prize in 1993.
If you've read this article and are worried about how you're going to find an outlet that will control your newfound excitement for UCL's Slade School (it's a serious concern), and have a burning desire to channel all your pent up artistic energy, then never fear! Do you study by day and moonlight as Van Gogh? Fancy yourself a dab hand with a paintbrush and palette? Pick up one of the many short courses available through the Slade this summer, over Easter or the Saturday and evening classes running throughout the year, and indulge in your inner fine artist.
For more information about the Slade School of Fine Art and their courses:
-Visit their website http://www.ucl.ac.uk/slade
-Check out the UCL Art Museum in the South Cloisters which holds over 10,000 prints, drawings, sculptures, paintings and media works dating from the 1490s to the present day.
-Place your bets on the next Picasso and venture down to the Slade BA/BFA Degree Show running from 18 – 23 May 2013.