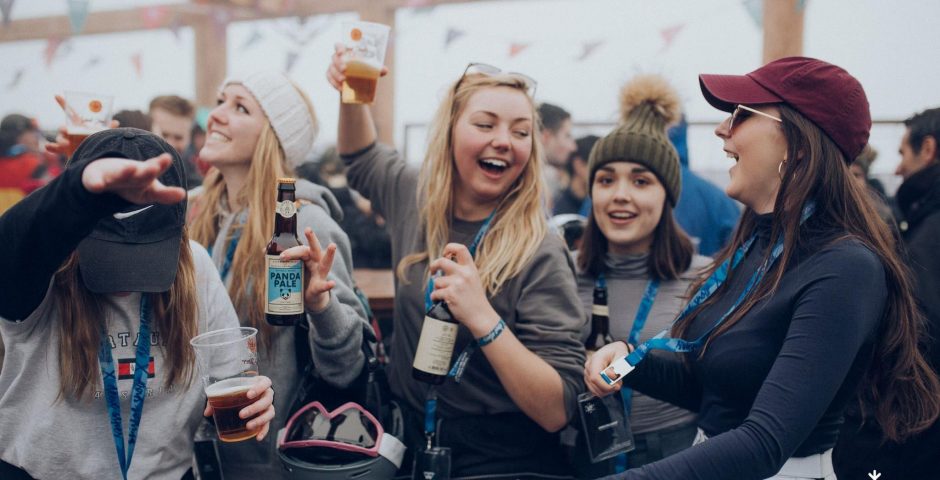 We got the exclusive from UBSC on why this year's ski trip is set to be their biggest and best EVER
Tickets go on sale TOMORROW
First time on the snow or never missed a season? Either way, it's fair to say that the annual University of Bristol Snowsports Club ski trip isn't one to be missed.
You might have heard by now that Bristol has the biggest trip by a single uni in the UK and this year with 1700 people hitting Alpe D'Huez for a week of pure powder, party and pandas (club mascot), things are set to go OFF.
Booking goes live for this much-loved rite of passage tomorrow at 12:00, so we spoke to UBSC about the reasons why you need to be there…
People get loose af on the slopes
The trip is a complete mix of talent, ballsy confidence and partying that no others can compete with. Be prepared to shred hard and party harder.
Apres is just pure FIRE
With so many Bristolians out there, UBSC make their presence felt in the Aprés resort. From confetti cannons to champagne showers, crowd surfers to crowd pleasers, beer peche, streamers and stupid giant inflatables: expect the lot.
Throw in some DJ sets from the likes of Toyboy & Robin, Triple Cooked residents and the Weaver Bros and you can see why there's nothing like a Bristol Apres.
Events like nothing else
Making sure there's something for everyone is one of the trip's strengths. So whether you fancy hitting up the rail jam with Jibworx, getting wavy on the infamous Valley Rally, tearing through the slalom, dancing on tables at Bongo's Bingo, finding the Secret Mountain Party or just taking it easy in the spa, rest assured you'll find your calling.
Getting soaking wet before apres isn't everyone's idea of predrinks but last year the club had about a hundred brave souls skim the 'lake' with varying degrees of success. A guy tried to shotgun a beer while doing it but crashed into one of the photographers.
The music's on point
The headline acts make the Bristol trip so unique. The Bristol Snow Presents Arena has seen some huge talent including My Nu Leng, Redlight, Oneman, Majestic, Pat Nazemi and even a Cirque Du Soul takeover. Let's just say 2018 won't disappoint.
Shred your way to happiness

If all of that hasn't persuaded you then don't forget the main reason we hit the Alpes: we love the slopes. With over 250km of glorious piste in Alpe D'Huez and a peak at 3330m, you'll be sending a new line every day.
For the 17/18 season UBSC are heading back to the Alpes for their biggest, maddest, snowiest and steaziest trip to date. With 1700 places now up for grabs it's shaping up to once again take the crown as the highlight of the UoB calendar.
Expect big names and big stages, loose clothing and even looser antics. And because it's Bristol, a fair helping of sadly-not-so-ironic wavy garms.
Alpe D'Huez 2018 booking goes live at 12:00pm this Friday (October 20th). To book, head to this link here and use the code WEAREBRISTOL.
You'll need to be a member of the snowsports club before booking however, so sign up here.
SEE YOU THERE!