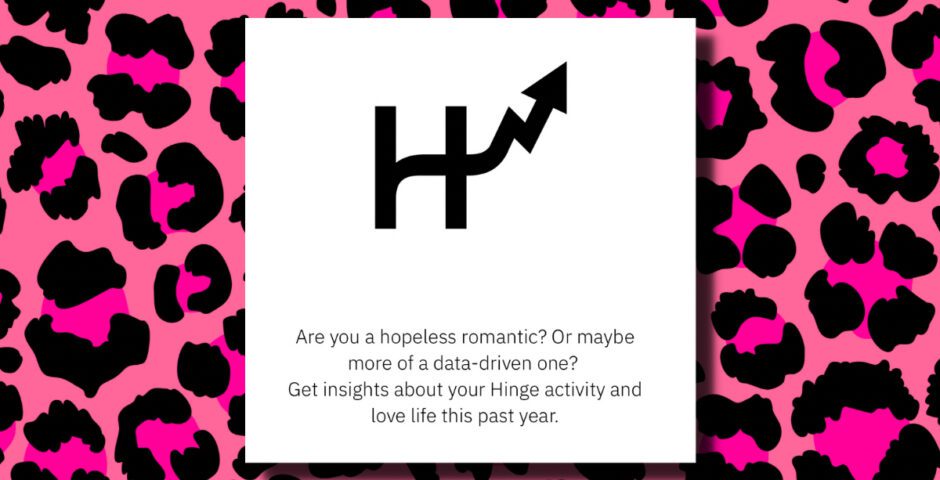 I regret to inform you Hinge Wrapped is a thing, and this is how you can find it
I spent 10,000 minutes getting the ick apparently!
Right, I've only been single since September, and I'm already hating how much I can find out about my dating app data. Do I really need to know about all the wine-fuelled 3AM texts I've sent, people I've unmatched, or how many times I've matched with a person before realising that actually, they're not as fit as I first thought they were?
Yes. Yes, I do.
Don't ask me why. I feel like the haze of regret I experience every time I open Hinge prevents me from actually knowing what my dating app habits are like. But now, with Hinge Wrapped, you actually get a full breakdown of how you've cracked on this year. And this is how you can access it. You're welcome, world.
How do I find Hinge Wrapped?
It's important to note that Hinge Wrapped isn't actually part of the app, so Google is defo your friend here. Once you've searched it up, the first result – hingewrapped.com – is the site you need to click on.
Now, you need to upload your data. To find this, you need to go into the app and find account settings. Find your way to Download My Data, and select "okay". Annoyingly, you'll probably receive an email saying it'll take a few days to process.
After a few days, Hinge should've emailed the doc to you (the file name is matches.json, according to the website). Upload the doc to Hinge Wrapped, and you'll be greeted with a whole PowerPoint about your Hinge habits.
What does Hinge Wrapped show me?
According to the site's creator, Niko Draca, this is what Hinge Wrapped shows you:
1. How many people you've encountered on the app, and how many you've said yes to.
2. All your likes, matches and rejections (!!) over the year. Self-esteem not included. 
3. The time of the day you send the most messages. 
4. How many people you've chatted with in total, and how long those conversations have lasted. 
5. Your longest conversation of the year.
6. The emojis you used the most.
7. A word cloud – i.e. the words you used the most with matches. 
Related stories recommended by this writer: