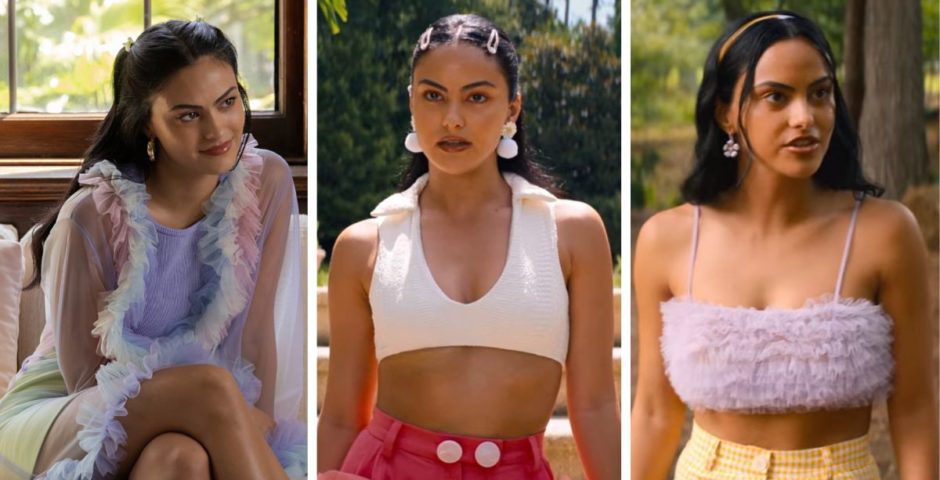 All of Drea's outfits in Do Revenge, ranked from iconic to even more iconic
I need her entire wardrobe right NOW
Do Revenge is the best thing Netflix has ever made – everything from the fashion and outfits, to the soundtrack and plot twist, is simply chef's kiss. No notes, your honour! It is sheer perfection and belongs in the teen movie halls of fame alongside the greats like Mean Girls and John Tucker Must Die.
But what would Clueless be without Cher's yellow outfit, or Legally Blonde without Elle Wood's iconic pink looks? No true teen movie would be complete without an iconic wardrobe full of outfits, and Do Revenge is no different. Naturally Drea is the fashion queen of the film, so here are all of the outfits Camila Mendes wore in Do Revenge, ranked by how iconic they are:
Warning: Contains spoilers for Do Revenge, obv x
15. Farmer dungarees
Starting off strong with undisputedly the worst outfit, these brown/mustard dungarees with sage green t-shirt underneath and two pink roses embroidered on it. I know this is what everyone on the farm had to wear but it's a big no from me. Thank you, next x
14. Brown … glitter?
Okay so the checked crop top is a vibe, but that jacket is not it. Something about the collar and buttons just seems off, and is it glitter?? It just looks itchy tbh.
13. Omw to do some revenge in this pink and white outfit x
This is what Drea wears when she goes to see Carissa in rehab, and finds out that she herself is the one who hurt Eleanor. In this pic above she looks stunning, because when could Camila Mendes ever not, but it's once again a questionable outfit. Love the hair clips and pom pom earrings, hate the pink shorts that have just had lumps of tulle stuck to the front of them for no apparent reason.
12. Whatever this is
This was a fleeting scene where Drea was just sitting down, spinning Carissa's keys around in her hand, but I wish we'd seen more of this outfit, that looks like a blazer dress with a big red belt. Between the red gingham sleeves and the green and white stripes, it's safe to say there's a lot going on here.
11. School uniform
Okay can I go to Rosehill please? As school uniform outfits go, the ones in Do Revenge are a big vibe. Sage green and lilac? Yes please. People are saying the popular group's jackets remind them of the Pink Ladies' jackets in Grease, and I love them:
And this nod to Clueless with the pink feather pen was amaze:
10. Red houndstooth
This red houndstooth waistcoat and trousers for the scenes where Drea is giving Eleanor a makeover is a little bit iconic. But it's also honestly just quite chaotic, and for that reason it is not nearer the number one spot on this list.
9. Tennis chic
How does Camila Mendes manage to make what is essentially a PE kit look good?? It's not fair x
8. Birthday girl
This is Drea's birthday party outfit right at the start of Do Revenge, which she apparently thrifted because she's a sustainable queen. The combo of blue with the sheer orange jacket shouldn't work but it actually looks so cool, with the jacket tied in a bow at her waist for that added touch of Y2K.
7. Gingham shorts
This lilac crop is to die for, and the yellow gingham with it weirdly looks so good. If this outfit was a skirt or trousers, it would be firmly the best outfit of Do Revenge. But unfortunately for us all, it's actually long shorts, and that is unforgivable.
6. Green queen
I need this green velvet top in my life, like literally right now.
5. Chain and sequin dress
Just look at that dark green sequin dress, and the chunky gold chain straps. I have goosebumps. This is one million times better than your prom dress ever was or could be, soz.
4. Blue monochrome
Ice queen, but make it 90s fashion icon.
3. Clueless vibes
If the 90s was summed up by Cher's yellow outfit in Clueless, I need this year to be summed up by Drea's yellow look in Do Revenge. I mean, just look at it! Everything from the fur collar and cuffs to the heart clasp at the middle of the jacket is sheer perfection. The purple headband and earrings are a big win, too.
2. Pastel icon
The lilac and yellow combo is stunning, and I don't know what the sheer jacket thing is but I'm here for it. This outfit is nothing short of iconic, and it was so nearly in the number one spot. Speaking of:
1. A pink dream
The creme de la creme, the piste de resistance. Nothing in the world can possibly top this pink outfit of absolute dreams. The white sunglasses and chunky earrings are a huge vibe, and the pink hair clips complete it. Top that off with the fact that Drea has a lilac steering wheel – because of course she does – and you're on to a surefire winner. Big Barbie vibes and I am simply obsessed.
Do Revenge is out on Netflix now. For all the latest Netflix news, drops, quizzes and memes like The Holy Church of Netflix on Facebook. 
Related stories recommended by this writer:
• Just 39 memes that prove Do Revenge is the best Netflix movie of all time
• Everything critics are saying about Do Revenge, the Netflix film called 'next Mean Girls'
• Do Revenge drops on Netflix tomorrow, so here's where you recognise the iconic cast from
All images via Netflix