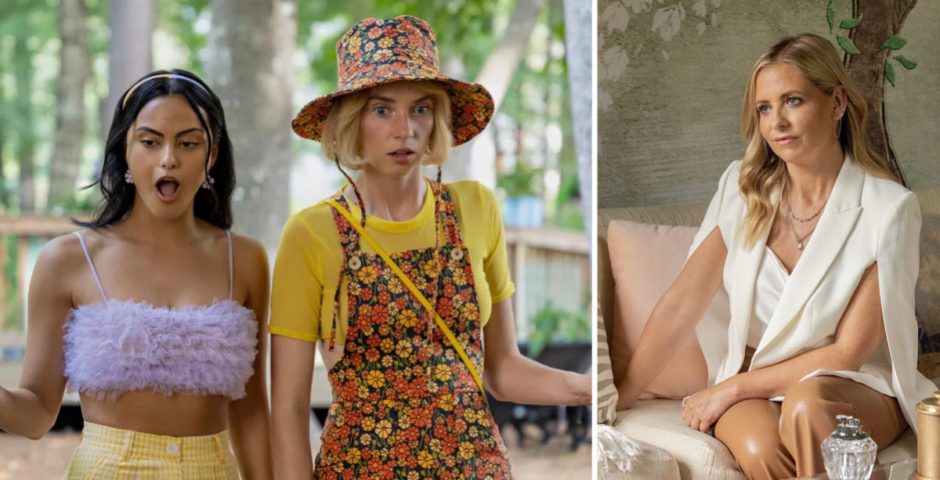 Do Revenge drops on Netflix tomorrow, so here's where you recognise the iconic cast from
Maya Hawke!!! SARAH MICHELLE GELLAR!!!
Do Revenge finally drops on Netflix tomorrow after the hype has been steadily building for ages – and the cast is as iconic as the poster. In fact, I'd say Do Revenge has got a cast so legendary, it's up there with the best I've ever seen for a Netflix film.
Do Revenge is a reimagining of Alfred Hitchcock's Strangers on a Train and is the story of two high school girls who team up to exact revenge on their bullies. Just when you thought it couldn't get any better than Maya Hawke and Camila Mendes, Netflix dropped an earth shattering bombshell. Sarah Michelle Gellar, the greatest actress in the world as far as I'm concerned, is starring in Do Revenge. I've not known peace since and it's the best news I've ever heard.
Here's the vibey cast of Do Revenge on Netflix, and where you recognise them from!
Camila Mendes as Drea Torres
Camila Mendes takes one of two leads in Do Revenge, playing Drea. Drea is a popular and preppy girl who claims she's spent years of her life curating the perfect life and relationship with her boyfriend. Something tells me that's not going to end too well, but we will see! Camila Mendes is best known for her lead role on Riverdale, where she's played Veronica Lodge since 2017.
Camila has also starred in Palm Springs with Andy Samberg, and in the Netflix films The Perfect Date and Dangerous Lies.
Maya Hawke as Eleanor
The one, THEE only, Maya Hawke stars as Eleanor, described as a new transfer to the school, awkward and shy, and faced with having to attend alongside her old bully Carissa. Maya Hawke is Netflix royalty at this point – and she was even before, thanks to her parents being Uma Thurman and Ethan Hawke. The best nepotism baby going, I fear.
Maya Hawke is known for her iconic role as Robin Buckley in Stranger Things. She also starred in a supporting role in Quentin Tarantino's Once Upon a Time in Hollywood and starred in Netflix's Fear Street trilogy.
Sophie Turner
Sophie Turner is lined up for a cameo role in Do Revenge, and we don't know the name of the role yet. But from the picture above, I'm betting it's going to be iconic.
Sophie Turner is known for her iconic role as Sansa Stark in Game of Thrones. She's also played Jean Grey / Phoenix in the X Men films from 2016 onwards.
Sarah Michelle Gellar
I literally nearly vomited up my burrito bowl in excitement when I saw Netflix tweet that Sarah Michelle Gellar would be starring in the cast of Do Revenge on Netflix as a role we know is the headteacher of the school the film's set in. She's potentially my favourite woman in the world and that is not an exaggeration.
Sarah Michelle Gellar is best known for playing Buffy Summers and changing the course of history because of it. She's also played Daphne in the live action Scooby-Doo films, a scream queen in horrors like I Know What You Did Last Summer and The Grudge, the iconic Kathryn Merteuil in Cruel Intentions and had the lead in Ringer and The Crazy Ones.
Austin Abrams as Max
We know nothing about Max, but we do know that Austin Abrams of Dash and Lily fame will be playing him! Austin Abrams also starred in The Walking Dead.
Other cast members
The cast of Do Revenge on Netflix is rounded off with Eliza Bennett (Inkheart, Nanny McPhee), Alisha Toe (13 Reasons Why), Talia Ryder (Never Really Sometimes Always), Paris Berelc, Jonathan Daviss (Outer Banks!!!) and Maia Reficco (Pretty Little Liars: Original Sin).
Do Revenge is out on Netflix on September 16th. For all the latest Netflix news, drops, quizzes and memes like The Holy Church of Netflix on Facebook. 
Related stories recommended by this writer:
• People are 'shocked' by 'terrifying' and 'insane' Sins of Our Mother on Netflix
• Sins Of Our Mother: Where are Lori and Chad Daybell now?
Featured image credit vis Netflix.