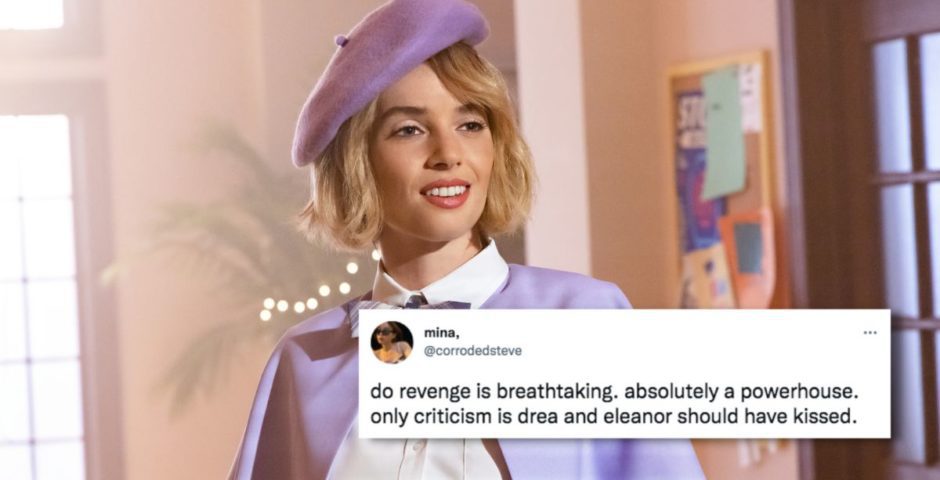 Just 39 memes that prove Do Revenge is the best Netflix movie of all time
Do Revenge is the best film on Netflix of all time and these 39 memes and reactions prove it. Everything about this movie was iconic and not a single crumb was dropped. From the outfits, the cast, the soundtrack, the gorgeous friendship between Drea and Eleanor and that plot twist – big wows all round. Not a single gay or girlypop was left unattended to whilst watching this movie and I will cherish Netflix until the day I die for that.
Do Revenge has landed itself amidst the greats alongside Mean Girls, John Tucker Must Die and the likes of Clueless. It's gorgeous, camp and iconic. Here are 39 memes that prove Do Revenge on Netflix is the best film of all time.
1. You and I both know this is true
2. Facts
3. I am shaking over how iconic this movie is
4. Radiating Glennergy
5. I love when they do bad things too!
6. I'm sensing a theme here
7. SO personal
8. Literally this
9. This scene is perfection
10. Umm, normalise being obsessed with all three
11. Super casually
12. Netflix's best movie of all time I fear
13. Immaculate
14. They knew what they were doing
15. CINEMA
16. Who's been sleeping on Camila may I ask??
17. I AM SHAKING
18. Maya's not wrong
19. Enough
20. So true
21. Love and hate the revenge mommy lines
22. Take! My! Money!
23. Unreal
24. A powerful mix
25. End of
26. What is your point???
27. Nothing is the same when you learn the twist
28. RETWEET
29. A model for nepo babies everywhere
30. Ugh she's so cool
31. So good
32. Love Oscar Winner Olivia Colman
33. ABSOLUTELY
34. Toxic but true
35. A good swing
36. Sad but true
37. Stop it
38. Gaslight gatekeep girlboss looool
39. Such a wild and fast turn of events
Do Revenge is out on Netflix now. For all the latest Netflix news, drops, quizzes and memes like The Holy Church of Netflix on Facebook. 
Related stories recommended by this writer:
• Everything critics are saying about Do Revenge, the Netflix film called 'next Mean Girls'
• Do Revenge drops on Netflix tomorrow, so here's where you recognise the iconic cast from
• Here is where you recognise the cast of Netflix's Fate: The Winx Saga from