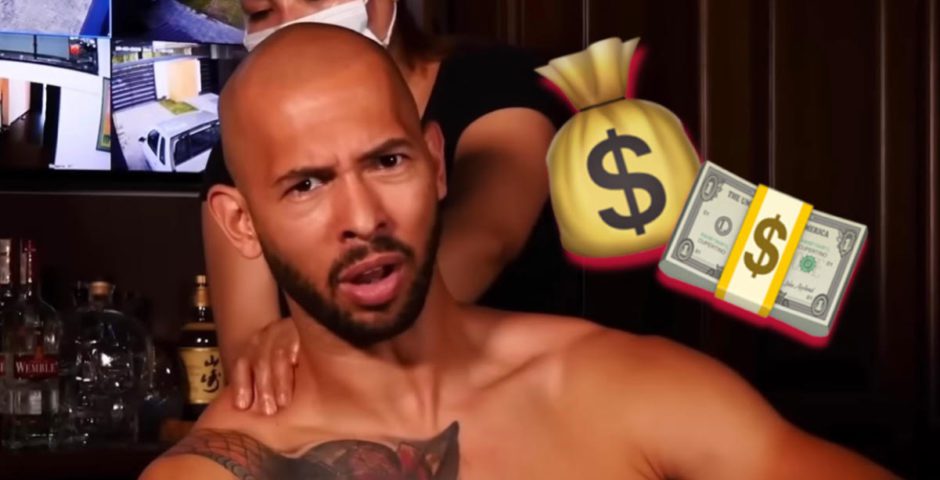 Okay so just how rich is Andrew Tate, and how did he make all of his money?
He's always on private jets and claims to own 27 supercars
Andrew Tate is inescapable right now. Whether you're seeing Instagram story infographics blasting his misogyny and demanding his videos be taken down or have had the misfortune of enduring one of his podcast clips when scrolling through the TikTok For You Page, he's everywhere. It doesn't take much inquisition to see that Andrew Tate lives a life of extreme wealth – but how exactly did he get so rich, how does he make his money and what is his net worth?
He runs an online course called Hustler's University
Andrew Tate runs an online subscription service course called Hustler's University. Subscribing to his course would set you back $49.99 a month – and he currently has over 100,000 subscribers to it. That works out at Andrew Tate earning five million dollars a month from Hustler's University alone.
In addition to Hustler's University, Andrew Tate runs a casino business in Romania.
He initially got rich via a webcam company
After Andrew Tate came out of his kickboxing career, he described himself as "broke". He then set up a webcam business with his brother and when this business was at its peak it was allegedly earning $600k a month with 75 girls working for him. The money made by Andrew and his brother was then invested into cryptocurrency and turned a huge profit.
Because of his appearances on so many podcasts where he shared his controversial and widely condemned views, his subscription course saw an increase of interest.
What is his net worth? How rich is Andrew Tate?
According to Bio Overview, Andrew Tate has a combined net worth of $250 million as of 2022. He has also (jokingly) referred to himself, however, as a "trillionaire".
For all the latest TikTok news, the best memes and quizzes, like The Holy Church of TikTok on Facebook. 
Related stories recommended by this writer:
• A timeline of every single messed up thing Andrew Tate has done to date
• What the hell is Pink Sauce and why is it all over my TikTok right now?
• Just so you know, you could get banned from Tesco if you use the TikTok method