This is what the Love Islanders do, according to their LinkedIns
Jay has 500 connections on LinkedIn and yet couldn't even make one in the villa
Everyone knows that whilst the Love Island cast say they're going on the show to find love, a big attraction of spending eight weeks in a Majorcan villa on ITV2, is that you can make a pretty decent career of being an influencer by doing so. The minute the Islanders are dumped at Stansted airport the majority of them are offered contracts with fast fashion and beauty brands, occasionally they even get their own reality show or go on to become a presenter, author or podcaster. Basically, they can sack off their old boring jobs faster than you can say discount code.
However, before this inevitable career change takes place, many of them had pretty standard jobs and of course created a LinkedIn to go along with this. We've done some serious deep diving through LinkedIn to find the profiles of the Love Island 2022 cast. Not all of them have accounts, but those that do reveal a *lot* about themselves.
These are all the LinkedIns of the Love Island 2022 cast:
Andrew Le Page
Day one Islander Andrew Le Page works in real estate in Dubai and according to his LinkedIn he's been at Betterhomes LLC since August last year.
The rest of Andrew's LinkedIn is pretty sparse, it says he used to work as a personal trainer at Fitness First. Besides that Andrew has the school he attended listed which is Millfield School, where former Love Islander Charlie Brake also attended. The school costs a casual £14,000 per term to attend as boarder.
Andrew's LinkedIn profile picture is very clearly a professional photo of him in what appears to be the Barbican. His main interests listed on his page are all recruitment companies.
Davide Sanclimenti
Right even though he may act like one Davide is not actually a comedian in his day to day life, instead according to his LinkedIn he is the director at S Deluxe Shisha from July last year. Davide owns the shisha company which reportedly distributes shisha to a number of Manchester night clubs and restaurants.
Before setting up his own company Davide worked as a junior financial officer, an accounts assistant, and a sales manager in Manchester. He has three degrees, all of which are first class honours, including an MsC in Accounting and Finance from the University of Salford. He also has 11 finance certifications.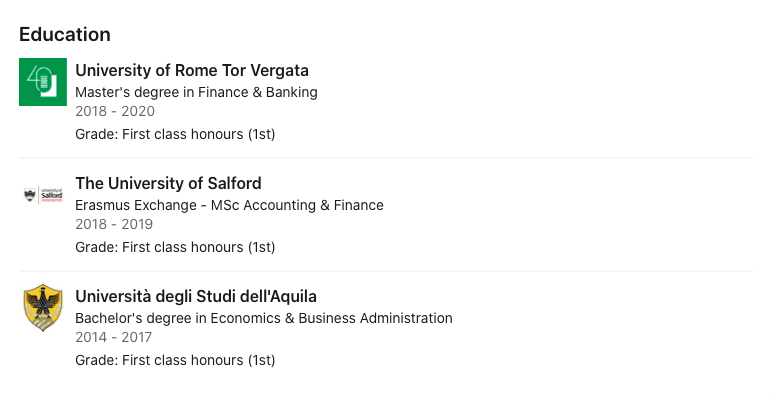 The best thing about his entire LinkedIn page is who Davide follows which includes Bill Gates, Christine Lagarde, and um, Boris Johnson. Is Davide secretly a Tory?
Indiyah Polack
So there are two accounts which appear to belong to Indiyah, however the main one says her most recent job was working as a hospitality assistant at the Four Seasons. Indiyah also had jobs at Waitrose, John Lewis and nine months working in fashion brand Chloé as a retail assistant which ended in May this year, just before she went into Love Island.
In her self description Indiyah says she has "great people skills", a "positive attitude", and would be an "asset" to any company she would work for, which I could not agree more with.
Jay Younger
Before he went on Love Island Jay worked as an investment banker, which makes a lot of sense. According to his LinkedIn he's worked at Aubrey Capital Management for the last three years. Before that he was a junior investment analyst at a different company in Edinburgh.
Jay graduated from Heriot-Watt University in 2017 with a first class degree in Economics and Finance. He even won the Economics Departmental Class Prize in his final year. Smarty pants.
Jay has been endorsed for his leadership, timekeeping and team work skills. He has over 500 connections on LinkedIn, and yet couldn't make one in the villa. Probably best to go back to the numbers Jay.
Coco Lodge
Coco's real name is actually Chloe, which is what her LinkedIn is created as. Coco has been very busy over the last few years with jobs at Ciaté London as a social media assistant and at Benefit Cosmetics as a beauty artist. She's also worked at an events company as a content marketing executive. However her most recent listed job is as a freelance graphic designer which she's been doing the start of the pandemic.
Coco's LinkedIn also includes her degree from Ravensbourne where she got a 2:1 in Fashion Promotion.
She currently doesn't have a profile picture on her LinkedIn but does have a number of charitable causes she's interested in which are human rights and animal welfare.
Charlie Radnedge
This year's posho Islander Charlie Radnedge's LinkedIn account certainly hints at his privileged lifestyle. First there's the school he went to which costs just over £13,000 a term to attend as a boarder. Then there's his uni – he went to Newcastle and played on the rugby team. Pretends to be surprised.
However, it does appear Charlie has done a lot of work. He went to Henley Business School after uni and has since been working in real estate acquisition and development.
Charlie follows three people on LinkedIn which are Bill Gates, Richard Branson and the president of Queen's College, Cambridge, Mohamed El-Erian.
Ikenna Ekwonna
When Ikenna first entered the villa he was said to work at Astrazeneca, aka the company who made one of the COVID vaccines, and it turns out he really did.
Ikenna has worked at Astrazeneca since graduating last year as a remote primary care accounts specialist (whatever that means).
During his time at Nottingham University Ikenna worked at the Walgreens Boots Alliance as a customer service specialist. On his LinkedIn profile Ikenna said he is a "young academic professional looking to be successful within the Pharmaceuticals industry."
He has nearly 300 connections and his profile picture is from his graduation. Classic.
Afia Tonkmor
During her brief time on Love Island I really had no clue what Afia meant when she spoke about her job, and now that I've been on her LinkedIn, I'm still pretty unclear.
According to her profile she has been a healthcare assistant at Bluebird Care which is a home care services company.
She doesn't have much else on there apart from 11 connections and she also follows Steven Bartlett.
Summer Botwe
According to her LinkedIn Summer is currently unemployed but until April this year she was working as a compliance officer for the Acacium Group.
Before this she's worked as a sales assistant at JD Sports, New Look and two betting shops.
In her description of herself Summer says she is a "hardworking person who can easily follow instructions" and is sociable and confident, which sounds pretty bang on to be fair.
Love Island 2022 continues on ITV2 at 9pm tonight. For all the latest Love Island news and gossip and for the best memes and quizzes, like The Holy Church of Love Island on Facebook.
Related stories recommended by this writer:
•Inside Gemma Owen's boujie life: Trips to Dubai, a £4million home, and £20k necklaces
•I'm calling it now, Tasha is the new queen of the villa and does not deserve your hate
•These are all the Love Islanders who went to private school