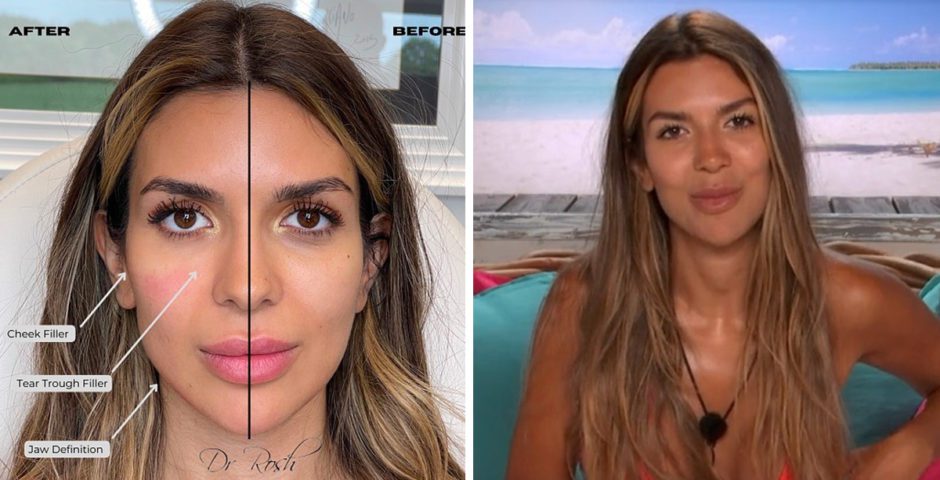 From fillers to a boob job: All the surgery Ekin-Su had before the Love Island villa
We love an honest queen x
Ekin-Su Cülcüloğlu hasn't exactly shied away from the fact she had a lot of cosmetic surgery and work done before she entered the Love Island 2022 villa. On Instagram she has story highlights for some of her work, and has done Q&A sessions with her followers to share what her experiences have been like.
And you can't deny, Ekin-Su looks great. But what exactly has she had done, and what has she been opening about having done? She's said she spent thousands on cosmetic procedures, just months before joining the latest cast in the villa. Here is a rundown of all the cosmetic surgery Ekin-Su had before Love Island.
She had £1,200 worth of fillers in her face

Just this week, a clinic has posted a video called "Love Island prep with Ekin-Su" where it goes through her getting fillers in her face. The clip sees her getting filler to "add volume to the cheeks", and getting tear trough filler to "get rid of under eye hollows". Finally, the clip shows her getting more filler to define her jawline.
"Oh my god, how have you done this? My face looks smaller as well," Ekin-Su can be seen saying to the doctor at the end of the procedure. Posting on Instagram, her doctor added: "Ekin-Su came to see me in preparation of entering the villa. We decided to add subtle changes but still keeping everything looking very natural! First, we added tear trough filler to fill the hollows and give her that gorgeous 'Eight hour beauty sleep' refreshed look 😊 Then, I feathered in some filler into the lateral cheeks to soften her middle cheek fullness and jaw filler to lift and create more definition."

The procedure is said to have cost her £1,200.
A boob job
On her Instagram story before she arrived in the Love Island villa, Ekin-Su posted about getting surgery, including getting her teeth done and a boob job. She did a Q&A session with her followers, telling them they could "ask questions based on my surgery journey". She then said she went flew to Turkey to get some of her work done.
She had a breast lift done in Istanbul, at Comfort Zone surgery. In an Instagram highlight, called "surgery journey", she answered some questions about what she has had done. When asked if she was scared about getting the procedure, she said: "I am a little nervous can't lie, however I know I'll be in good hands and of course after care is so important. I'll be staying in the villa for up to a week. The nurses look after you 24/7."
Ekin-Su also spent £4,000 on getting her teeth done
Ekin-Su visited Dental Design in Antalya, Turkey, for veneers – which she said cost her around £4,000. During the procedure, she had 10 teeth done at the top of her mouth and 11 at the bottom. In an Instagram story highlight, she walks followers through everything she did – from arriving in Turkey, to picking the shade of her teeth. She said the service was "10/10" and she felt "no pain" just "some sensitivity". "If you want to get your teeth done, go for it," she said.
Love Island 2022 continues on ITV2 at 9pm tonight. For all the latest Love Island news and gossip and for the best memes and quizzes, like The Holy Church of Love Island on Facebook. 
Related stories recommended by this writer:
• Revealed: Ekin-Su sent savage text messages slating her fellow Islanders
• Wait, Love Island's Antigoni is in music videos with Miles Nazaire and Jack Fowler?!
• More old pictures of Love Island's Ekin-Su have resurfaced and she looks SO different now