All the celebrities who have spoken at graduation ceremonies
Imagine Stormzy turning up to your graduation
Graduations are pretty average affairs. You wear your cap and gown, see hundreds of people you didn't know were on your course collect their degrees, and listen to a dull speech from an old white guy. But for a select few they get to have a graduation speech from a major celebrity, I'm talking Meryl Streep level of celebrity. Imagine rocking up to graduation and having Meryl Streep give you life advice? I would listen to every single word.
Over the years a number of celebrities including actors, musicians and comedians have given hilarious and moving speeches at graduation ceremonies across the world. They're often there to receive an honorary degree but sometimes they do just give a great speech. And only yesterday Stormzy received an honorary doctorate at the University of Exeter. Yes I'm still jealous.
These are all the celebrities who have spoken at graduation ceremonies:
Stormzy
View this post on Instagram
Yesterday Stormzy attended the University of Exeter graduation ceremony and received an honorary degree for his outstanding contribution to society.
As well as receiving his degree, Stormzy gave a speech to the graduates, praising them for their achievements.
He said: "It took a hell of a lot for you to get here today. Your journeys to get to this moment were hard fought. The road you took was not easy. And this is coming from someone who tried to walk that exact same road and failed."
Stormzy also thanked his mum, who was sat front at the graduation, and said it was her biggest dream to see him graduate from university. He ended his speech saying "Dr. Mike, over and out."
Taylor Swift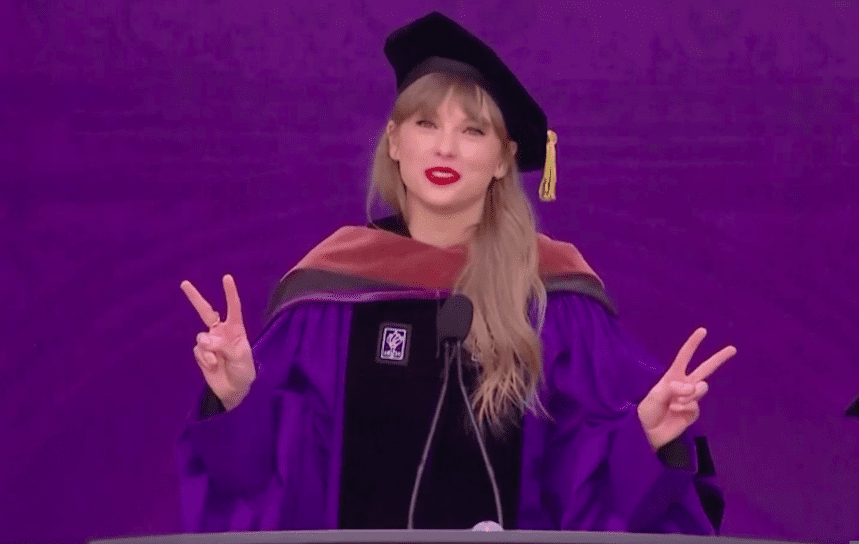 In May this year Taylor Swift attended the NYU graduation of the 2022 class. She was awarded an honorary doctorate in fine arts from the university and addressed the class.
She gave a lengthy uplifting speech and told the graduates hard things happen to everyone but they will recover from them and to never be afraid of trying. Taylor also urged the graduates to embrace living "alongside the cringe".
In her speech Taylor made multiple references to her song "22", even ending the speech with "So let's just keep dancing like we're…the class of 22."
Laverne Cox
Orange Is The New Black actress Laverne Cox attended the graduation ceremony of Pitzer College in 2019 and gave the keynote speech.
In her speech she referenced bel hooks and spoke about the language used to speak about transgender men during Alabama's strict abortion bill.
Laverne also told the graduates how she thought she would be a star after university but it didn't happen and she was living in New York, waiting tables.
She ended her speech by telling the graduates to "not give up before the miracle" and to go "forth toward your dream".
Mindy Kaling
In 2018 Mindy Kaling returned to her Alma Mater Dartmouth, where she graduated from in 2001, to deliver the commencement speech.
Throughout her speech she made a number of jokes and even made a reference to her upcoming movie at the time Ocean's 8.
She advised the graduates to not worry if things don't go in the order they expected them to and to not let anyone tell them they can't do something.
Near the end of her speech, Mindy also gave some practical advice, most importantly to remove "proficient at Word" from their CVs.
Meryl Streep
Imagine if Meryl burst into a Mamma Mia rendition during your graduation? I would simply die. Sadly, she didn't do that when she spoke at Barnard College in 2010.
Instead she told the graduates they didn't need to be famous, they just had to make their parents proud, which they already had.
Meryl also shared her first experience of acting with the graduates and celebrated the number of degrees being given to women.
Tom Hanks
Over the years Tom Hanks has given a few commencement speeches, including one at Yale, however his most recent one took place during the pandemic when he surprised students with a virtual speech.
In May 2020, he sent a virtual message to the graduating class of Wright State and referred to the group as the "chosen ones" because they were graduating in a middle of a global pandemic.
Tom ended his short speech by saying: "Now, the future is always uncertain, but we who celebrate what you have done, who celebrate all of your achievements, we are certain of one thing on this day, you will not let us down."
Ken Jeong
The Hangover's Ken Jeong has spoken at a number of graduations, most recently speaking at Tulane in May earlier this year. Ken studied at Tulane as part of his medical degree and thanked the university for everything it had done for him.
Of course his speech was hilarious and including a plug for his new Apple TV+ series. He also paid respect to New Orleans, where Tulane is located, and said how the city had made him who he was today.
Steve Carell
In 2012 Despicable Me's Gru, aka Steve Carell, addressed the graduating class of Princeton. Amongst his inspiring advice Steve ended his speech with a number of um, helpful life tips?
He told the graduates to get a dog because cats "are lame", never explain a "that's what she said" joke to your parents, and only use a "that's what she said" joke if you absolutely cannot resist.
Steve's final line of advice to the graduates was to do something kind for someone else and not take yourself too seriously.
Natalie Portman
12 years after graduating with a psychology degree from Harvard, Natalie Portman returned to her Alma Mater to give the commencement speech.
She shared her experience of first arriving at Harvard and how she worried people only thought she got her place because of her career.
Natalie also shed light on the difficulties she had at the university including crying in front of professors, dealing with her first heartbreak, and being able to get out of bed in the morning.
However she ended her speech by urging the graduates to keep hold of the people they'd met at university as they would be their "family and school for life."
Jane Lynch
You may not want Sue Sylvester at your graduation, but it would be cool having Jane Lynch there, and that's exactly what the graduates of Smith College got in 2012.
Jane gave a speech referencing her own connections to the Smith alumni including her wife Lara, who was a graduate of the 1991 class.
She advised the students to not have a plan for life and instead let life surprise them. Jane ended her speech saying she was proud to be a Smithie.
Lisa Kudrow
In 2010 Lisa Kudrow gave the keynote speech at Vassar College and I'm gutted that she didn't sing Smelly Cat from Friends.
Vassar is Lisa's Alma Mater and she explained how she went from a biology major to an actress on Friends, which she said was just a few years after her graduation.
She ended her speech by saying she wished the students the best of luck in "whatever it is that you want."
Featured image credit via SWNS
Related stories recommended by this writer:
•Stormzy is funding two more black students to go to Cambridge
•Fresher ineligible for loan gets £23k from Taylor Swift to reach fundraising goal
•'I had no connection to my uni': Meet the students who aren't going to their graduations