Fresher ineligible for loan gets £23k from Taylor Swift to reach fundraising goal
Vitoria can attend Warwick in September now!
An incoming Warwick fresher who was ineligible for a student loan just had a £23k donation from Taylor Swift, reaching her full £40k target and allowing her to study at uni.
Vitoria Mario set up a GoFundMe page after finding out she was ineligible for a student loan. Vitoria received a conditional offer to study Maths at Warwick and has now accepted that offer after getting A*A*A her in A Levels last week.
Vitoria moved to the UK when she was 13-years-old from Portugal unable to speak a word of English and yet attended Brompton Manor and received amazing results in her A Levels. But she was unable to get a loan due to her "home" status. Her mother still lives in Portugal and she has been living with family in Tottenham, but they are unable to assist her with her finances.
Vitoria set up her fundraiser with the aim to get to £40,000 to cover living expenses, accommodation and equipment such as a laptop and textbooks. Earlier today she was on £16k but had a massive donation from Taylor Swift of £23k which enabled her to reach her full target.
Taylor Swift wrote on the fundraiser she had come across Vitoria's story online and was inspired by her story.
She said: "Vitoria, I came across your story online and am so inspired by your drive and dedication to turning your dreams into reality. I want to gift you the rest of your goal amount. Good luck with everything you do! Love, Taylor."
One of Vitoria's friends tweeted her excitement at the Taylor Swift donation. She said: "So @taylorswift13 donated £23K to my friend who needed funding for university and she's met her target?! THANKYOU JESUSSSSSS! GOD IS SO GOOD!!!!!!" With many heart eye emojis.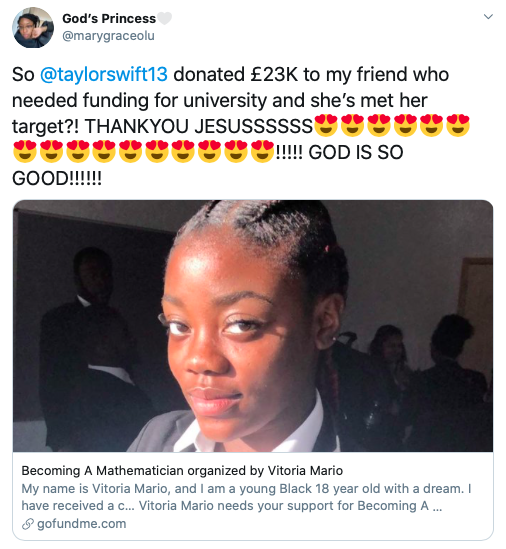 Vitoria did everything in her power to make her university dreams a reality, she emailed 442 people from top firms to try and get assistance and even posted letters through houses in Kensington.
She said: "I just didn't know what to do. I started looking for scholarships. I also went to Kensington and posted letters to people's houses telling them my story."
Vitoria's dad unfortunately passed away when she was 10-years-old and Vitoria said she dreams of becoming a mathematician to secure a chance of social mobility for her family. She has also mentioned on her fundraiser the lack of black women in STEM subjects and she wants to one day have her own charity to help other girls like her.
Congratulations Vitoria!!!
Related stories recommended by this writer:
•Pryzm's owner says club security will keep people apart to enforce social distancing
•It's official: A-level students will get their teacher-predicted grades after all
•'I had my heart set on Liverpool': The A-level U-turn came too late for these students