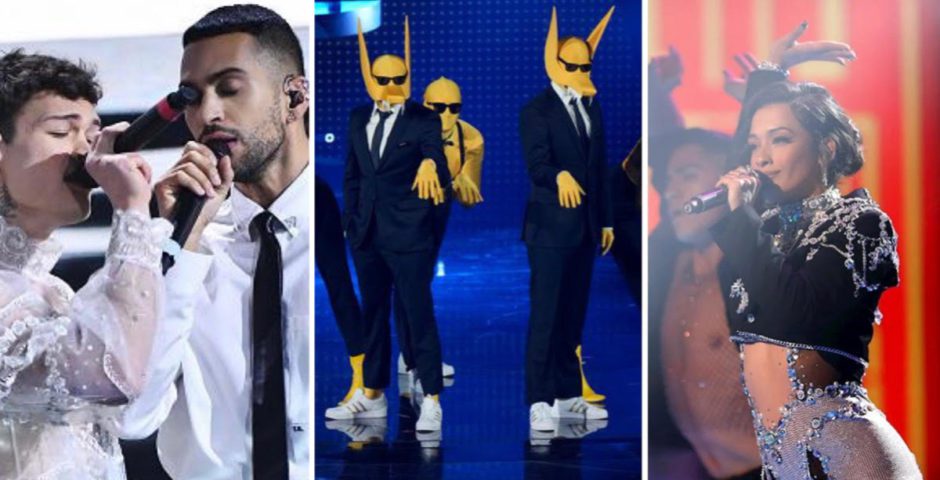 The very best and the very worst of the iconic bangers competing in Eurovision 2022
If you want hellish songs about wolves eating bananas you've come to the right place!
Every year when Eurovision rears its camp head once again, there's a handful of songs in the batch of 40 that I will take with me for the rest of my life – for better or for worse. On the for better end of the spectrum, we've got songs I will not be able to live without ever again – I'm talking Euphoria by Loreen, Fuego by Eleni Foureira. And then we've got songs that I will gladly banish to the fiery pits of hell. I'd name some of those, but I can't, because they're banished. They're dead to me now. Here's a roundup of the worst and the best of the Eurovision 2022 songs – enjoy the worst whilst you can, because after the finals on Saturday… They will cease to exist.
The WORST
Give That Wolf a Banana by Subwoolfer
Ooooh, look how quirky Norway are guys! They're calling random people Keith, complimenting teeth and wearing weird puppy play masks! I love a wacky Eurovision entry and lyric (one of my faves of last year contained the lyric "dropping the lashes on the floor", which is the strangest visual), but not when it's trying this exasperatingly hard to be funny and different. Stop trying to be a meme and go viral! I see right through it! A decently produced song ruined by try-hard annoyingness.
Hope by STEFAN
Just what Eurovision needs, Estonia to send a pseudo-Orville Peck cowboy track that's like a theme park parody of the Wild West. Straight nonsense.
Rockstars by Malik Harris
Germany have sent their Aldi Pete Davidson to Eurovision 2022, with a cliché laden hellscape sang in cursive. When he starts rapping, I simply wish for the icy release of death.
Trenulețul by Zdob si Zdub and the Advahov Brothers
I reluctantly have to tell you that this one has made the finals, despite it being a manic and frenetic earsore. Out the door went our Moldovan bum note queen from last year and in comes a load of your dads singing about a train. Fantastic.
Með Hækkandi Sól by Systur
Look, I'm sure they've lovely girls and they sound fine. I'm ranking them here because I'm SICK TO DEATH of three women with guitars coming out and everyone saying HAIM. They sound *nothing* like HAIM. At all. And maybe if they did, they'd be better off for it! C'mon Iceland, after the last two years we need better.
Boys Do Cry by Marius Bear
Correct, Marius Bear. Boys do cry. And we do so after we're forced to endure a listen of this.
Lock Me In by Circus Mircus
Have you ever seen the film House of 1000 Corpses? Georgia's entry into the canon of Eurovision 2022 songs reminds me heavily of Rob Zombie's controversial film, only even more unsettling and menacing. The clown visuals are too much.
Disko by LPS
I love disco music, and would like to hereby decree that it should be kept and preserved away from the hands of five dangerously uncharismatic white Slovenian men. End of.
Intention by Intelligent Music Project
If you're going to call yourself a name as obnoxious as Intelligent Music Project, I'm going to need the song to be better than a bunch of wannabe rocker dads doing their best Jon Bon Jovi impersonation. Dreadful.
The Best
Stefania by Kalush Orchestra
The fact that Ukraine are able to send people to compete at all in the midst of the horrific current climate is astonishing, and it's clear to see why Stefania is such a favourite to win when it's an unabashed celebration of Ukrainian culture and passion. It's not as good as their 2021 entry, the iconic Shum, but it's a solid entry that will undoubtedly do well.
Hold Me Closer by Cornelia Jakobs
Does Sweden ever miss when it comes to Eurovision songs, no, they don't – and 2022 continues their prowess. A really solid ballad, Cornelia Jakobs sounds great and after the tepid ballad slog of the first semi-final this proves you can do a good Eurovision ballad that still stands out amongst the bangers.
SloMo by Chanel
Pop perfection! Vocals, choreography, catchy, boppable – Spain is not coming to play this year and if Chanel isn't comfortably in the top 10 with SloMo I'll be honestly speechless. Uncomplicated brilliance.
Brividi by Mahmood and Blanco
Mahmood should have won for Italy in 2019 – Soldi is one of the coolest and slickest Eurovision songs in living memory – but he's back for 2022. This time, he's got Blanco assisting on a ballad that's a slightly different pace to Soldi but by no means less arresting. He's just… classy. There's something magical that Mahmood brings that elevates the proceedings. And side note, he's beautiful.
Die Together by Amanda Tenfjord
Born in Norway but also raised in Greece, Greek-Norwegian Amanda went to school with pop icon Sigrid and they were in the same class! Die Together is just spectacular – vocoder layered intro that swirls up to a powerful chorus. Chic, moving and effortlessly sang – in a fair world it will be comfortably top 10.
Lights Off by We Are Domi
Pure, unabashed dance pop magic from Czech Republic – Lights Off has a pounding beat that you can imagine Rita Ora dominating the UK charts with. Big vocals, big beats and a sense of euphoria. One of the best Eurovision songs of 2022 without a doubt.
That's Rich by Brooke
Right, I'll say it: That's Rich is the best song in the competition. What Brooke has served us up here from Ireland is pop magic. Bratty, rambunctious, campy, baby voice vocals with the perfect amount of fry. Look at how much fun she's having in the thumbnail! My queen. My winner. I love the way she sings "sick of you now" as "sickeryanow" in one millisecond. Pop superstar behaviour.
Halo by Lumix and Pia Maria
One of the biggest casualties of Eurovision 2022 is that Halo is not one of the songs in the final. Austria's dance banger is a balls to the wall blast that deserved its space over some of the HELL that we're going to have to endure in its place. Uncomplicated but a high BPM blast!
Eat Your Salad by Citi Zēni
The biggest casualty of Eurovision 2022 is that a banger that opens with "Instead of meat I eat veggies and pussy" isn't one of the songs in the final. Eat Your Salad is gimmicky in all the right ways that Give That Wolf a Banana is not. It's got Uptown Funk-esque musicality with a plant-based message. And Citi Zēni are charming as hell, proper showmen in fun suits like an x-rated Latvian The Wiggles. JUSTICE FOR EAT YOUR SALAD
Listen to all the Eurovision 2022 songs on this Spotify playlist here.
Related stories recommended by this writer:
• Only a true Eurovision superfan could score 10/16 on this impossibly hard quiz
• 17 thoughts I had watching Netflix's bizarre Eurovision movie, The Story of Fire Saga
• Only 10 per cent of people can score full marks on this European flags quiz