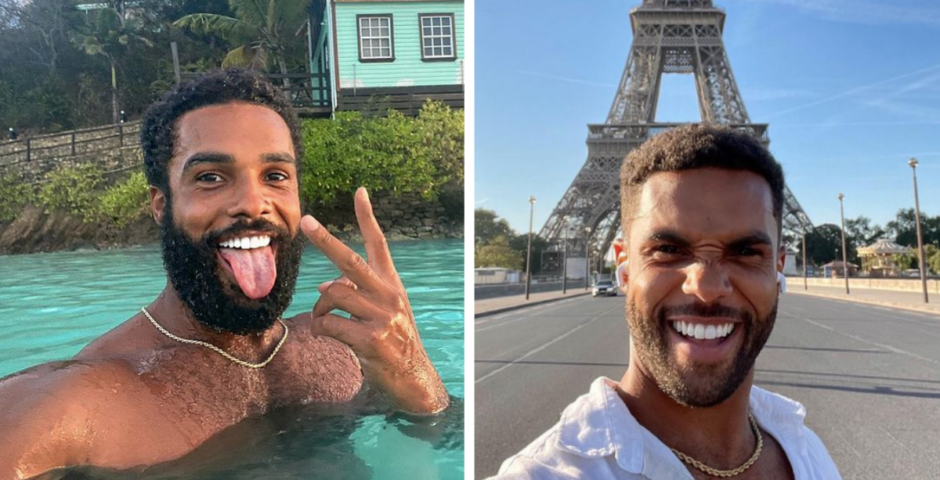 Meet Lucien Laviscount, a British TV icon and the latest addition to the Emily In Paris cast
I can't believe he snogged Kerry Katona
British actor and hun Lucien Laviscount has just arrived on Netflix's second season of Emily in Paris and obviously everyone is losing their mind. He plays Alfie, a 29-year-old typical British lad and sexy Londoner who moved to Paris for work. He finds himself in the same French class as Emily and it's not long at all before they start hardcore flirting. Alfie loves pints, football and can't stop calling everyone he meets "mate" – so obviously Emily makes her attraction to him crystal clear.
But whilst people are finding themselves drooling over him, this isn't the first time British viewers have seen Lucien. He's actually a British TV icon, here's everything you need to know about Lucien Laviscount from Emily in Paris, including his time on Waterloo Road and the context of his cheeky kiss with Kerry Katona:
Lucien was in Coronation Street
Okay so if you don't remember him then your mum definitely will. In 2009, Lucien walked along the cobbled street as his character Ben Richardson. Ben was captain of his secondary school's swimming team and a devoted Christian, basically he was your classic "butter wouldn't melt" sweet angel. He went on to date Sophie Webster and was a good mate to Chesney when he was being bullied. But things went tits up when he moved in with his best mate, Ryan, and tried kissing Ryan's mum Michelle. When this came to light, Sophie dumped Ben and he left the street for good.
He was also in Waterloo Road as Jonah Kirby
Lucien joined Waterloo Road as Jonah Kirby alongside his sister Ruth Kirby in 2010. Jonah became very close to the head teacher's daughter, Jess Fisher, and they started dating. However it wasn't long until pure chaos was unleashed as Jonah found out Jess was cheating on him with a bloody teacher (Chris Mead) who Jonah later assaulted – honestly it was such a wild show.
But then Jonah finds himself getting close to Francesca Montoya after she is attacked by a dog at the start of term and it sparks a stunning love affair and eventually marriage.
Lucien's time in Celebrity Big Brother bought him new romance
Lucien and Kerry met on the 2011 series of Celebrity Big Brother and spoke of plans to move him into her home and even tying the knot together. But Kerry wasn't the only lucky woman in the Big Brother house, Lucien also sparked something wholesome with Amy Childs and had a romantic dinner with Tara Reid. And we all know how iconic the walk out songs were on the show, when Lucien left the house after coming fifth place he walked out to Britney Spears' Womanizer – this was peak British TV.
Season two of Emily in Paris is now available to watch on Netflix.  For all the latest Netflix news, drops and memes like The Holy Church of Netflix on Facebook. 
Related stories recommended by this writer:
• All of the famous celebrities you didn't know were in various Harry Potter movies
• Emily in Paris season two release date is confirmed and the new season looks SO good
• Quiz: Which character from Emily In Paris on Netflix are you?