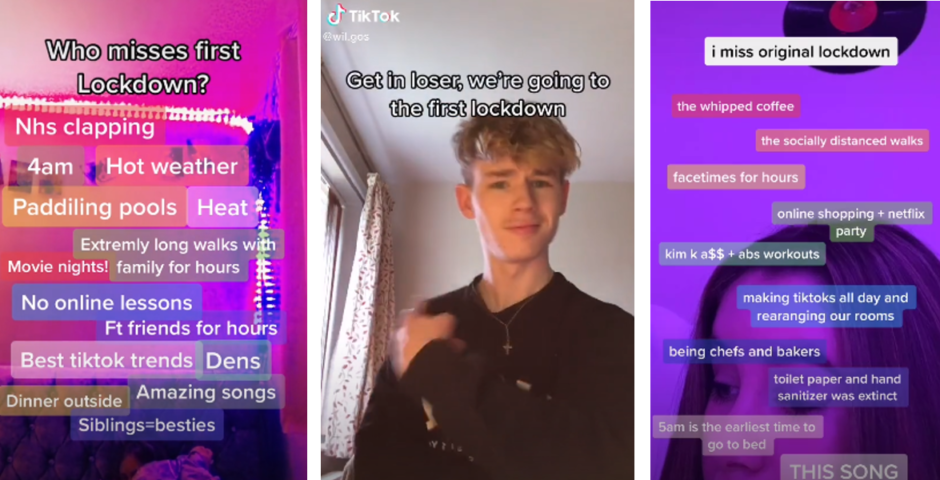 2020core: The hellish new TikTok trend where people wish they were in lockdown again
Just feel like baking banana bread with Captain Tom rn x
trash
Sometimes it's just impossible not to spend your time binge-watching nostalgic videos on TikTok. Turning long-forgotten time periods into *aesthetics* is what people on the app do best. From seventies disco to Y2K and beyond, it's safe to say we're obsessed with reliving the distant past. Now, two years after you thought we'd all moved on from Tiger King, there are actual TikTokers who wish we were in lockdown again. So, what actually is new TikTok trend 2020core all about?
While the entire internet was briefly consumed by banana bread, whipped coffee and state regulated exercise back in the early days of the pandemic – one tiny corner of TikTok is still going on about it. Content creators are looking back at last year's shitshow through rose-tinted glasses, reminiscing about how much they miss the first lockdown.
This is what it looks like:
What is 2020core?
According to the official board of 18-year-old TikTokers (disclaimer: does not exist), 2020core is a rare aesthetic. This essentially means it isn't as mainstream as wearing vintage Juicy Couture or styling your hair like Princess Di. 2020core is a huge new trend on TikTok, but in the wider world it's probably pretty niche.
Naturally, not everyone had a relaxing time during the pandemic's opening number. But those who did are trying to re-invoke those feelings through short clips of everything that was popular during lockdown one.
Bleaching your hair while listening to Savage, doing the Don't Rush challenge or "reacting to 2020 TikTok sounds just to feel something" each meet the criteria.
[tiktok-amp url="
But… what exactly do people miss about 2020?
Long summer days, sparse social interaction and plenty of one-on-one time made for the ultimate "introvert's vacation", according to one user.
Socially distanced walks, late bedtimes, eating dinner in the garden and spending all day learning TikTok dances are just some of the things people have confessed to missing about the first lockdown.
Even Clap For Carers got a couple of shout outs, with some users romanticising the temporary closeness within their communities.
Some people think the trend is problematic
While some people have enjoyed being transported back to 2020, others have found it pretty uncomfortable.
Lockdown wasn't fun for everyone, and creators were quickly reminded that a global disaster was actually the root cause of the extended break.
Is this just a case of letting people enjoy things? Or is it wrong to feel nostalgic for the early pandemic? Either way, we'll always miss listening to Saweetie while ordering Deliveroo every night.
Related stories recommended by this writer:
Why is everyone saying Bing Bong right now and what's the story behind the meme?
Rating the Spotify Wrapped 'Top Tracks of 2021' from elite to trash
Okay so what is that 'give me that damn bucket' song all over TikTok right now?