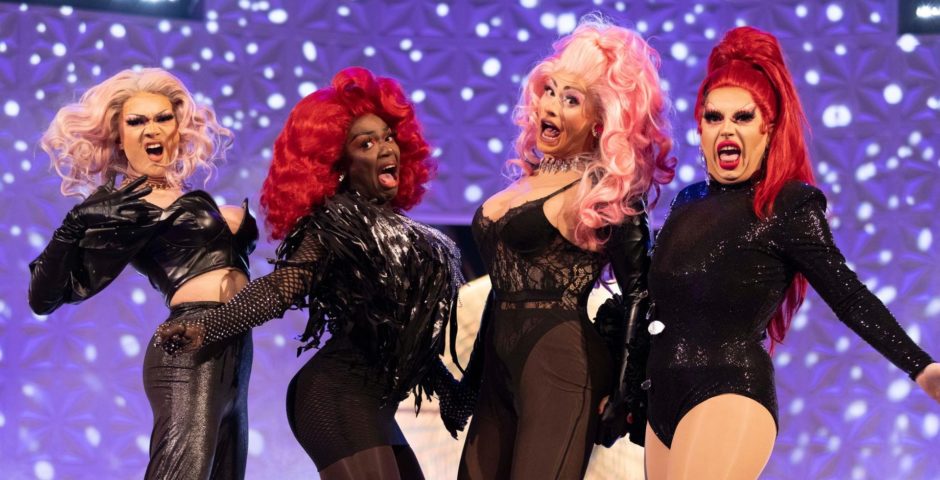 All 22 Drag Race UK girl group challenge verses, ranked from worst to best
'Gender bender, cis-tem offender' is better than anything Shakespeare ever did
I live and breathe the Drag Race UK girl group challenge, like the rest of the nation. It's our shining jewel of the season. It's where legends are made, verses are born and gay clubs up and down the country are changed forever. I can't imagine going on a night out without hearing Break Up Bye Bye, UK Hun and now BDE (Big Drag Energy) at least once. But which verse is the best? After I ranked the six bangers last week, it felt only natural to dive a little deeper and get the verses in order as well. So without further ado, here are all 22 queens' verses from the girl group challenge of Drag Race UK, ranked from worst to best:
22. Crystal
I'm not sure if it's Crystal's lyrics or her delivery that make this verse bottom of the pile, but something about it is just off from the get go. There's no flow to it, and considering it's in the middle eight section where so many heavy hitters of great verses have been it absolutely pales in comparison. Crystal's an amazing queen, but this verse wasn't it.
21. The Vivienne
The eventual winner of Drag Race UK season one had a lot of hype around her for this challenge, especially since she sings live professionally in her drag shows. A combination of nasal vocals, bad lyrics and stumbling in the performance doomed this verse.
20. Cheryl Hole
The best of a bad Break Up Bye Bye bunch is our Cheryl, but it's still pretty bad. The Filth Harmony version of the song misses the mark fully across the board, and none of the verses have any wallop to them. But what I will say for all three of the Filth Harmony girls is they at least do the ACTUAL assignment of the challenge, which was to create verses about the girl group breaking up. The winning group wrote verses about themselves, that were clearly better verses, but it wasn't the task at hand! So even though the verses were worse, at least Filth Harmony can sleep at night knowing they did what was actually asked of them.
19. Scarlett Harlett
Maybe it's because she made the biggest fuck up in the challenge's history, but Scarlett's verse was chaos from the start. "This cockney queen is in the 'ahrse" she belts, and isn't lying. I think because the first time the world heard this verse was when it all went so wrong for Scarlett's performance you can't listen to it without thinking of her devastated face.
18. Ellie Diamond
This is just as many tropes of a Drag Race queen verse as possible shoved in any which way. Might as well say "slay mawma Ru, give me the crown, my face is beat, boots the house down". I wrote that in four seconds and it's practically exactly the same as Ellie Diamond's verse. God love her, but where is the flavour? Played very safe indeed, and safe doesn't get you ranked high when it comes to Drag Race UK verses.
17. Krystal Versace
There's something hilarious to me about Krystal Versace's verse, even though objectively it is a bit shit. I love the stupidity of how she says "SEX! ON LEGS!" I don't know if she meant for us to find this so funny but if she did perhaps she's a genius. She bursts off the BDE Slice Girls version with such a ridiculous burst of spoken word energy I'm willing to overlook the dreadful lyrics for the crumb of joy it's given me.
16. Ella Vaday
Right, I'm sorry if this is picky, but I hate that Ella Vaday uses the hell of a day pun in her name twice in her short verse. TWICE. We get it. She should have just picked one and let it have the impact rather than looking like she had nothing else to come up with. The vocals are shaky, but despite that gripe with the overuse of the pun it's not a catastrophic disaster.
15. Charity Kase
There's a frenetic nature to Charity's verse that always feels like she's trying to catch up with it as it goes along. Some clever lyrics boost it up, "might be a bottom but it's hard to top me" is a particular highlight.
14. Sister Sister
There's a lot to like about Sister Sister's UK Hun verse, actually. Even though it is completely a law unto its own. For some reason, the entire verse is themed around Sister Sister driving along in a Jeep and it pretty much robs the exact melody of the verses to Do Somethin' by Britney Spears. But a fair effort! And one that sounds like nothing else.
13. Blu Hydrangea
The least successful of the Frock Destroyers verses, Blu's is pretty bog standard. Very mug beat, beating odds, give me the crown etc, etc. I think it benefits from being a solid enough part of an overall great song so gets a fair ranking just for not really doing much wrong. But not that much is special either? Anyway, Blu's having a good time. And that's all that matters!
12. Joe Black
Pure, unadulterated chaos. But forget RuPaul, I love it. I love that Joe Black seems to be in competition with themselves to see how many lyrics they can squish into their tiny amount of bars because the amount of puns and jokes laced through this breakneck speed verse is unhinged. But Joe commits to the shtick and it works for me. And I liked the H&M!
11. Vanity Milan
Vanity Milan does a really good job with her verse, I love the way it has a soft start then gets more and more confident and fierce as it goes on. It gets a bit overshadowed by two stronger verses yet to come, but she definitely understood the assignment and the lyric "your skin won't define who you are inside" is one of the best.
10. Kitty Scott-Claus
After the Slice Girls' version of BDE slumped in the middle with Scarlett's error, thank the lord for Kitty Scott-Claus' burst of energy and life verse that drags the song back to life with such joyous lyrics. Kitty sells the hell out of it, giving pure camp and sexy nonsense. "Lock up your dads" and "Knockers for days!" are such perfect Kitty lyrics and it's so much fun to just watch her thrive.
9. Choriza May
Choriza channeled the spirit of ROSALÍA on that main stage. I'm actually at war currently with one of my best friends, who is insistent that Choriza's verse is crap because he thinks it doesn't rhyme. But I love her alternative rhyme scheme. I love everything Choriza does, tbh. She gives it her all, the lyrics make me laugh and the Spanish lines are a serve. Queen shit I fear.
8. Tia Kofi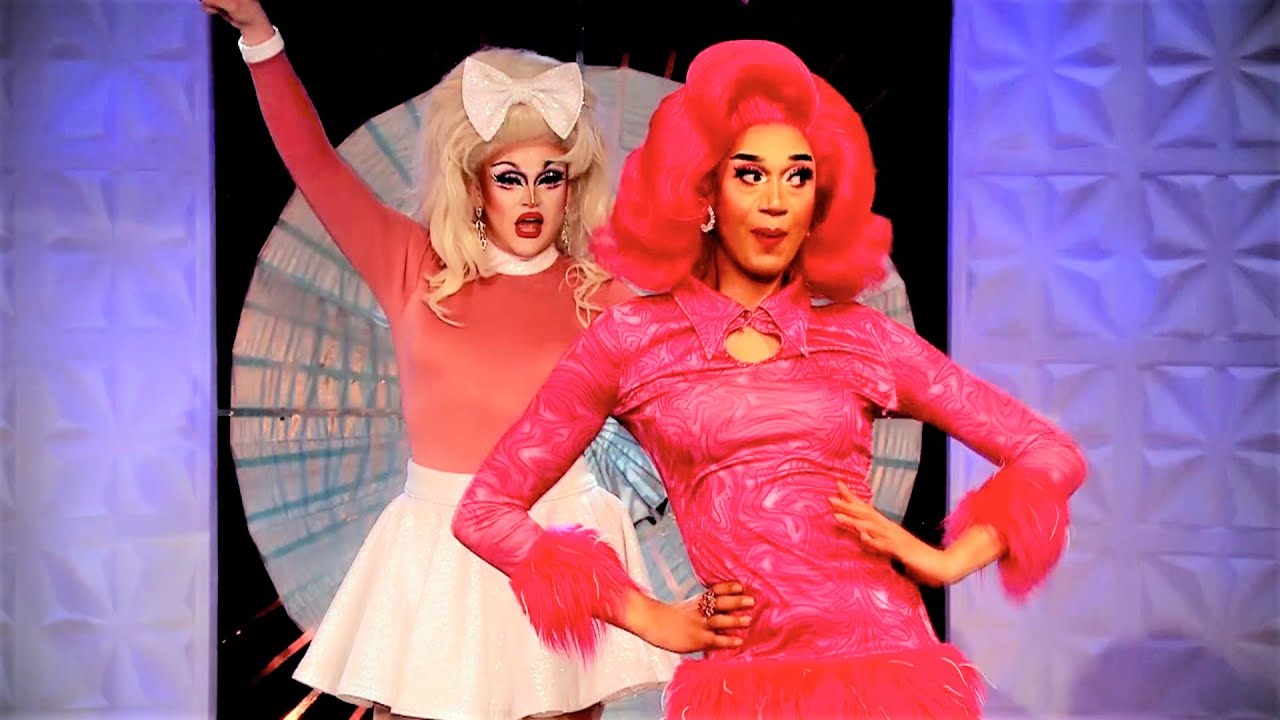 Tia Kofi absolutely demolished her UK Hun verse, to be honest. Annihilated it and left no crumbs. The lyrics are witty, especially the sublime pairing of "Call me Miss Kofi, but girl, there's no filter / The glamorous geek who will throw you off kilter!". She stands leaps and bounds above her team mates here and on a side note, why was this challenge look the best Tia ever looked on the runway all season? She glowed!
7. Lawrence Chaney
Lawrence was the queen out of the United Kingdolls most nervous for the challenge ahead, and most out of her comfort zone. But by the finished product, you'd never have guessed it. The stupidly naff lyrics that are "Dancing to a Highland jig / Lawrence Chaney's up in this gig!" have definitely transitioned to the realm of so bad they're good, and whilst it is the worst UK Hun verse, it's still catchy, full of personality and a job well done.
6. Divina De Campo
Divina's middle eight on Break Up Bye Bye is so slick and hooky it should be illegal. The way it lures you in with that "ooooh, you see what you like? DDC keep it tight" is mesmerising. The rest of the lyrics hold up, too, and Divina's whistle notes at the end of her verse are stuff of legend.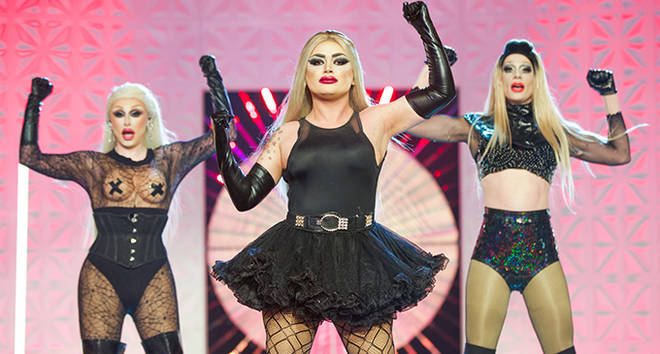 5. Baga Chipz
"Baga Chipz is stunning, Baga Chipz is class / Baga Chipz is sexy, she takes it up the …" – I mean, come on. History was made. Instantly iconic and quoted nationwide, I truly believe if it wasn't for Baga instantly setting this song and challenge off on the best foot with the Frock Destroyers' version I don't know if the girl group challenge would have taken off like it did. It's just great – and plays to her strength and humour as a queen so perfectly.
4. A'Whora
A'Whora's verse is the grower of UK Hun. It's one that creeps up on you and soaks into your being until you can't stop quoting it. I have this random of trying to see how high up the octave I can go with the verse because it builds so steadily and satisfyingly. She really nailed it and it bursts with absolute life.
3. River Medway
River Medway is too pure for this world. So talented, and there's a reason she's robbing the hearts of the nation on Drag Race UK season three. River's verse is arguably the key to the success of the ballad version of BDE, with her heartfelt lyrics about the tragic passing of her mother from Covid complications. She is an inspiration to so many, and the verse is genuinely moving and inspiring, with great vocals to back it up. A worthy third place amongst the Drag Race UK girl group verses ranked.
2. Tayce
This verse is unbelievable. Nicki Minaj would dream of penning such lyricism as "inch to the floor, I ain't talking 'bout my weave", honestly. Nailing verses and performances like UK Hun is what Tayce was put on this earth to do. She's so watchable and charming, and couple that with her Welsh vocals and it makes her a recipe for success in a challenge like this. If it wasn't for the word play of the top ranked spot, Tayce would have had this ranked Drag Race UK verses list as hers for the taking. But one other caused a cultural reset…
1. Bimini Bon Boulash
"Release the beast, BIMINI!" they bellowed, and indeed the beast was released. Nay, the beast was UNLEASHED. Upon the country and upon the world. Everyone was obsessed with this verse. TikTok loved it. Your nan loved it! It's so infectious, catchy, bursting with life and that's before we even get to grips with how great it actually is lyrically. "Gender bender, cis-tem offender / I like it rough but my lentils tender" made lentils the hottest grocery product in shops for months. Not a joke, just a fact.
Bimini's verse is fun and well written, whilst also being incredibly life-affirming and with a great message about gender identity and self expression. It's another league of excellent, and is ranked top of all the Drag Race UK girl group verses without a second of hesitation.
Recommended stories by this writer:
• Victoria Scone and Veronica Green break silence on their shock Drag Race UK exits
• Elektra Fence tells all about THAT lip sync and her Drag Race UK journey
• We spoke to Drag Race UK's Anubis about her early exit and if there's a 'Brighton curse'