The worst entrance looks from every season of RuPaul's Drag Race
Yes of course Ginger Minj's All Stars 6 entrance look is here
Ah, the RuPaul's Drag Race entrance looks. A formidable beast that very few can get right. How formal do you go with it? Day drag or eleganza? Where some queens nail it, some queens get it completely wrong. But often in the best way. At least if you get it completely wrong you'll be remembered forever, which is so much better than being forgettable and never being remembered at all.
The Tab recently rounded up the best from every season, so it feels only natural that we examine the reverse. These are the entrance looks from every season of RuPaul's Drag Race that will be burned into our brain forever for all the wrong reasons.
Season 1 – Rebecca Glasscock wearing jeans and a t shirt
This outfit is only visible in low res, so let's be thankful for small mercies. I know it was Drag Race's first ever season, and Rebecca Glasscock can be mildly excused for not having any expectations for what an entrance look should be. But for the first time the world is ever going to get a look at you you'd probably go for an outfit that doesn't look like it was bought at Debenhams, wouldn't you?
Season 2 – Sahara Davenport in cursed tights
I would like to be immediately walked through the decision process on these tights. Quickly! What is happening here? The dress is giving club ready 2010 vibes and the tights are giving Nan at the bingo hall in 2021. One of Drag Race's most evil entrance looks, the Sims 2 shoes are worth closing your eyes for.
Season 3 – Stacy Layne Matthews in a plain red dress
God love Her Royal Henny Highness, but what on earth is going on here? It's giving me that auntie at a family wedding you've never seen before in your life who spends the entire party telling you how tall you've got and how she remembers you when you were "*this* big!" It's so plain and flavourless! Come on, Stacy!!!
Season 4 – Dida Ritz in whatever this is
Not a single item of clothing goes together here. It's like a load of 2003 era fashions chucked together, except this was in 2012 and I don't think the 00s vibes were intentional. Dida Ritz is a legendary queen, even for THAT lip sync alone, but girl… That wig. Let's talk. Exactly how not to do Drag Race entrance looks, but god love her.
All Stars 1 – Chad Michaels wearing chaos
I adore and cherish Chad Michaels, a Drag Race legend through and through, but no master of the art of entrance looks. This feels like an unintentional optical illusion. My eyes can't focus. Why are there random sparkly sections? Why is she speaking to the manager with her wig choice?
Season 5 – Jade Jolie in the contents of a toy box on a corset
This is so haunting to me. She should have turned on her heel and walked right back out. It looks like that viral picture where none of the objects make sense. I love Jade Jolie when she's doing her Taylor Swift illusions but between this and that outfit where she had hair sprouting randomly from her body I'm OUT.
Season 6 – April Carrión serving off-off-off-Broadway realness
Not many huge entrance looks disasters in season six, everyone's getting a better grip of the assignment by this point. April's outfit is a concept she's really committed to and I give her props for that, but I hate it deeply. Why would this be your choice of how to first present your drag to the girls, gays and theys across the globe? The booties should be illegal and the hair is haunting.
Season 7 – Sasha Belle in this party shop ensemble that looks like it cost a total of £4
Sasha Belle has quit drag now, and it's outfits like this that means that that's probably for everyone's best interests.
Season 8 – Bob the Drag Queen's Charisma Uniqueness Nerve and Talent bodysuit
Bob the Drag Queen is inarguably one of the finest exports Drag Race has ever produced, but this isn't amongst the gallery of entrance looks that represent how great the queen wearing it is. I get it. I get the laugh, I get the reference. But did it have to be done in a boring bodysuit? Why couldn't the same message be on a good dress or something? COME ON BOB!
All Stars 2 – Phi Phi O'Hara's Riddler costume that looked bought from Smiffy's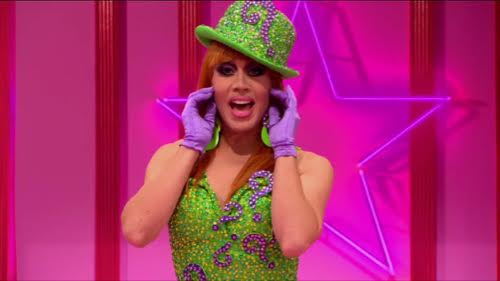 Phi Phi by the time of All Stars 2 literally had SO MUCH drag, completely reinventing herself as an extravagant queen that could really transform herself. And yet she walked in in this? WHY!
Season 9 – Trinity The Tuck in some threads
I have a theory that Trinity The Tuck intentionally looked dreadful in her promo and entrance looks to throw Drag Race fans off an make everyone underestimate her. Take a look at the haunting image above and let it sink in that eventually she wins a crown. This outfit must have been intentionally evil??? SURELY?
All Stars 3 – Thorgy Thor in the remnants of a drama department's costume cupboard
All Stars 3 was a pretty solid Drag Race season for entrance looks, but Thorgy's was the worst. I love Thorgy, but girl. That pom pom wig? The cheap materials? Let's step it up!
Season 10 – Kameron Michaels in my gran's curtains
Half Grandma holidaying in Eastbourne and half white bondage… What happened here? The caged shoe is also a big nemesis. Not a single element of this is working for Kameron and it's such a weird choice when she can really take it THERE with her drag.
All Stars 4 – Jasmine Masters' floral suit
All Stars 4 was another season where the entrance looks didn't really have anyone fully missing the mark, but Jasmine Masters was not ready for a Drag Race return, and this outfit was by far the weakest. I love Jasmine's social media rebirth and her becoming a meme queen, but this outfit ain't it.
Season 11 – Scarlet Envy in this atrocity
Oh lord was this rough. I actually LOVE Scarlet Envy, she's one of my favourite queens from this season and she was so underrated on All Stars 6 and so prematurely booted off that I'm still angry about it now. But this is bad. It's a good concept done so badly. The boob contouring is amateur, the makeup is threadbare. I'm so glad she got to have her RuDemption Runway to wow us all with that renaissance gown. Because… yikes.
Drag Race UK Season 1 – Sum Ting Wong in the worst cloak ever
Not sure what happened here. The dress is actually really nice but that bobbly throw pashmina thing ruins it all. Very what your mum throws round her shoulders after the sun sets on holiday. Why are the shoes three times too big? A lot of questions, no answers.
Season 12 – Jan in this boring look

I will never understand why the Rachel Berry of drag chose this. Not even the AS6 RuDemption version could make it good.
Canada's Drag Race Season 1 – Tynomi Banks' boots / bodysuit clash

These boots activate my fight or flight response. And I choose flight. Bye.
All Stars 5 – Jujubee never getting an entrance look right in all three of her attempts
Jujubee is one of Drag Race's biggest ever icons, but has never once mastered an entrance look. Luckily for her, in her season and the first All Stars there were queens with worse ensembles but for All Stars 6 she was truly bottom of the pile. She ate it up on the runway throughout the season, but this was a rough start.
Season 13 – LaLa Ri in literally just a blazer
LaLa Ri is a fashion icon as far as I'm concerned after *that* bag ball moment in history, but let's be impartial and put our affinity aside and take a long hard look at how simple this actually is. She looks happy though, and that's what really matters.
Drag Race UK Season 2 – Tia Kofi showing why she got the title of Baroness Basic
You know what? Tia looks good here. Really pretty. But the truth is the season two Drag Race UK entrance looks were all really strong and she just had the most simple outfit. A shame she saved the "Alan Turing" look for the runway because I've got some choice words on that one.
Drag Race Down Under Season 1 – Elektra Shock in bad makeup and a sad nude illusion
I actually wanted our underdog queen Elektra Shock to take the Drag Race Down Under crown, but maybe she didn't deserve it after all when you take a long hard look at this.
All Stars 6 – Ginger Minj's…. choice
Presented without comment. Nothing more I can say here.
Recommended stories by this writer:
• The best entrance look from every season of RuPaul's Drag Race
• All Stars 6 power ranking: Which iconic queen is going to take home the crown?
• 16 lip sync for your life songs we absolutely need on Drag Race UK season three