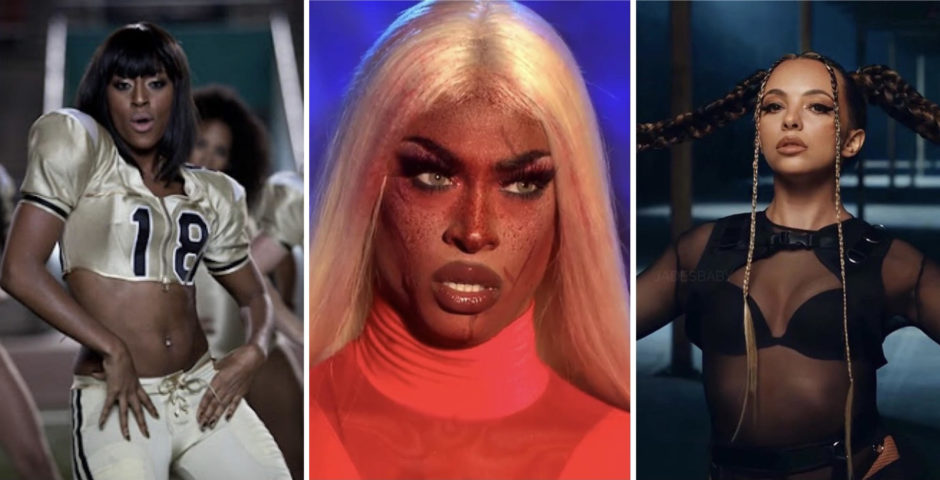 16 lip sync for your life songs we absolutely need on Drag Race UK season three
If there's no Girls Aloud I won't be responsible for my actions
How important is the song choice to how legendary a RuPaul's Drag Race lip sync for your life smackdown is? 'Very' doesn't quite cover it. Think about some of the best lip syncs we've had on Drag Race and how iconic the songs are to them. Alyssa Edwards VS Tatianna in All Stars 2 would be nowhere near as iconic without the thumping power of Shut Up And Drive by Rihanna backing it up. The All Stars 6 instantly legendary Trinity K Bonet VS Laganja Estranja lip sync was at fever pitch thanks to Physical by Dua Lipa.
Now we've got our own UK edition of Drag Race, it's finally our time to showcase the niche, hun pop we have in abundance over here. We need Girls Aloud, Sugababes and Alexandra THEE Burke supremacy. So here are 16 lip sync songs that Drag Race UK needs to pack into season three, or else they will face my unrelenting wrath.
1. Sound of the Underground by Girls Aloud
Sound of the Underground is one of the best songs to ever come out of this cursed island, and I would like it to get the iconic lip sync for your life showdown it deserves. It's dramatic, full of varying pace and tempo and has so many good opportunities for death drops and big choreography. An essential. And whilst we're here, get Nicola, Sarah, Kimberley and Nadine lined up for that judging panel.
2. Crazy Chick by Charlotte Church
The Welsh Madonna really served main pop girl on this classic banger, and I need a lip sync to it immediately. It's criminal that we didn't get to see Newport's finest Tayce annihilate this on Drag Race UK season two. If you forgot this song existed, listen to it right now. Feel the 2005 vibes. It's pop perfection.
3. Hole in the Head by Sugababes
Until Sugababes kindly decide to remaster this video, you will have to excuse the pixellated mess we have on YouTube. But this is a perfect lip sync for your life choice if ever there was one. Mutya's opening vocals are wordy but expressive and the song builds to a fun frenzy filled with breathy vocals and big choreo moments. We need it!!!
4. Left Outside Alone by Anastacia
The High Priestess of Sunglasses Anastacia deserves her big, camp Drag Race lip sync moment. I need a dramatic showdown to Left Outside Alone more than I need the air I breathe. It's the perfect performance number because it's so high camp and high drama. The "heavenly father" bits… Already visualising queens on their knees.
5. Whole Again by Atomic Kitten
Forget Southgate you're the one. NATASHA HAMILTON, YOU'RE THE ONE! One of the best songs ever written and I'm so glad that it's had a new lease of life after the Euros. I need a Bimini lip sync to this whilst they wear their iconic Norwich FC look, but since that isn't happening, the queens of Drag Race UK season three will have to do.
6. Smalltown Boy by Bronski Beat
I love when Drag Race queens lip sync to songs that aren't just by the main pop girls, and Smalltown Boy is actually THEE perfect lip sync number. For one, it has one of the best and most sampled beats EVER in its production, and two, it's a huge gay anthem by an iconic band that smashed the 80s synthpop scene.
7. Strangers by Sigrid
Strangers by Norway's finest export Sigrid is one of the most dynamic pop songs in recent years, and that dynamic nature works so well for a lip sync. The fragile verses coupled with the huge, belting, synth driven chorus provides so much to work with and think so many queens would absolutely slay it to this RAMMER.
8. Ooh Aah… Just A Little Bit by Gina G
When I say gay bar classic, you say Ooh Aah Just A Little Bit by Gina fucking G. What a banger, and a lip sync staple for most queens in this country. Sometimes the essentials are essential for a reason. That eurodance, hi-NRG production is in its element on the Drag Race runway and can imagine the UK queens of season three leaving our jaws on the ground turning it out to this.
9. Sweet Melody by Little Mix
Everybody loves Little Mix. Even your nan has a bit of a hip wiggle when Sweet Melody comes on. I'd say this one has a high probability of showing its face next season, especially since Ru is such a Little Mix fan and because it did so well on the charts last year. It's begging to be lip synced to.
10. It's A Sin by Pet Shop Boys
After the huge success of the Russell T Davies show earlier this year, the song it was named after has had a rebirth with new emotion and meaning. It's A Sin had a huge impact and resonance on LGBTQ+ people and it would be great to see Olly Alexander or Davies on judging whilst the queens do their best Pet Shop Boys performance.
11. Up by The Saturdays
One of the best girl band songs of all time I DO THINK! The Saturdays are chaos but this song hits different, and I need to see some queens proving exactly why they need to stay in the competition whilst doing their best Una and Vanessa impersonations. The evil choreography from this video can be left behind though, as can the cultural regret that was those coloured tights.
12. Murder on the Dancefloor by Sophie Ellis-Bextor
One of the greatest pop songs to come out of Britain in the last 5o years absolutely should be a lip sync song. Murder on the Dancefloor is a disco classic. Just imagine all the camp possibilities available for performance with this one. Murder! Hijinks! Lip syncs are always gold when the queens bounce off each other and this classic from Soph lends itself to that so well.
13. Song 4 Mutya by Groove Armada & Mutya Buena
Is this personal bias because it's my favourite song in the history of music? Perhaps it would be if it wasn't such a brilliant song fit for all purposes. Play this at my funeral, tbh. But song merit aside, it's wordy, singy and campy and a queen could sell the HELL out of it. A lip sync classic in the making if ever there was one.
14. Ghost by Ella Henderson
Ella Henderson had the nation in a chokehold when she dropped Ghost in 2014, and it's frequented the predrinks playlist of every girl, gay and they up and down the country ever since. Ghost is a great lip sync banger because of how yearning it feels, our Ella is truly BEGGIN', and you can hear her emotion so clearly. It would work perfectly with the queens vying desperately to keep their place in the competition.
15. Stay by Shakespears Sister
Every single person in this country knows exactly where they were when Cher Lloyd sung this on X Factor 2010. The world was at a standstill and a cultural reset was born. It's the most dramatic song in music and I need an EXACT recreation of Cher's performance from two drag queens as soon as possible.
16. Broken Heels by Alexandra Burke
GIVE IT TO ME NOW! If the queens don't physically break their heels mid lip sync I would be disappointed. Alexandra Burke's music is perfect for Drag Race UK because it's just all that iconic, late noughties sound that never made it big in the US. Only we could have had music like this, and it's so distinct and campy. Please, Drag Race overlords, let us have this one!
Recommended stories by this writer: 
• This week's episode of All Stars 6 proves Drag Race needs to abandon acting challenges
• RuPaul: Queer people's trauma is not your Drag Race reality TV storyline
• Drag Race: The only bad thing about All Stars 6 is that a queen has to go home