The best entrance look from every season of RuPaul's Drag Race
You only get one chance to make a first impression
Okay, hear me out, but the entrance looks on RuPaul's Drag Race are one of the hardest things to get right. How formal does a queen take it? Is it day drag vibes or is it eleganza extravaganza? Over the seasons we've had queens walk in in gowns and queens walk in in… jeans. You can't always blame the early seasons queens for that though, when RuPaul used to make them get soaked in water or covered in paint and garbage for their first photoshoot challenges. We've evolved past them days now, but it's been a chaotic journey.
One thing's for certain, the entrance looks from the queens need to instantly showcase their brand. You only get one shot to make a first impression, and if you round the corner of the iconic work room doors and leave everyone gagging you can get fans rooting for you from the moment they see you. But which queens got it the most right? Which drag legends understood the assignment? Here's the best entrance look from every single season.
Season 1 – Nina Flowers
It's impossible to get a good visual of this look because despite the fact season one of RuPaul's Drag Race came out in 2009, the filming quality suggests it came out in 1929. So you'll have to just take my word for it. Nina delivered the best of the entrance looks in season one, with her groovy jumpsuit giving DRAG when her competitors quite literally walked in in jeans.
Season 2 – Tyra Sanchez
Whilst season two of Drag Race was undoubtedly bigger and better than season one, the same cannot be said for the standard of entrance looks. People still didn't really know how hard to go with it, and the season two entrance looks are, on the whole, ghastly. Tyra came in looking lightyears ahead of the competition in a perfectly fitted and polished look with her Rihanna Rated R era hair.
Season 3 – Raja
Raja really changed the Drag Race game with the fashion she brought to season three, and her club kid vibe had the other queens underrating her. This campy fashion look set her apart from the other entrance looks, her lack of padding and her just showcasing her model-like frame was unlike any other competitor at that point. A legendary moment.
Season 4 – LaShauwn Beyond
In LaShauwn Beyond's short tenure on Drag Race, she got to showcase some iconic looks and really let fans know that she did all-out drag. No strolling in in jeans and a crop top here. The wig is fun, the outfit is full of cool textures and she just looks like an absolute glamazon. She wasn't here to make best buddies bitch, and this wasn't RuPaul's best friend race – it was LaShauwn's DRAG race.
All Stars 1 – Manila Luzon
Manila Luzon has such a great eye for drag, and perfectly balances high fashion with camp and whimsy. Her All Stars debut in season one set her up as an instant front runner in her Glenn Close does Cruella dalmation glamour. It's one of those entrance looks that isn't too out there but just nails it with all its little details and touches.
Season 5 – Detox
Detox never fails to SERVE, and when she stomped in to the season five work room in this immaculately fitted latex look it instantly established her as the look queen of the season. It's a perfect entrance look because it's statement without being impractical and has a memorable colour scheme and vibe.
Season 6 – Gia Gunn
Gia Gunn doesn't jump the gun, she IS the boom boom gun! Whilst not the most complex of Drag Race entrance looks, the hula hoop of a bag alone made this instantly iconic. She stormed in with a tearaway reveal and slammed her bag about and the world hasn't been the same since.
Season 7 – Violet Chachki
Violet Chachki walked in and told the world she was a one of a kind collectible, and with every look she served she lived up to her words. This is a stunning entry to the entrance looks history books, it's so well put together with so many intricate details that it was clear she was going to go on to slay the competition from the off. All the different shades of purple work so great together.
Season 8 – Kim Chi
After the fashion queen en masse casting of season seven, season eight definitely cast more for characters and performance. Kim Chi being the major exception to that rule – and her entrance look was the first of many high concept and immaculately executed fashion moments across the season. The angular dress was by far the best of the entrance looks in her season.
All Stars 2 – Adore Delano
Potentially a controversial choice, especially after slagging off all the pedestrian Drag Race entrance looks when the queens strolled in in jeans in the past. But Adore Delano represents a big middle finger to drag conventions and expectations and whilst it is casual, it's her brand and her makeup is stunning. She makes statements with her drag that separate her from her peers and I think this is pure punk rock.
Season 9 – Valentina
Valentina's impeccable polished drag took the world by storm, and she just looked absolutely perfect when she walked into season nine. No wonder the other girls were so shook – it's one of those entrance looks that hits all the brief bang on. It was glamour, it was vibrant. But most importantly, it was Valentina's brand to a tee.
All Stars 3 – Milk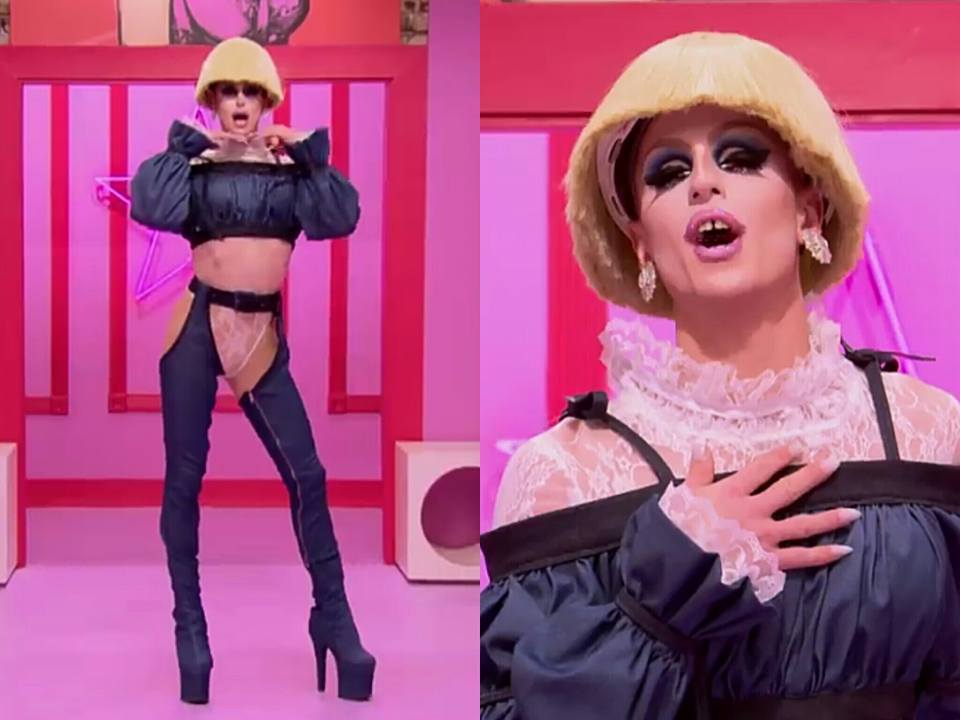 I love Milk's drag aesthetic so much, and this All Stars 3 denim, lampshade headed serve stole the show for me when it came to entrance looks on this season. It's club kid and fashion simultaneously, it's interesting to look at and it's completely on brand. Probably my favourite Milk look in All Stars 3.
Season 10 – Aquaria
An absolute serve from one of Drag Race's best fashion queens ever. It lets you know from the off that Aquaria has great taste, but isn't a major peak concept wise because she's able to serve harder and harder on the runway. It's just a great taster of everything to come, and that wig is everything.
All Stars 4 – Trinity The Tuck
Trinity The Tuck was a season nine pleasant surprise. Her promo look and her entrance look were dreadful, but then she absolutely annihilated fashion wise for the rest of her season. When she came back for All Stars 4, it was clear the crown was going to be hers one way or another. This look is a recreation of a Prada dress Sarah Paulson wore for the Ocean's 8 premiere, and it's AMAZING.
Season 11 – Nina West
Season 11 of Drag Race is my worst of the lot, and the standard of entrance looks really reflects that because they are mostly poor across the board. Nina West, however, served it. It's theatrical and campy, but really well put together and done to a great standard. It definitely lets you know what kind of queen she is and I love the yellow mixed with the gingham. A job well done.
Drag Race UK Season 1 – Blu Hydrangea
Drag Race UK season one is one of the most fun seasons ever, but isn't exactly known for its fashions. The entrance looks were a mixed bag, but Blu Hydrangea really blew it out of the park. Her makeup and polished looks were lightyears ahead of everybody else, and the colours in this whole outfit are just gorgeous.
Season 12 – Gigi Goode
Gigi never missed when it came to her season 12 fashions, and her Elizabeth Swan in Pirates of the Caribbean moment left the other entrance looks in its wake. It's theatrical and campy but still editorial, and she looks like such a superstar in it.
 Canada's Drag Race Season 1 – Jimbo
Jimbo constantly impressed and kept us guessing with her looks on the first season of Canada's Drag Race, and deserved a top three placement as far as I'm concerned. This stood out in a sea of expected entrance looks as something weird and funny, and slightly unsettling, whilst maintaining an elevated level of drag.
All Stars 5 – Ongina
I was so desperate for Ongina to be on an All Stars season and was so sad when she didn't deliver like I was hoping, but at least when it came to entrance looks she left the other queens in her dust. This is HIGH drag, exquisitely detailed and so interesting to look at. It's bursting with fashionable elements and represents Ongina and her culture so beautifully.
Season 13 – Kahmora Hall
I won't remember Kahmora Hall for very much, but I will say she let the other girls HAVE IT when she turned up in this original Bob Mackie gown for her season 13 entrance. It's really spectacular – kind of reminds me of an orange version of what Daphne wears to the Coolsville Museum opening in Scooby Doo 2: Monsters Unleashed. Which is high praise indeed.
Drag Race UK Season 2 – Lawrence Chaney
Lawrence Chaney set himself up as a winner in that first episode of Drag Race UK season two, and as far as looks go his entrance one was one of his best. It's such a well made garment, the Versace inspired print is so opulent and I love the big poodle wig with it. It's just great drag.
Drag Race Down Under Season 1 – Kita Mean
We do not speak of the car crash that is Drag Race Down Under, but I was fond of Kita Mean and think her looks were frequently the most fun. I love how anime and extra this entrance look is – completely on brand and the wig is a serve.
All Stars 6 – A'keria C. Davenport
A'Keria's run on All Stars 6 was full of amazing fashion moments, and we should have known from the standard of this entrance look that she was going to bring it. It's perfectly opulent, it's so immaculately put together and the monochromatic gold sparkle is just the art of drag at its absolute pinnacle. A wow.
Recommended stories by this writer: 
• This week's episode of All Stars 6 proves Drag Race needs to abandon acting challenges
• RuPaul: Queer people's trauma is not your Drag Race reality TV storyline
• Drag Race: The only bad thing about All Stars 6 is that a queen has to go home