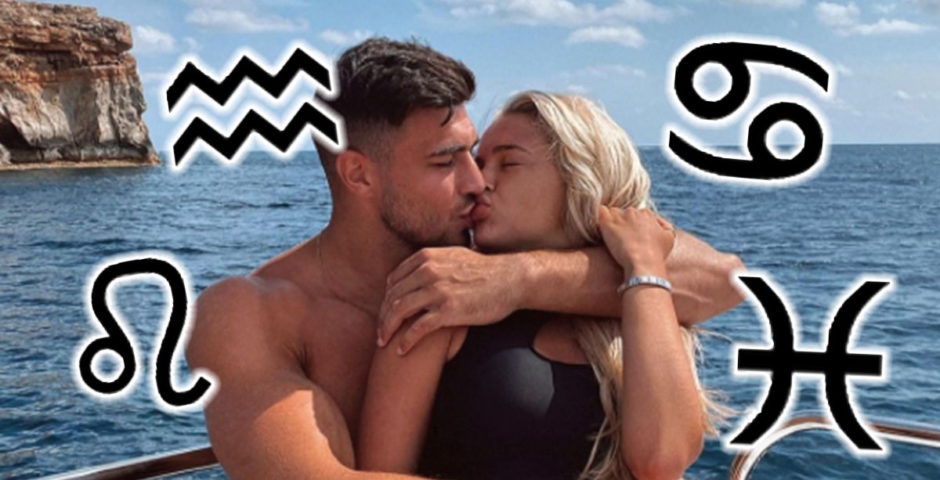 This is officially who you should date, according to your star sign compatibility
Now you know who to swipe for during hot girl summer
Have you ever dated someone and it not worked out once you realised the two of you just simply weren't compatible? Ever looked at someone on a dating app, reading their bio but just not being able to work out if the two of you would gel well? Well using star sign compatibility you can now see how compatible you are with someone you might want to date, based on both of your zodiac signs – so you don't have to spend those hours wondering any more.
Obviously, there's way more to someone's zodiac chart than purely their star sign (aka sun sign), which can change how compatible the two of you are. And of course, star signs mean nothing compared to how you both are in real life. Who cares if you're a Leo and they're a Taurus and you're not compatible on paper – if you have a spark you can't deny, go for it. But looking at your star sign compatibility is fun, and can actually tell you a lot about how you'd be with a person if you did date them.
Here's who you should date, based on your star sign compatibility:
Aries
Personality profile: The first sign in the zodiac, Aries are energetic and passionate – but can be turbulent and impulsive. Aries are good leaders, confident and honest, and always have lots of youthful energy. However, Aries can also be impatient, short-tempered, moody and even childish.
Celebrity Aries: Lady Gaga, Elton John, Kourtney Kardashian, Reese Witherspoon, Kristen Stewart, Zoella
Who you should date: Fellow fire signs Sagittarius is most compatible with Aries, but Leo, Aquarius, Gemini and Libra are all good matches too
Who you should avoid: Cancer, Capricorn, Virgo
Taurus
Personality profile: As an earth sign, Taurus are practical and grounded. They're also very stable and reliable, but can become stubborn. As well as this, they can be overprotective and possessive.
Celebrity Taurus: Tommy Fury, the Queen, Charli D'Amelio, David Beckham, Jamie Dornan, Gigi Hadid
Who you should date: Taurus is most compatible with Capricorn, but is also very compatible with Virgo, Pisces and Cancer
Who you should avoid: Aquarius, Leo, Sagittarius
Gemini
Personality profile: Geminis get a bad rap for being two-faced, but this isn't the case. Geminis are sociable, intelligent and great communicators. They're affectionate and adaptable – although this can sometimes show as them being indecisive.
Celebrity Geminis: Molly-Mae Hague, Naomi Campbell, James Charles, Tom Holland, Angelina Jolie, Mary-Kate and Ashley Olsen
Who you should date: Aquarius is super compatible with Gemini, but you also get on well with Libra, Aries and Leo
Who you should avoid: Pisces, Scorpio, Capricorn
Cancer
Personality profile: Ruled by the moon, Cancers are maternal, empathetic and nurturing, and very close with their families. Cancers are emotional and sensitive, as a water sign, but very loyal. However, they can be insecure and can tend to be pessimistic.
Celebrity Cancers: Ariana Grande, Selena Gomez, Meryl Streep, Khloe Kardashian, Chris Pratt
Who you should date: Cancer and Pisces are extremely compatible, but you're also well-matched with Scorpio, Taurus and Virgo
Who you should avoid: Aries, Sagittarius, Aquarius
Leo
Personality profile: Confident and dominant, Leos are natural leaders. They're fun, funny, generous and loyal. However, they can become full-on, and be arrogant and stubborn at times.
Celebrity Leos: Amber Gill, Kylie Jenner, Alex Bowen, J-Lo, Shawn Mendes, Stormzy, Maya Jama
Who you should date: Most compatible with Sagittarius, Leos are also very compatible with Aries, Gemini and Libra
Who you should avoid: Scorpio, Taurus, Pisces
Virgo
Personality profile: Virgos are hardworking and practical, always paying attention to detail and very methodical. They're kind and loyal, but can be shy and reserved. Virgos can become very critical of themselves, and it's sometimes said they focus too much on work and not enough on having fun.
Celebrity Virgos: Blake Lively, Liam Payne, Niall Horan, Beyonce, Zendaya, Idris Elba, Prince Harry
Who you should date: Virgos are highly compatible with Capricorns, but also would get on well with Taurus, Cancer and Scorpio
Who you should avoid: Sagittarius, Aquarius, Aries
Libra
Personality profile: Libras are often regarded as the nicest of all the zodiac signs – it's hard not to be mates with them. They're easy to get along with and always look for balance, so are very diplomatic, fair and sociable. However this can mean they're indecisive and non-confrontational.
Celebrity Libras: Kim Kardashian, Zac Efron, Bella Hadid, Addison Rae, Will Smith, Jacob Sartorius
Who you should date: Libras are super compatible with fellow air sign Geminis, but also compatible with Aquarius, Leo and Sagittarius
Who you should avoid: Capricorn, Cancer, Pisces
Scorpio
Personality profile: Water sign Scorpio is passionate, determined and a great secret-keeper. Scorpios are emotional but hold their cards close to their chest and come across as mysterious and calm. It's also often said that Scorpios are the most sexual of all star signs – do with that information what you will. However, Scorpios can become jealous and manipulative.
Celebrity Scorpios: Kendall Jenner, Penn Badgley, Amandla Stenberg, SZA, Frank Ocean, Drake
Who you should date: Cancer and Scorpio are most compatible, but you'd also get on well with Pisces, Virgo and Capricorn
Who you should avoid: Leo, Aquarius, Gemini
Sagittarius
Personality profile: There's no two ways about it: Sagittarius are FUN af. They have a great sense of humour, loads of energy and are very optimistic. They're creative and love to travel, however can be impatient and avoid commitment.
Celebrity Sagittarius: Miley Cyrus, Billie Eilish, Vanessa Hudgens, Charlie Puth, Taylor Swift, Zoe Kravitz
Who you should date: Sagittarius and Aries are the most compatible, but Aries are also well-matched with Leo, Libra and Aquarius
Who you should avoid: Virgo, Taurus, Cancer
Capricorn
Personality profile: Capricorns are very responsible and ambitious – it's sometimes said they're too serious and boring, but they're very grounded. They're motivated by money, very self-controlled and disciplined, and are super independent.
Celebrity Capricorns: Olivia Bowen, Zayn Malik, Louis Tomlinson, Timothee Chalamet, Kate Middleton, Dolly Parton
Who you should date: Most compatible with Virgo, Capricorns also are compatible with Taurus, Scorpio and Pisces
Who you should avoid: Libra, Aries, Gemini
Aquarius
Personality profile: Aquarius are eccentric and have a very different energy about them to everyone else. They're independent and vibey, and deep, intellectual thinkers. However they can avoid emotions and be aloof as well as temperamental.
Celebrity Aquarius: Harry Styles, Ovie Soko, Paris Hilton, Jennifer Aniston, Shakira, Chloe Grace Moretz, The Weeknd
Who you should date: Aquarius is most compatible with Gemini, but also Libra, Sagittarius and Aries
Who you should avoid: Scorpio, Taurus, Cancer
Pisces
Personality profile: Although they like their alone time, Pisces are very friendly and always helping others. They're compassionate, intuitive and very creative, but can sometimes become overly trusting.
Celebrity Pisces: Rihanna, Brooklyn Beckham, Millie Bobby Brown, Justin Bieber, Dakota Fanning, Jameela Jamil
Who you should date: Pisces is most well-matched with Cancer, but also compatible with Scoprio, Capricorn and Taurus
Who you should avoid: Gemini, Leo, Libra
Featured image before edits via Instagram @mollymae
Related stories recommended by this writer:
• Here's how to find if your celebrity crush is your soulmate, using zodiac compatibility
• TikTok has discovered a new 'psychology eye' trick to make anyone fall in love with you
• Okay but what is manifesting all about? Here's how to manifest your life