Netflix's guilty pleasure films ranked from worst to best
For when you and your Tinder date need some background noise
Everyone loves guilty pleasure films. They're the kind of films that are so bad they're actually kinda good.
They never fail to captivate us, with the almost perfect ratio of cringey, bad, writing and entertainment value.
To make it easy for you, we ranked Netflix's guilty pleasure films from worst to best, so you don't have to sit there with your Tinder date, trying to find something that will inevitably become background noise.
16. The Kissing Booth 2
We can all agree that there was no clearer loser than The Kissing Booth 2. The whole film was a complete and utter mess, and the writing was extremely questionable.
Was Elle's speech about all the things she would do to Marco over the school tannoy system really necessary? It went on for what seemed like three hours and filled me with more second-hand embarrassment than I've ever experienced before.
Also were not even going to get started on that dreadful wig she was wearing, or the random dance competition that just so happened to be able to pay her college tuition???
The only thing that saved this film was Jacob Elordi, and you won't be convincing me otherwise.
15. The Kissing Booth 1
The only way is up from here, and the first Kissing Booth film only very slightly tops the second film. The cringe factor in this one could possibly be described as endearing, and I'm sure everyone who has seen both films is now wishing for the days when this one was the terrible one.
At least the sequel made this one look better, and the plot made a little more sense, even if it did sound like it was ripped straight from some kind of One Direction fan fiction, (and not a good one either).
14. 365 Days
This film earns its place from just five words: "Are you lost baby girl?".
The first question is WHY did the writers think this was acceptable? And why was there a need for THAT boat scene?
It's understandable that a lot of people think Massimo is a hunky bad boy, but they also seem to forget that he literally kidnapped this woman and forced her to be some form of slave. It's arguable that this is a man we should be obsessing over, especially when he uses the phrase baby girl. Surely that was the first red flag.
13. After
The only reason this film is acceptable is because it's based on a Harry Styles fanfic. Even though it is the epitome of cheesy bad boy meets girl next door love story, it still has a charm to it that is almost indescribable.
Hardin Scott's tattoos and chiselled face helps us to ignore his terrible attempt at an English accent, and his broody, mysterious demeanour is something the thirteen-year-old in us would have probably drooled over.
After is an enigma, with all it's terrible 2014-esque wardrobe choices, including Tessa wearing a formal dress to a frat party, there's something about it you cannot help but love, begrudgingly of course.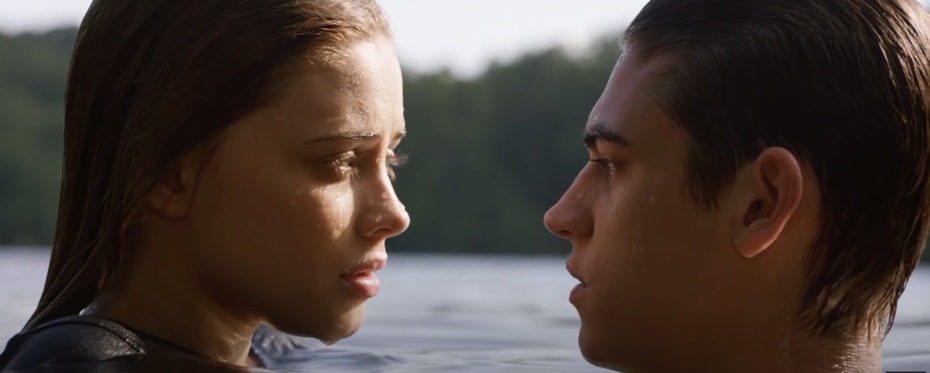 12. Falling Inn Love
This film is just pure lifetime movie vibes and something your mum has most definitely watched.
The plot is pretty predictable. A girl moves to the countryside away from her noncommittal boyfriend, after entering a "Win an Inn" contest(??). She meets a handsome widowed man and ends up dropping her big city life to lead a simple life with her new devastatingly gorgeous, but ultimately boring, new man.
It's not even a spoiler to be honest, you would have already guessed it in the first ten minutes. But when everything around you is uncertain, a bit of reliability provides the kind of comfort we all need. Plus Adam Demos from Sex/Life is in it. You're welcome.
11. The Intruder
The ultimate awful thriller. The Intruder exceeds all expectations, even if you can guess the plot twist about an hour before its revealed.
The acting is amazingly bad, but there's something about the film that's also actually kind of terrifying. The villain of the film is nothing shy of creepy, even his poorly written script adds to the fright factor.
10. The Perfect Date
Anything with Noah Centineo in is always guaranteed to be a guilty pleasure, but The Perfect Date is probably leaning too over to the bad side to be good.
As much as we all love a friends to lovers storyline, this just isn't it. It's safe to say the chemistry between the two main characters is just a tad questionable, and watching Noah's character Brooks be some kind of weird date prostitute is kind of uncomfortable.
With that being said, Brooks and his love interest Celia are still pretty likeable and it's a great watch if you really can't be bothered to concentrate too hard.
9. Fifty Shades of Grey
When this film got released and everyone was old enough to watch it, it was a universal traumatic experience when we finally found out what our mum and her mates were talking about all the time.
This film is pure filth, but with both Dakota Johnson and Jamie Dornan starring, the purely sexual plot-line can easily be looked over. Plus, Seeing Jamie Dornan be a swanky millionaire in a suit for an hour and a half really isn't all that bad. Maybe it's a not so guilty a pleasure.
8. Fatale
Fatale brings all the kind of drama that you'd find in the Christmas Eastenders episode. The plot is pure chaotic energy and the acting is so brilliantly bad.
It stars the same man from The Intruder, Michael Ealy, so clearly his specialty is terrible films. He never disappoints. The suspense, the forbidden love story, the spectacularly extravagant ending is the perfect recipe for a guilty pleasure.
7. The Babysitter: Killer Queen
Anything with Bella Thorne and King Bach in is always destined to be cringe, but this sequel takes it to a whole new level.
The film takes the old Babysitter type narrative and gives it a modern twist. And how, you might ask? It makes her and her friends Satan worshippers.
This is a great example of a film that is so self-aware of how bad it is, whilst still staying hilarious. However, it is still incredibly stupid and its attempt at relating to Gen Z, whilst also going for the retro vibe is super awkward and weird.
6. To All The Boys I've Loved Before: P.S I Still Love You
This one is only this low because of the random musical interlude. Sorry, that's it.
5. The Duff
Bella Thorne reappears again, playing pretty much the exact same character! Are we surprised? No. But are we happy about it? Maybe.
The current theme with guilty pleasures seems to be their utter inability to accurately portray modern day teenagers, and The Duff is no exception to this trend. However, this is where the friends-to-lovers narrative is actually done right.
Even with its awful use of hashtags, along with the fact that, just like every other teen movie, a poorly edited embarrassing video of someone is able to go viral overnight, it's still a good chick flick. On top of a shirtless Robbie Amell, this film also places importance on female friendships, which gives it a big thumbs up.
4. Always Be My Maybe
This film has a Keanu Reeves appearance, and this is one of the reasons it's placed so highly.
This would be an actually good film if the plot didn't tangent off into a weird Keanu Reeves fight scene, but still, it's chaotic good vibes overall.
3. The Babysitter
The better twin to the god-awful sequel. It still includes King Bach and Bella Thorne, s0 it can't be all good.
This film was surprisingly funny and the needlessly gory death scenes are still unmatched by any other poorly done Netflix film. If buckets of blood aren't your thing however, you're definitely going to struggle with this one, but maybe an incredibly fit babysitter will persuade you.
2. To All the Boys I've Loved Before: Always and Forever
This was too romantic not to come second best. Everything about the To All the Boys franchise makes it immeasurably better than any other cheesy Netflix film (except the second one).
Where all the other films fail, To All the Boys hits the nail on the head when it comes to casting convincing teenagers, whilst still giving us the cheese we need in the form of Peter Kavinsky. Although this one isn't quite as feel good as the others, the hopeless romantics of our generation will probably love it all the same.
1. To All the Boys I've Loved Before
You knew this was coming. The clear winner. The best of the best. This film is not a guilty pleasure, it's just pleasure.
The colour scheme, the hand-in-back-pocket move, Lara-Jean and Peter's meet-cute, everything about this film is pure perfection and deserves it's place in the top spot as THE BEST Netflix guilty pleasure.
Related stories recommended by this writer:
•The Woman In The Window is the best worst film ever made
•The definitive ranking of all the Shrek films from best to Shrek Forever After
•A definitive ranking of the best Disney Channel Original Movies