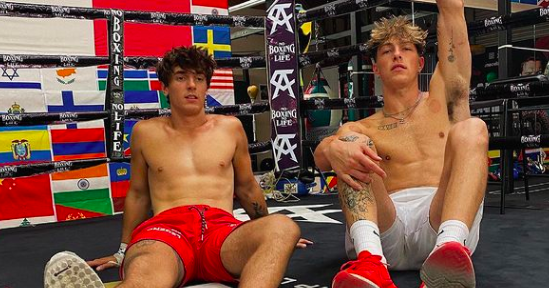 A load of YouTubers and TikTokers have organised a boxing 'battle' and it looks cringe
They want people to pay £35 to stream it
Imagine seeing all the most annoying YouTubers get punched. Imagine seeing all the most annoying TikTokers get punched. It's a dream, isn't it – and it's actually happening, with the much-hyped TikTok vs YouTube boxing match.
Unfortunately, compared to your dream hypothetical situation, somebody will emerge with the pride of victory.
But anyway, it's a big event, and the latest development in the trend of social media stars, eager to diversify their earnings, turning to highly-publicised boxing events. Here's what you need to know.
What is the YouTube vs Tiktok boxing match and why is it happening?
Basically, everyone saw KSI and Logan Paul earn over a milion smackers from punching each other and decided they wanted some of that action. Boxing has always been as much about the circus as the ring, so it stands to reason that a bunch of influencers see it as their natural home. Of course, YouTuber boxing is nothing new – but this is being billed as the biggest yet.
The YouTube vs TikTok fight is officially called The Battle of the Platforms, which would be a great drag race challenge. Unfortunately, we're stuck with a bunch of influencers slogging it out with each other.
The greatest battle in the history of the Earth starts at 12am on Sunday 13th June (that's Saturday night, not Sunday night), and DJ Khaled, Lil Baby and Migos will be performing.
Who is taking part in the YouTube vs TikTok boxing match?
The main fight is Bryce Hall taking on Austin McBroom, who reportedly offered the former a $5 million fee for taking part. That'll overcome any reluctance.
Alongside that, you've also got KSI's brother Deji fighting Vinnie Hacker.
The rest of the fights (with YouTubers listed first) are:
Tanner Fox vs Nick Austin
Faze Jarvis vs Michael Le
DDG vs Nate Wyatt
Aneson Gib vs Taylor Holder
Landon McBroom vs Ben Azelart and Ryan Johnston vs Cale Saurage are the two free fights.
How can you watch the YouTube vs TikTok fight and how expensive is it?
The stream will cost $49.99 on pay-per-view site LiveXLive. At current exchange rates that's £35.40. Crazy money to see a load of social media stars dance around each other. There are going to be a lot of angry mums trying to get a credit refund on the Sunday morning.
However, luckily, you can watch the first two fights for free. Ahead of the fight, Deji has been hard at work in Mexico (nice work if you can get it), honing his craft as "Camp Cancun". He's eager to exorcise the demons of his loss to Jake Paul.
Related stories recommended by this writer:
• KSI is losing followers after brother Deji accuses him of emotional and physical abuse
• Eddie Hearn at the Union: Success, pressure, future boxing ambitions and his new book