Too Hot To Handle's Francesca denies going out whilst knowing she had coronavirus
Francesca's co-star Haley accused her of partying when she knew she was positive
Too Hot To Handle's Francesca Farago denies going out whilst testing positive for coronavirus after her co-star Haley Cureton alleged Francesca had gone to numerous clubs, hotels and restaurants whilst knowing she had the virus.
On 8th March Haley posted on Instagram saying she had ended her friendship with Francesca as she didn't want to be friends with someone who was "spreading a disease to innocent people". Haley claimed Francesca had tested positive for coronavirus three times and then proceeded to go out to clubs, hotels and restaurants.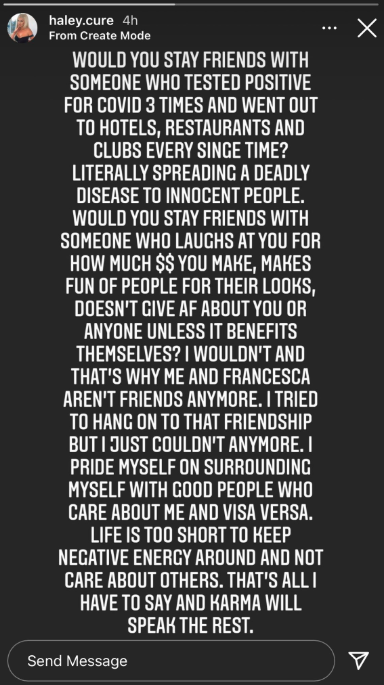 Haley wrote on Instagram: "Would you stay friends with someone who tested positive for COVID three times and went out to hotels, restaurants and clubs every single time?
"Literally spreading a disease to innocent people. Would you stay friends with someone who laughs at you for how much money you make, makes fun of people for their looks, doesn't give AF about you or anyone unless it benefits themselves?
"I wouldn't and that's why me and Francesca aren't friends anymore. I tried to hang onto that friendship but I just couldn't anymore.
"I pride myself on surrounding myself with good people who care about me and vice versa. Life is too short to keep negative energy around and not care about others. That's all I have to say and karma will speak the rest."
Haley then proceeded to share screenshots of messages from Francesca and photos of Francesca out to try and prove her point.
Haley shared a screenshot of a group text which she claims is from 2nd February. In a message allegedly sent by Francesca she writes "COVID is fucking my ass" and then Haley shares a picture of Francesca at a restaurant dated 2nd February.
Haley then claimed Francesca tested positive for the virus on 7th February but still went out to a day party and dinner. Haley claims she did not attend these parties and stayed in the AirBnb whilst in Tulum.
Francesca denied all the claims made by Haley on her Twitter and said everything "that has come out of Haley's mouth is a lie".
She wrote: "Every single thing that has came out of Haley's mouth has been a lie. It's hard for me to defend myself without completely throwing her under the bus but I spent a year taking the high road with my ex and clearly that got me nowhere since he's still out to get me."
Francesca later clarified she had not left the house when she was sick and only went out when the doctor said it was safe to do so. She also claimed Haley was the one to go out with others whilst knowing they were positive.
On a post on Twitter she wrote: "Just to clarify, I stayed in the entire time I was sick. I only left the house after 10 days (doctor's orders) when I wasn't contagious anymore and had zero symptoms. Anyone in the villa can confirm this.
"Haley went out with people and sat with them out multiple times knowing they were positive. I was not [a part] of this as I was not there … She lied, plain and simple, about everything."
And the drama doesn't end there. Francesca's ex Harry Jowsey then got involved on his TikTok.
Harry posted a screen recording of voice notes Haley had sent to someone, in the voice notes she claimed Francesca said she had cheated on Harry when he was with Francesca. Harry captioned the TikTok "Imagine lying to your best friend and fans, anyway welcome to messy TikTok".
Haley also alleged Francesca had asked her to go to TMZ to say how "awful" Harry was in their relationship. Francesca has not addressed the cheating allegations.
Featured image credits via Instagram @haley.cure, @francescafarago
Related stories recommended by this writer:
•Too Hot To Handle's Francesca spotted holding hands with Damian from Love Is Blind
•Too Hot To Handle's Harry has revealed why he broke up with Francesca
•This is what the Too Hot To Handle cast have been up to since the show