Meet the cast of It's A Sin, and where you recognise the actors from
Finally we have gay characters played by actual gay people
Channel 4's newest series It's A Sin is all about a group of friends living in London in the 1980s, during the time of the AIDS crisis. It's brought to us by Russell T Davies, the man behind Queer As Folk and Years And Years – and it's so good. The cast of It's A Sin is phenomenal, and I'm very happy to tell you there's not a single James Corden in sight. What, a line up of gay characters played by a cast of actual gay people? Unheard of.
As well as some super famous faces, including people from EastEnders, How I Met Your Mother and Friday Night Dinner, there's a whole load of fresh new cast, for whom in It's A Sin is their first major role.
Here's all the cast of Channel Four's It's A Sin:
Olly Alexander – Ritchie Tozer
If you've seen anything about It's A Sin, you'll know it stars Olly Alexander, frontman of the band Years and Years. He plays Ritchie, a young gay man from the Isle of Wight who's not out to his parents. Ritchie moves to London for uni and starts a law degree.
Olly has acted before in Skins, The Riot Club and Funny Bunny. You may recognise him from Celebrity Gogglebox. He also presented BBC Three documentary Growing Up Gay, which is available on BBC iPlayer and well worth a watch.
Lydia West – Jill Baxter
Lydia West plays Jill Baxter. This character is based on a real life person, Jill Nalder. Jill Nalder is also in It's A Sin, playing character Jill's mum.
Jill meets Ritchie and Ash at uni and becomes Ritchie's best friend. If you've seen Russell T Davies' series Years And Years, you'll recognise Lydia from playing Bethany in this.
Callum Scott Howells – Colin Morris-Jones
Callum Scott Howells plays Colin Morris-Jones, a young man from Wales who moves to London hoping to become a tailor on Savile Row. In London he meets Henry, Colin's mentor who helps him come to terms with his sexuality. He also meets Ritchie and his mates, who nickname Colin Gladys Pugh. Colin is loosely based on Russell T Davies' ex-boyfriend.
Callum is a 21-year-old recent grad from Wales, graduating from Royal Welsh College of Music and Drama in Cardiff last summer. He's been in several plays but Colin in It's A Sin is the first major role Callum has been cast in.
Omari Douglas – Roscoe Babatunde
Omari Douglas plays Roscoe Babatunde, Ritchie's friend. He is a young gay man, who's family effectively disown him after he comes out to them. This is Omari's first major acting role.
Nathaniel Curtis – Ash Mukherjee
Nathaniel Curtis plays Ash Mukherjee, a drama student who is the fifth Pink Palace housemate. Like many of his cast mates, It's A Sin is Nathaniel's first major role.
Neil Patrick Harris – Henry Coltrane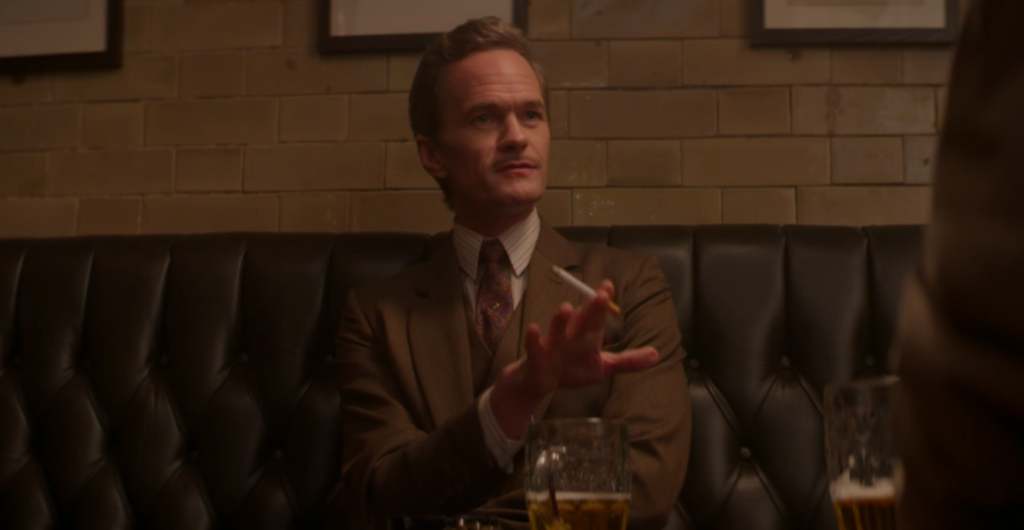 Neil Patrick Harris plays Henry Coltrane, a tailor who lives with his male partner and becomes Colin's mentor. You defo recognise Neil Patrick Harris from loads, including playing Barney in How I Met Your Mother, as well as starring in Glee, American Horror Story, Gone Girl and A Series Of Unfortunate Events.
Stephen Fry – Arthur Garrison
Stephen Fry plays MP Arthur Garrison, a politician who's trying to impress Margaret Thatcher whilst hiding his personal life. Stephen Fry's super famous for being an actor, comedian and TV presenter.
He used to host QI, and has been in the likes of Sex Education and St Trinian's hosting school quizzes the characters are taking part in. Stephen Fry is also in Chariots Of Fire, V For Vendetta, The Hobbit film series, and Blackadder. He's written several books and is often on panel game shows. Stephen Fry has spoken widely about his sexuality.
Jill Nalder – Jill's mum
The real life Jill Nalder plays Jill's mum Christine, who supports Jill and all her friends as they navigate life during the AIDS crisis.
Real life Jill is Russell T Davies' friend and was involved in fundraising for research around AIDS, as well as visiting many victims of the illness in hospital, giving them care and company.
Keeley Hawes – Valerie
Keeley Hawes plays Ritchie's mum Valerie, who lives on the Isle of Wight. Keeley Hawes has been in loads before, including Line Of Duty, Bodyguard, The Missing and The Durrells. She's been in films such as Misbehaviour and Death At A Funeral.
Shaun Dooley – Clive
Shaun Dooley plays Clive, Ritchie's dad and Valerie's husband. Shaun has been in both Coronation Street and EastEnders, and loads more including The Stranger, Kit Harington's Gunpowder series and 2012 film The Woman In Black. He also narrates TV show SAS: Who Dares Wins.
David Carlyle – Gregory Finch
David Carlyle plays Gregory Finch, nicknamed Gloria. Gregory is a gay man from Scotland who doesn't live in the Pink Palace but is friends with them all, particularly Jill and Roscoe. David's been in Bodyguard and a series called Lip Service.
Steve Toussaint – Jill's dad
Steve Toussaint plays Jill's dad Alan. He's well known for many films and series, including Line of Duty, Our Girl, Dr Who, Small Axe and Prince of Persia: The Sands of Time.
Andria Doherty – Eileen
Andria Doherty plays Colin's lovely mum, Eileen. Her bio says she is also a qualified nurse and midwife (!) and says: "I am an English and Welsh speaking actor and presenter with a physical disability. Although having some impairment this has not prevented me developing and working."
Shaniqua Okwok – Solly
Shaniqua Okwok plays Roscoe's sister Solly. She helps Roscoe escape their family and then stays in touch, visiting him in the Pink Palace. Shaniqua was in recent series Small Axe, as well as Marcella.
Toto Bruin – Lucy
Toto Bruin plays Lucy, Ritchie's sister who lives on the Isle of Wight with their parents. She was in a film called Pelicans last year, and BBC series Father Brown in 2013. She's spoken about her uncle who sadly died during the AIDS crisis, saying: "Unfortunately I never got the pleasure of meeting him, but he sounded wonderful."
Nathaniel Hall – Donald Bassett
Nathaniel Hall plays Donald Bassett, an actor and Ritchie's boyfriend. Nathaniel has spoken about living with HIV and has said it was "an honour to be involved" in such an important series.
Tracy Ann Oberman – Carol Carter
Tracy Ann Oberman plays Carol Carter, an acting agent who interviews Ritchie. Tracy Ann Oberman is famous for playing Chrissie in EastEnders, as well as being in Dr Who, After Life and Friday Night Dinner, where she plays Auntie Val.
Nicholas Blane – Mr Hart
I had this down in my notes as "the creepy old man", because that is fundamentally what the character Mr Hart is. He's played by Nicholas Blane, who's been in The Illusionist, Harry Potter and the Order of the Phoenix, and played the Spice King in a few episodes of Game of Thrones.
All episode of It's A Sin are available on All 4 now, and they'll be shown on Channel 4 every Friday at 9pm. 
More It's A Sin stories recommended by this writer:
• It's A Sin shows the importance of queer people telling LGBT stories
• It's A Sin taught me more about LGBTQ+ history and sex education than school ever did
• Which It's A Sin character are you? Take this quiz to find out