From Peppa Pig to EastEnders: Here's all we know about Bly Manor's Amelie Bea Smith
She is a millionaire already 😐
Of all the many things that people could focus on when watching The Haunting of Bly Manor, there was one particular nuisance questions that popped up repeatedly, especially amongst those with young family members – where do I recognise Flora from? Has she been in anything I've seen before? Why does she keep saying "perfectly splendid"?! Well, maybe not the last one, but yes, you have seen her before, but not as you'd think – Amelie Bea Smith, who played Flora, is the voice of none other than Peppa Pig.
It's so obvious as soon as you see it. But aside from her most famous role, which is reported to potentially earn her a huge amount every year, what else do we know about Amelie Bea Smith from The Haunting of Bly Manor?
How old is Amelie Bea Smith?
Lending her quintessential poshness (I mean, look at her name) and childlike voice to Peppa was oh so natural for the role – who else could repeatedly exclaim "perfectly splendid" and not irritate EVERY single person that watched the show? As an accomplished actor already, you'd be forgiven for thinking that she acted and sounded dramatically younger than her years as is often the case, but in fact she was born in 2011, making her just nine years old. I know.
Nuts to think that she has done more in nine years than most of us have done in twice that time. Oh well, that's one TV show and a Netflix thing under her belt, nothing too big, right? Well:
What is Amelie Bea Smith's net worth?
It's no secret that actors of any sort are very well paid, especially if a show completely bangs. We've seen it with other child stars earning millions (Angus T. Jones earnt $300k per episode for his stint on Two and a Half Men),  so you'll no be too amazed to learn that Amelie was likely to earn up to one million quid a year from Peppa Pig alone.
Speaking with The Metro, the founder of a publicity agency said: "With how much of a juggernaut Peppa Pig is, I can definitely see Amelie making at least a million within the next year or so." Supposedly, the girl who voiced Peppa before Amelie was paid £1000 an hour, so it doesn't seem out of the question.
It's you, it's me, it's ONE MILLION POUNDS A YEAR.
What else has Amelie Bea Smith appeared in?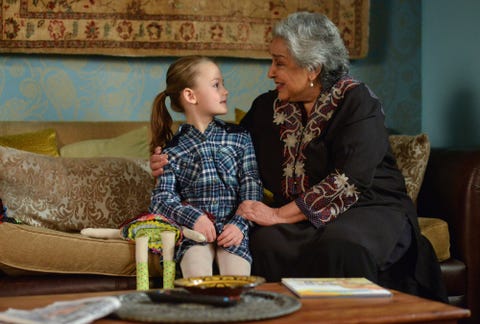 Amelie first appeared in Eastenders as Daisy, the foster daughter of Arshad and Marian Ahmed, and things have only been on the up since.
Although she may be able to watch most of her other performances, she recently told The Beat that she is yet to watch The Haunting of Bly Manor: "I still don't know the whole story, but I'm not allowed to watch all of it when it comes out because I think I'll be scared."
Related stories recommended by this writer:
• I'm sorry, but The Haunting of Bly Manor is Netflix's stupidest show to date
• 'It's you, it's me, it's us': The Haunting of Bly Manor ending explained
• Here are the real-life filming locations used in The Haunting of Bly Manor on Netflix