The 13 best new scary films and series on Netflix this spooky season
This is the best time of year and you can't change my mind
It's that time of year again, spooky season is upon us. It's the time of year where we finally kiss goodbye to summer, and embrace blankets, movie nights and wearing pyjamas all day and all night. So to go with that, we need some good TV – and Netflix really is providing the goods with its October 2020 and Halloween schedule.
There are new series, some new horror films being added and a few classic films that have just landed on the site. Here are all the best, spookiest new releases on Netflix in October 2020.
Oktoberfest: Beer & Blood – 1st
Oktoberfest: Beer and Blood is a German series about a rich guy who is determined to take over Oktoberfest with his own brewery. The Netflix synopsis reads: "In 1900 Munich, ambitious brewer Curt Prank uses brutal tactics on his quest to build a beer hall that will dominate the city's lucrative Oktoberfest."
Paranormal Activity 4 – 1st
The fourth instalment of the creepy horror franchise is landing on Netflix. The 2012 film is about Alex, who experiences strange events after she meets her neighbour's son Robbie. Her life turns into a nightmare when one by one all her dear ones are murdered.
The Conjuring – 1st
Another famous horror movie landing on Netflix in October 2020 for Halloween is The Conjuring. The 2013 film is about the Perron family, who move into a farmhouse where they experience paranormal phenomena. They consult demonologists, Ed and Lorraine Warren, to help them get rid of the evil entity haunting them.
Vampires vs. The Bronx – 2nd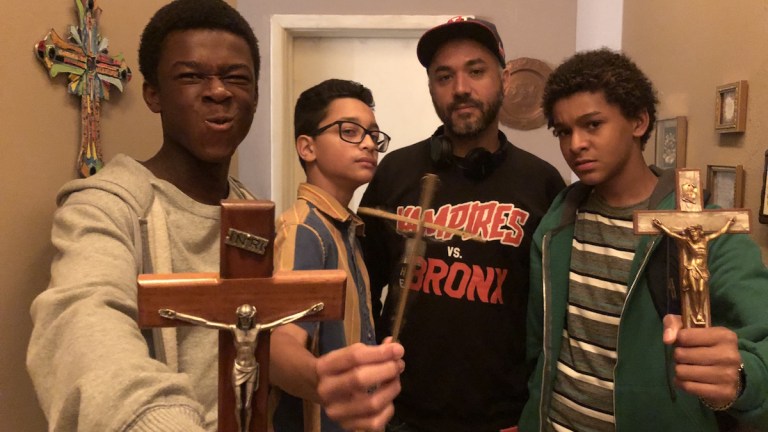 Vampires vs The Bronks is a horror comedy film. The movie follows a group of teenagers who are forced to protect their neighbourhood in the Bronx when a gathering of vampires invades.
Hubie Halloween – 7th
Hubie Halloween is Adam Sandler's latest, Halloween themed, original comedy. It has a cast full of familiar faces, as well as Adam Sandler, including Noah Schnapp (Stranger Things) and Maya Rudolph (Bridesmaids, Big Mouth).
To the Lake – 7th
If you've had enough talk of a deadly virus, this chilling thriller series might not be for you. It's a Russian show, based on the popular novel Vongozero by Czechoslovakian-Russian author Yana Vagner. The series is set in a desolate version of Moscow after it's been completely destroyed by a foreign virus.
The Haunting Of Bly Manor – 9th
The second season of the acclaimed horror anthology starring Victoria Pedretti is back this month. This time, it's a take on the classic gothic novel The Turn of the Screw. Victoria Pedretti and Oliver Jackson-Cohen are back as leads, and this one looks even scarier than the first.
A Babysitter's Guide to Monster Hunting – 14th
A Babysitter's Guide to Monster Hunting is based on the popular book series. When high school freshman Kelly Ferguson reluctantly agrees to babysit on Halloween, she is recruited into a secret society of babysitters who protect kids with special powers from monsters. Oh, and Tom Felton is in it.
Unsolved Mysteries volume two – October 19th
If you've just recovered from the first bunch of Unsolved Mysteries (same), even more are due to come this month. It has not yet been announced what mysteries will be explored in part two, but we know that one will be a paranormal ghost story and two others will have international themes, much like the House of Terror episode about missing person Xavier Dupont de Ligonnès – who allegedly killed his family.
There are six new, real life unexplained cold cases which are going to be explored in volume two.
Rebecca – 21st
Rebecca is a film adaptation of Daphne Du Maurier's gothic thriller, starring Lily James and Armie Hammer. They are cast as a pair of newlyweds, with Lily James' character struggling to live in the shadow of her new husband's dead first wife – Rebecca.
Cadaver – 22nd
Cadaver is the first ever Norwegian Netflix original horror movie. The synopsis reads: "After a nuclear disaster, a starving family is lured by the offer of a meal to participate in a play at a hotel, where audience members begin to vanish."
Nobody Sleeps in the Woods Tonight – 28th
Nobody Sleeps in the Woods Tonight is a Polish slasher movie. The synopsis says: "Addicted to technology, a group of teens attends a rehabilitation camp in the forest, but a sinister force there intends to take them offline forever."
His House – 30th
His House is about a couple who manage to escape from war-torn South Sudan, but then they find themselves caught up in another frightening situation, as their new English home appears to be haunted.
*Adds every single one to list*
All of the above series and films are being released on Netflix in October 2020. For all the latest Netflix news, drops and memes like The Holy Church of Netflix on Facebook. 
Related stories recommended by this writer:
• These 15 Netflix horror films are not for the faint hearted
• These are officially the Netflix series which are most likely to make you cry
• The full true story behind Netflix true crime 'American Murder: The Family Next Door'