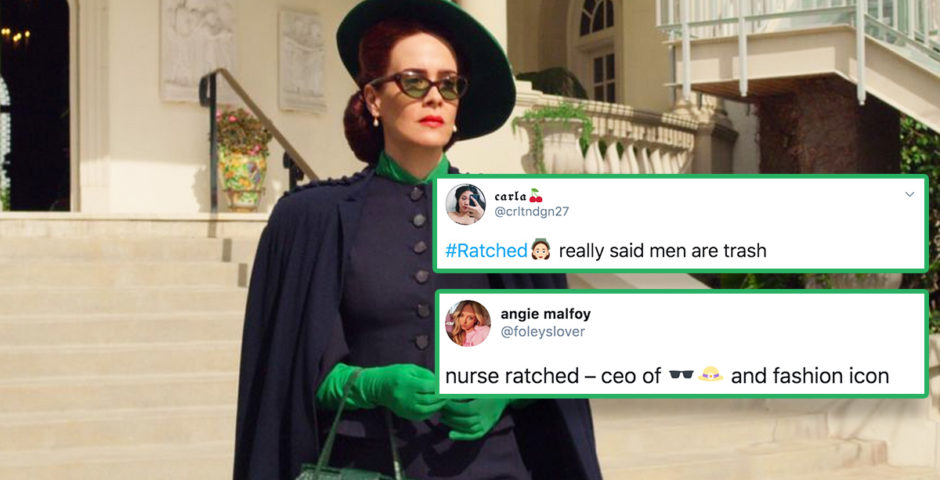 These 29 memes about Ratched on Netflix are even better than the outfits
Last week, Netflix released Ratched. And if like most of us you became instantly hooked, you'll have seen that the internet has become fluttered with Ratched memes.
The series is all about the journey of Nurse Ratched, a creepy yet iconic woman who struts into a mental hospital, demands a job and then just kinda, gets it? Then all the drama unfolds and a lot of dark secrets about Mildred Ratched come to light.
I don't think we'll ever be over some of the dramatic and iconic scenes, as well as the undertones of sexual tension throughout. And can we talk about Nurse Ratched's outfits? Or more, can we talk about the entire aesthetic of the series as a whole? I'm obsessed.
Here are the best memes about Ratched on Netflix, so far.
1. *Chef's kiss*
2. THAT STRUT
3. Over, and over again
4. Give her all the awards please
5. Daaaaaamn girl ok then
6. Ok these were too much I was SHOOK
7. I need serious help
8. Nothing short of incredible
9. THAT WAS A STEP TOO FAR
10. These scenes, and these scenes alone
11. Doctor Hanover and Henry Osgood was TRIPPY
12. Is this the most stunning Netflix show ever???
13. I am in awe
14. There is no justice in this world
15. What WOMEN
16. Iconic
17. I just love her ok?!
18. A queen
19. I'll never be over the tension in this scene
20. Mildred gets it
21. The best couple's Halloween idea
22. PREACH
23. Obsessed
24. Where is the lie??
25. Yeah, she served
26. Honestly, I live for it
27. Looool the intensity is real
28. Accurate
29. And finally, this is my mood forever now
Season one of Ratched is available on Netflix now. For all the latest Netflix news, drops and memes like The Holy Church of Netflix on Facebook. 
Related stories recommended by this writer:
• Quiz: On a scale of one to Nurse Ratched, how evil are you?
• Season two of Ratched on Netflix is already confirmed, here's what to expect
• This is where you recognise all the cast of Ratched on Netflix from