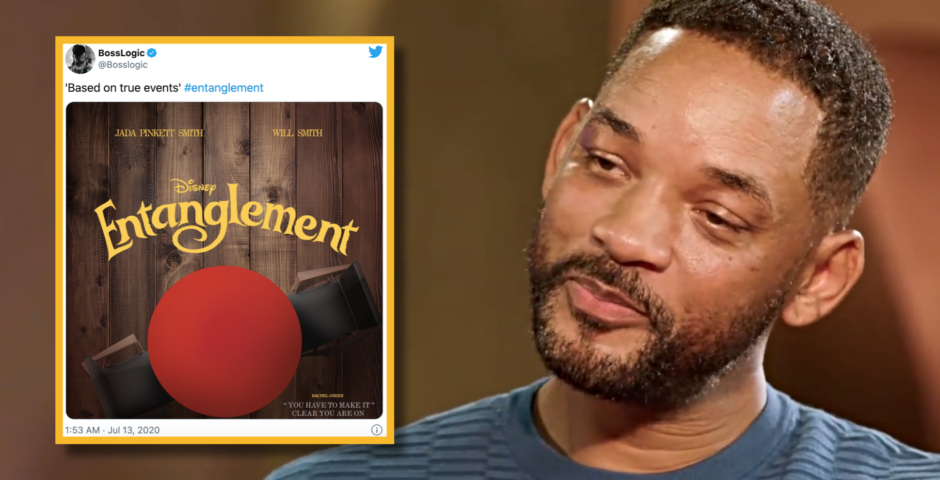 What is the entanglement meme and why is everyone rinsing Jada Smith over it?
The Smith family are that prestige group of people that everyone knows and loves universally. Seriously, is there a family other than the Smiths and Kardashians in which every member is super famous? Add to that the fact that Will and Jada have always been the "goals" couple, with J Cole rapping about wanting "that Jada and that Will love" on No Role Modelz, and you have a super family – it's like they can't step a foot wrong! Well, that was until last week's announcement that Jada Pinkett Smith had had an "entanglement" with another man during their marriage.
But Why are Will and Jada discussing their entanglement on camera? What is the entanglement meme? And what even is an "entanglement"?
Where did the entanglement meme come from?
The entanglement meme started when Jada invited Will onto an episode of her Red Table Talk show to open up about their relationship. During a very personal chat about everything they had gone through, she made the revelation (to us, at least) that she had had an "entanglement" with rapper August Alsina during hers and Will's split: "About four and a half years ago…[I] started a franchise with August. We actually became really, really good friends. It all started with him just needing some help. Me wanting to help his health, his mental state, y'know?".
After discussing the subject for a while, Will told her: "I told you the first year we were married, that I could love you through anything." Usually, Jada copresents the show with her daughter Willow, so it's probably a bit of a relief for everyone involved that she skipped out on this one.
You're right in thinking that this is serious Gwyneth Paltrow "conscious uncoupling" levels of celebrity jargon – why can't they just call it how it is?
Also why they wanted to talk about an obviously traumatic and personal subject in the name of internet content is not really that easy to understand but hey ho, the internet obviously began its duty of meme-ing this to absolute shit because there really isn't much funnier than the breakdown of someone's marriage right! Here are some of the best examples of the entanglement memes.
1.
2.
3.
4.
5.
6.
7.
8.
9.
10.
11.
12.
13.
Related stories recommended by this writer:
• Quiz: Can you guess the celebrity from their gender swap filter picture?
• Quiz: Can you match the celebrity children to their famous parent?
• Quiz: Can you guess which celebrity lives in these incredible houses?