A TikTokker stumbled upon the empty Boomtown site, and this is what it looks like
Feel like pure shit just want summer back x
Although not EVERY single festival has announced that they've fully cancelled this year, it's pretty much certain that we won't be enjoying the wonky walk from the tent to the arena and the putrid smell of portaloos for a long while yet. But that hasn't stopped one group of teenagers from getting their fix in a slightly more unorthodox sense.
A TikTok video, uploaded by user @thoomash, shows a group of girls walking through rolling countryside before arriving at the empty site where Boomtown is held. It turns out that, although most of the festival is deconstructed once all of the revellers leave, there are some permanent additions that stay in the woodland area.
Firstly, the group walks across fields into a forest area, where you can see fencing up around the perimeter:
The site is located on the Matterley Estate in Winchester, which is used as a venue for plenty of outdoor activity, including motocross and even tank driving. Who knew Boomtown was the SECOND most fun activity to take part in on The Matterley Estate in Winchester, Hampshire?!
Boomtown 2020 was due to take place this August, but it was announced via their official website that the next chapter of the festival was to be postponed until the same month of 2021.
The land has a public walk path going through it, so you're fully within your rights to go and have an explore.
As you can see, the woodland stage is left fully constructed so that it can be used year on year, and they even find an old baggy! x
The site will remain untouched until prep begins for the next chapter in 2021. When people flock to the forest it's absolutely packed – this photo from 2o18 is taken from the very stage in the TikTok video:
Next Saturday, IllumiNaughty will be at for our third year, hosting the Boomtown Fair incredible PSYCHEDELIC FOREST! make sure you check out Shpongle (Simon Posford), BLiSS, Phaxe, Freedom Fighters, SKAZI and more!

Full info: https://t.co/5HtJotbEEC pic.twitter.com/b4vxVNhDOK

— illumiNaughty (@illuminaughtyUK) August 3, 2018
Now is the part that you were all waiting for – want to go and explore for yourself? According to the comments section, it is a South Downs way walk called Cheesefoot Head. You park there, walk through the gate and down into the woodland where you can see everything from the stage to the bar set up that also remains permanently fixed.
The girls also visit other parts of the site, which are enough to give anyone who's been before a weird feeling in their stomach – must be so weird seeing it all without being fucked out of your face!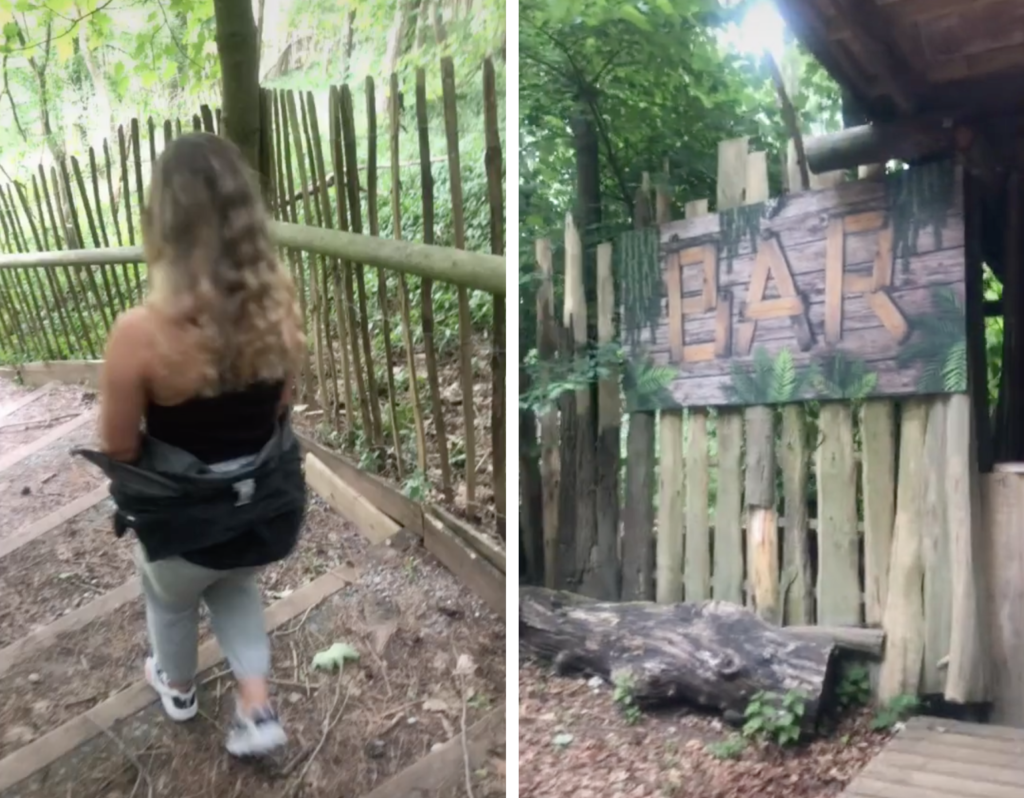 One person commented on the original video on TikTok saying: "I remember tripping out on those stairs a few years ago and not being able to move 😂". Fond memories, then! Take a look at the full video here:
And Boomtown's not the only festival which leaves its structures up for the rest of the year in off periods. Take a look at what some of the other festivals look like when the land is not in use:
Glastonbury
This picture of the permanent Pyramid Stage skeleton at #Glastonbury when the farm is in use is great. #glasto2016 pic.twitter.com/9V3pYKf9b5

— Dylan Robinson, Esq. (@Dylanjibmonkey) March 29, 2016
The first Pyramid Stage was constructed in 1971, but there have been several iterations since due to fire and damage. It was originally designed to also be used as a home for lifestock in the Winter, but nowadays just sits in the field as a skeleton.
During off time, the field is occupied by a load of cows, that happily walk around at the base of the structure. To see a live view of what it looks like currently, take a look at the webcam of the site. You'll find it if you scroll over to the far left:
Reading Festival
Reading Festival is held on farmland called Little John's Farm, and as you can see from this TikTok, there's not really a lot to see. In the grand scheme of things, it's quite a central festival, which means that there are no permanent stages erected. Still, pretty eerie.
Bestival
Bestival moved from The Isle of Wight to The Lulworth Estate in Dorset in 2017, which was FAR more convenient for those that usually had to tirelessly travel on the ferry.
The grounds are like any other estate during off-season – a good place to take your nan for a cream tea and enjoy a wholesome Sunday walk:
The Lulworth Estate is looking 👌today! #Bestival17 pic.twitter.com/udNQHAyWO1

— Bestival (@Bestival) August 21, 2017
Related stories recommended by this writer:
• Here is what your favourite UK festivals have said about their plans for the summer
• These Reading Festival stories prove it's Britain's grimmest festival and always will be
• Grime, Dark Fruits and ketamine: How the kids of Reading Festival have changed since 2012