A round up of the best isolation beards and moustaches you've grown during lockdown
If there's anything isolation has taught us, it's that when men are bored, they love experimenting with the hair on their bodies. First you gave yourselves awful haircuts, now you've turned to your facial hair for fun.
Isolation has finally given boys the privacy they needed to grow out their patchy beard or style the moustache of their dreams. Some of them are pretty impressive, some not so much. Here are the best of what you sent us:
Marty, Manchester Uni
Marty sent in this excellent tash, styled with a creepy wink which really makes it. Marty said this took him a few weeks to grow, trim and get right. When we asked what inspired it, he said: "I think the moustache is making a comeback and I want to be at the forefront".
Bryn, Southampton
Bryn sent this incredible beard, which apparently took him about three weeks. The only reason for growing it out is because he left his razor at uni and isn't willing to spend the money on a new one – he also wants to see how long he can get it.
Brock, Newcastle
Brock described this as the dismantled version of the beard he had been growing for the past year. He made the choice to style it into a moustache for "sex appeal", even though he's now locked in his house with only his family.
Louis, London
A sad story from Louis, who initially sent me a pic of his excellent goatie that he'd been grooming for nearly four weeks. Unfortunately, the pic didn't save properly and when I went back a few days later for a new one, he'd shaved it all off in a lockdown moment of madness. He now has to start again and he's devastated.
Tom, Southampton
Tom's had a beard for ages but took the peace and quiet of isolation to shape it into a sexy moustache and chin fluff. His reasoning was "it matches my pro club team on FIFA" – classic dudes.
He added that FIFA and his beard is all he has left.
Aaryan, Exeter
Aaryan was pretty proud of his impressive five o'clock shadow. Turns out this only took him a couple of days and it's his first time bread-growing. Aaryan said he lost the motivation to shave it off, so he's kept it and now he's starting to get used to it. He wants a full beard by the end of lockdown.
Tom, Sheffield
This outstanding circle beard was apparently inspired by Tiger King. That growth has taken just under a month and, as you can see, the sides were freshly shaved for the pic – thanks Tom.
He loves it and thinks he might have to keep it.
Billy, Southampton
Billy already had a pretty strong beard going for him but decided to shave it into a tash a few days ago.
He did it because he's always wanted one but his girlfriend hates them, now that she's being advised by the government not to see him, he can finally do what he wants – amen.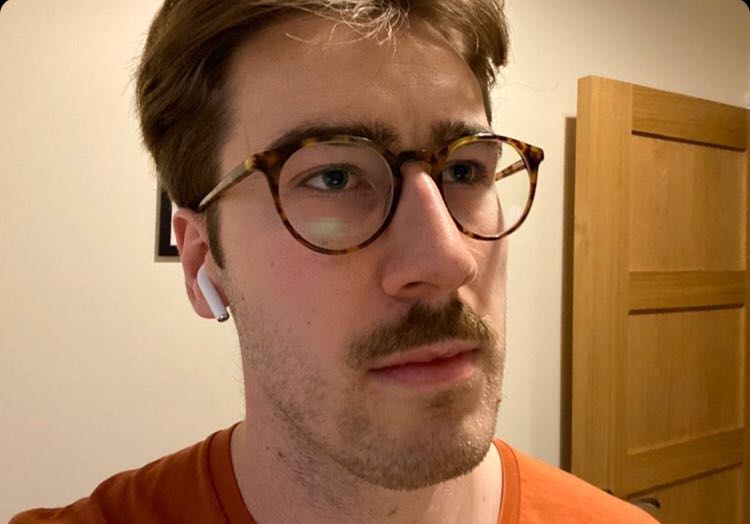 Arthur, Southampton
Arthur started growing his facial hair mid-March and feels like he's come pretty far with it. As you can see in the pic, he's v pleased.
If you think you can beat these, send a pic of your new beard and your name to [email protected] or DM bean_urquhart on Insta.
Related stories recommended by this writer:
• You sent us even more of your terrible quarantine haircuts to completely tear apart
•  I got bored in quarantine so I phoned all my exes and asked them what went wrong
• 32 utterly vile things that girls do when no one's watching