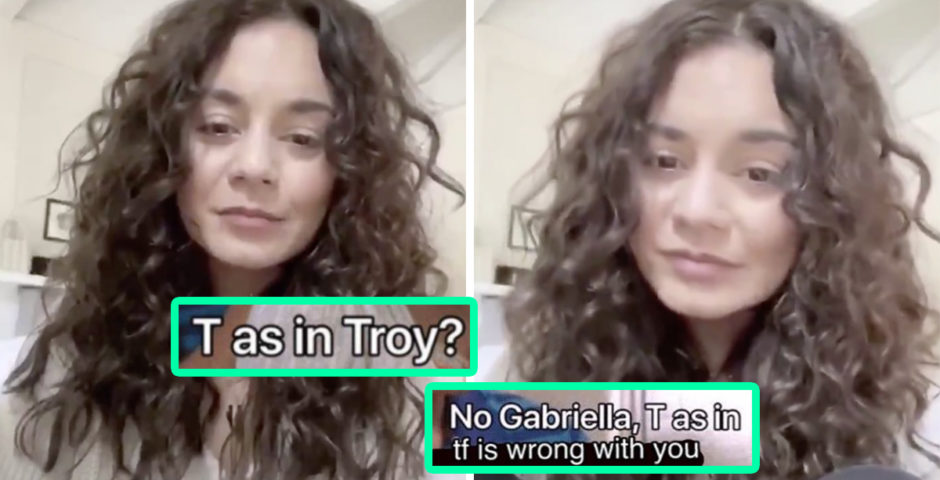 It's been a whole year since Vanessa Hudgens was dragged for her coronavirus video
Come on, let's relive some of the best memes x
It's been an entire year since Vanessa Hudgens was being dragged online after she posted a video where she moaned about Coachella being postponed because of coronavirus. She was called out for being insensitive, after saying people dying was "inevitable". Off the back of it, Vanessa Hudgens memes were everywhere – and one year on, they are back.
happy(?) 1 year anniversary of this Vanessa Hudgens video pic.twitter.com/WEeLaakpa3

— grant 🧔🏻 (@urdadssidepiece) March 16, 2021
She later apologised for what she said in the video, sharing on Twitter a statement which read: "Hey guys. I'm so sorry for the way I have offended anyone and everyone who has seen the clip from my Instagram live yesterday. I realise my words were insensitive and not at all appropriate for the situation our country and the world are in right now. This has been a huge wake up call about the significance my words have, now more than ever. I'm sending safe wishes to everyone to stay safe and healthy during this crazy time."
— Vanessa Hudgens (@VanessaHudgens) March 17, 2020
But this didn't stop the flow of memes – savage reactions to what Vanessa Hudgens said spread rapidly. Here are some of the best:
1. Yikes
Can't believe the first COVID celebrity death was Vanessa Hudgens' career

— Emily Andras (@emtothea) March 17, 2020
2. This is art
watching that video of vanessa hudgens talking about coronavirus pic.twitter.com/tekb2ZD4w2

— kathleen (@kathleen_hanley) March 17, 2020
3. She really played herself here
Vanessa Hudgens before going on IG live pic.twitter.com/IVu22XV4J2

— Noah / sports are pain (@PrimeKorver26) March 17, 2020
4. IT'S HAPPENING AGAIN
has someone checked on vanessa hudgens??? https://t.co/pg85TvkTk4

— thembisa. (@20thcenturydyke) March 16, 2021
5. Again, just yikes
6. I ALWAYS knew Sharpay was the one
vanessa hudgens on ig complaining about coachella getting cancelled & saying why does it matter this virus will kill people while ashley tisdale is on ig making quarantine dance videos proves what we've always known: sharpay was the true protagonist/hero of high school musical

— asami sato updates (@queerelladevil) March 17, 2020
7. Oh my GOD
Vanessa Hudgens wrote a long, heartfelt iPhone note apology and this was the top reply 😂😂😂 I'm fucking dying. This app is so goddam rude I love it https://t.co/6jyevLZwMT

— KFC (@KFCBarstool) March 17, 2020
8. Team Sharpay !!!!
me after watching vanessa hudgens' IG live 🙃 gabriella aint shit we stan sharpay in this house now fr fr pic.twitter.com/4aGTr21TU5

— ᴶᴷ'ˢ ᵀᴴᴵᴳᴴˢ II ᴍɪʟʟʏ ♡ ᴱᴺ⁻⁷ IA (@CUTIEJINKOOK) March 18, 2020
9. If only she knew how long it would actually be
Vanessa Hudgens went crazy in quarantine after being on lockdown for only 3 days??

I thought she was being reasonable back then 😂😂😂😂😂

— Jasmeen (@JasmeenD) March 16, 2021
10. I'll just be up here, on my moral high ground xx
happy 1 year anniversary of me feeling smug and superior after that vanessa hudgens video came out cause i've never trusted her

— stacy (@stacy_motsinger) March 16, 2021
11. This makes my heart so full
fuck vanessa hudgens, this is the greatest thing ever. pic.twitter.com/FDo4NqhOZ4

— kevin the alien 👽 (@xghostpng) March 18, 2020
12. Nope never heard of her x
Zac Efron after seeing Vanessa Hudgens' video #VanessaHudgens pic.twitter.com/oyUopCo6Tl

— Steve (@SEmerson1021) March 18, 2020
13. Justice for Sharpay x
ashley tisdale posted a wholesome quarantine video doing the HSM choreography and vanessa hudgens said dying is inevitable I hope Ms. Darbus is recognizes her mistake

— Astead (@AsteadWesley) March 17, 2020
14. That's not ok with me !!
coronavirus: *wreaks havoc on humanity*

vanessa hudgens: pic.twitter.com/sloJaSSQD7

— m. h. murray (@yarrumhm) March 17, 2020
15. The best washing hands meme yet
16. I love him
in a world full of vanessa hudgens, be joe jonas. pic.twitter.com/C4GyjIeNLv

— 🍃 jersey 🍃 (@neomandarino) March 18, 2020
17. Is anyone else confused?????
vanessa hudgens straight up said "it's a virus. i respect it."

what does that even mean

— kulot | trans women are women (@renzosaurus) March 18, 2020
18. The fact this isn't even Chad is sending me loooool
Vanessa hudges seen the internet attacking her and had to come up with sumn QUICK https://t.co/4BZrSlQzS5

— HOOD VOGUE is tired of poverty (@itskeyon) March 17, 2020
19. It's been a WHOLE YEAR
Damn it vanessa hudgens https://t.co/f1UJk4Tldh pic.twitter.com/yQdo1ZyaxV

— amir pls (@AmirRozali) March 17, 2021
20. Ok enough loooool
Nobody:
Absolutely nobody:
Vanessa Hudgens: pic.twitter.com/tEl9nMxrko

— Luisa Quiñonez (@luisarossana05) March 18, 2020
21. She's sick of this shit
Vanessa Hudgens rn seeing her video trending mocking COVID-19 after one year. pic.twitter.com/6BTCplIUoo

— Jeremy (@ferragamo233) March 16, 2021
Related stories recommended by this writer:
• Vanessa Hudgens is getting dragged for her messed up comments on COVID-19
• These 21 hilarious washing hands memes will have you cleaning like a pro
• These 32 self-isolation memes will make quarantine a little bit more bearable