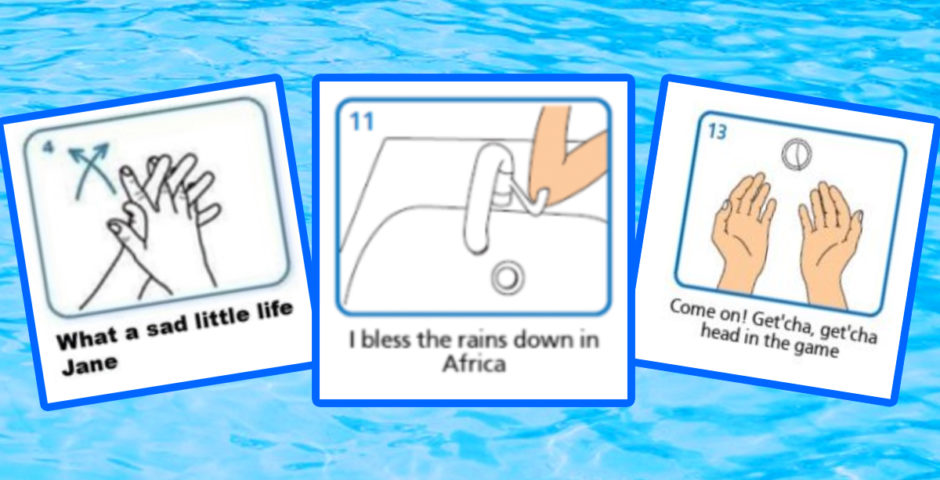 These 21 hilarious washing hands memes will have you cleaning like a pro
I'm going to be washing my hands ALL DAY
Every single day, cases of coronavirus have been dramatically increasing. People are panicking a lot, stock-piling toilet roll in supermarkets and self isolating to try and prevent catching the COVID-19 virus. So naturally, the NHS has provided some clear instructions on how to thoroughly wash your hands in a bid to stop coronavirus spreading. To help out even further, the internet has turned these into loads of washing hands memes in case you needed to simplify how to actually clean yourself.
If you haven't already seen, the NHS has created a poster with pictures and instructions on how to clean your hands. Here's the original:
What started as good, honest advice has been taken over by hilarious memes. And now there's even a website where you can put lyrics onto the poster and create your own. Here are some of the best and funniest examples of the washing hands memes:
1. Everyone can do it now surely
2. This is about to make me want to wash my hands every five minutes
3. Never forget this TV gold
4. NOTHING WILL BEAT THIS ONE EVER
5. Got it
6. It's meant to be
7. Aggressive but I like it
8. Hand washing, but make it 90s
9. This is a bop
10. Fitting
11. SOMEBODY COME GET HER
12. GIMME MORE (HAND WASHING)
13. 'Washing in the name of' lmao
14. Catch me washing my hands all night to this
15. Nailed it tbh
16. SCRUB SCRUB SCRUB
17. I always knew being a High School Musical super fan would benefit my life
18. And again
19. …Yes… again
20. It is a climb
21. Who knew washing hands could be so much fun????
To make your own lyric hand washing memes, see the WashYourLyrics website here. All you have to do is enter the song and the artist and it makes it for you. Incredible.
Related stories recommended by this writer:
• You can now get paid £3,500 to get infected with coronavirus
• Coronavirus anxiety is real: Here's how to tell if you have it
• I don't know who needs to hear this, but no one has the range of these 23 memes