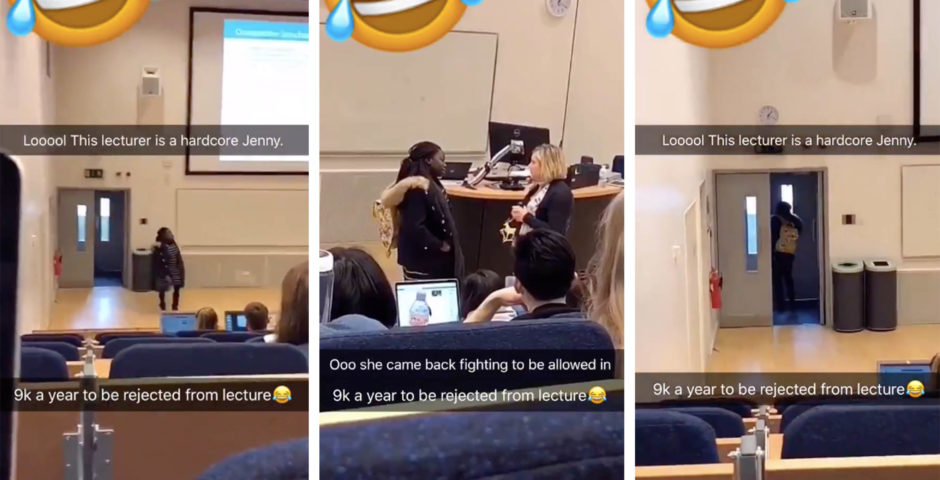 Uni launches investigation after lecturer kicks student out for being late
'Sorry you're too late. You can go out and come back in later'
The University of Surrey is launching an investigation after a lecturer was filmed kicking a student out of a lecture for being late.
The student was filmed entering the lecture hall while the lecturer was speaking. The lecturer can be heard saying: "Sorry you're too late. You're too late. You can see what time it is. You can go out and come back in later."
After some time passes, the student is seen returning to the lecture, and after an inaudible conversation, the lecturer says: "Okay, alright, well, take a seat."
In an email to The Tab, the University confirmed an investigation around the video is underway, and have established the video "dates back to 2017."
Though three years old, the clip has recently been shared widely on Twitter, with many accusing the lecturer of "embarrassing" the student.
"I commute to uni and am regularly late due to train service," one user tweeted. "My lecturers are also on strike next week when I am paying to be able to learn. Please teach your staff to do better instead of embarrassing this girl for trying to receive the education she's paying for."
Another said: "This is mad because she could've just woken up from the worst news of her life or just recovered from depression. Don't wanna be that fun at parties guy but ain't feeling this one."
Replying to the viral tweet, a University spokesperson said: "We appreciate many have views on this. We're committed to mutual respect between everyone who works and studies here at Surrey, and we will investigate the circumstances fully."
Related stories recommended by this writer:
• I went to a BSc lecture and it was much harder than my BA lectures
• Professor emails pic of empty lecture to her 400 English students after no one turns up
• The official guide on how to attend your 9am lecture hungover and survive