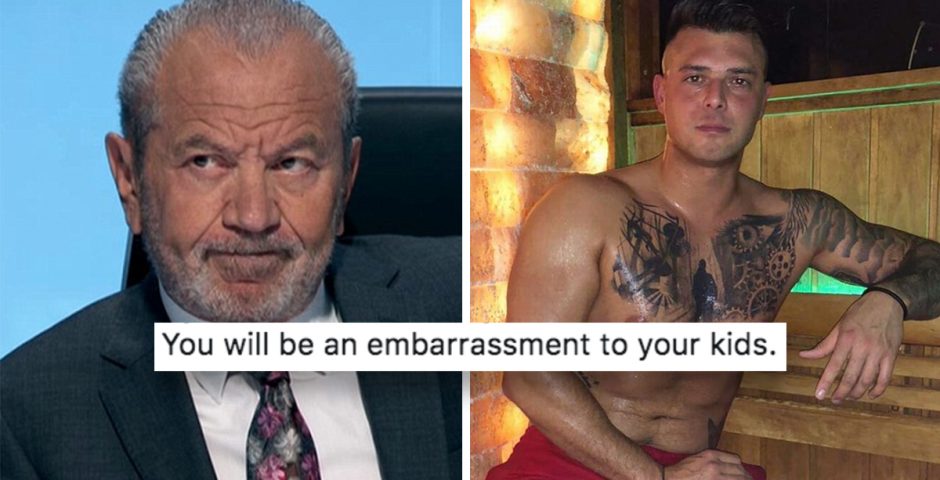 Lord Sugar is actually having a Twitter spat with one of his current candidates
I think we can rule him out as the winner
The Apprentice is supposedly the most professional reality TV show there is. The candidates are desperately trying to impress Lord Sugar, hoping he'll invest loads of money in their business ideas. However, it doesn't always stay professional – as 2019 candidate Lewis Ellis found out this week.
During the show, Lord Sugar made a personal attack at Lewis calling his tattoos "horrific". Then the Twitter beef started. Lord Sugar called Lewis an "embarrassment" and Lewis hit back with an "Ok Boomer". It was a lot.
Here's all the drama.
It all started when Lord Sugar said Lewis' tattoos were 'horrific'
Every week, Lord Sugar does a commentary on Twitter whilst The Apprentice is on. Last week the candidates had to create an advert for Finland and Lewis took his shirt off to advertise a sauna, showing his tattoos. One of Lord Sugar's tweets said: "Lewis tattoos are horrific. Tell me where I am missing the point. What does he look like".
Lots of people started getting involved in the comments. One said: "And what will his tattoos look like 20/30/40 years plus from now?" Lewis himself replied saying: "Who cares?"
Then Lewis hit back at Lord Sugar
Lewis tweeted saying: "Back to rule #1 fuck what people think about you! Thank you everyone that took the time to show some support for my 'horrific' tattoos and pointing out no one has the right to judge you or your body." He attached a photo of him in swimming shorts with his tattoos proudly on show.
But Lord Sugar wasn't having it and said Lewis will be an 'embarrassment to his kids'
Lord Sugar quote tweeted the picture Lewis posted of his tattoos. He added: "Lewis your tattoos tell your story. What are you, a Kindle? You have the right to do what you want to your body. I have the right of an opinion. I say they are horrible. When you're 50 on the beach you'll wear a T shirt. You will be an embarrassment to your kids."
Bit harsh????
Then Lewis hit back with the ultimate reply
"Okay Boomer".
I bet that hurt.
Now other candidates are taking Lewis' side
But it doesn't end there, loads of the other 2019 candidates are showing their support for Lewis.
Jemelin Artigas said: "I think we missing the point here who cares about tattoos it is 2019 – some people are literally stuck in time but as soon as you get to 50 and you are happy and not bitter surrounded by negativity with a healthy family and fuel by love and not hate then who cares".
She also tweeted a picture of them together captioned: "Despite all your tattoos @ImLewisEllis is the one of the people I got to know in the house you are an incredible person and my son adores you! So sure you will make an amazing dad one day and a cool one to as you are a kid at heart #sharinglove #beyou #dontjudge #apprentice". 
Pamela Laird said: "Pretty proud of  @ImLewisEllis this week. Can't be easy to receive personal comments like that but he handled it so well and as usual puts his positive spin on it! #TheApprentice". 
Thomas Skinner tweeted a picture of Lord Sugar's head over Lewis' picture, captioned: "Just bumped into @Lord_Sugar in a sauna in Finland today…. Your tattoos are looking amazing Lord Sugar!! Don't worry @ImLewisEllis I like your tattoos, but everyone can have an opinion! In my opinion @ryanmarkparsons is an actual PIG."
And now the picture has become a meme, of course
Amazing.
Related stories recommended by this writer:
• There was a man lying on the floor in The Apprentice last week and here's why
• How long would you last on The Apprentice? Take this quiz to find out
• This is where all The Apprentice 2019 candidates went to uni