Meet the most right-swiped people on Tinder in the UK in 2019
You are about to feel verrrry inadequate
Inadequacy is a funny thing. Most of the time it rumbles along in the background, like tinnitus, or a three-beer hangover. Other times, it's at the front of your mind. Well, looking at this collection of people is the equivalent of treading on a Lego.
Cosmopolitan have put together a list of the 30 most right-swiped people on Tinder right now. There's no easy way around this: they're all fitter than you.
From bankers to students, these are the 30 most right-swiped people on Tinder in 2019.
Elise
By the looks of things, Elise works at Subway and has heard every single one of those jokes before.
Eliana
Journalist Eliana hangs out in Aberdeen, which is pretty far away from everyone. Not least, you.
Marley
Ok, all together now. Message this guy and say: "I wish it was Marley and me."
Chloe
Chloe's a bartender from Cardiff. But that's not what's interesting here. How does that mirror fit into the layout of her room? Baffling.
Adam
At risk of confusing Tinder with LinkedIn here, Adam.
JJ
Significantly better at modelling than at being a barber.
You'll get ghosted by J after a week if it's not going anywhere, fair warning.
Molly
Nobody really knows what an Executive Assistant does. Surely it's more than just…assisting…executives. Pretend to be this interested and you'll surely end up on a date with Molly.
Daire
Ice cream entrepreneur. Check.
Sends dog gifs as openers. Check.
Once brought a PowerPoint presentation on a first date. Check?
Peter
Peter has never been ghosted. Imagine that, hey.
Jack
Jack really reminds me of someone. It's not Hopper from Stranger Things. Is it a footballer? Should probably figure this reference out, but we're all on a deadline so please comment if you know.
Ryan
Professional Wakeboarder? With hair that perfectly tousled? It's simply not possible.
Mia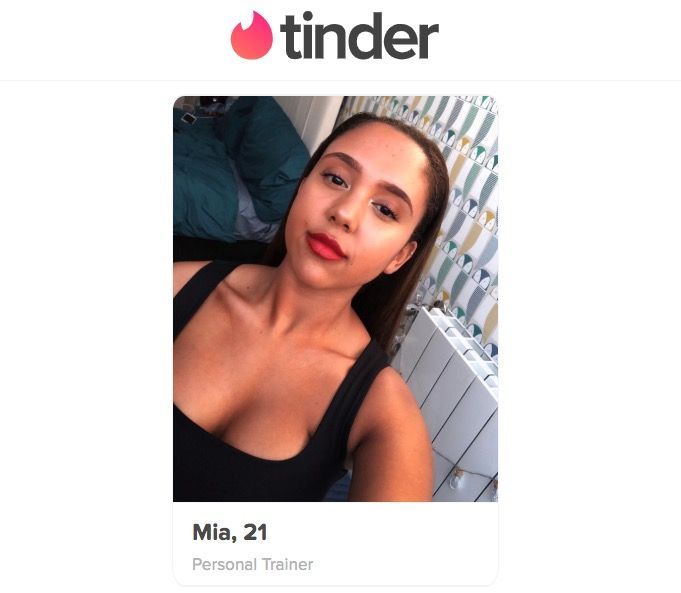 There's something truly intimidating about personal trainers. Not content with making themselves incredibly fit, they see fit to start making other people pay to take their advice. Anyway, all signs point to Mia being too much for you to handle.
Jane
Marketing Exec Jane will not date anyone who replies exclusively in memes.
Ight, I'mma head out then.
Ella-Morgan
Ella-Morgan's been on over 100 Tinder dates and "most of them were fit".
Count yourself out.
Liam
Liam's from Galway, and presumably starts each day with a hearty prayer of thanks to Ed Sheeran for the excellent opener he now has.
Michelle
Wow law student Michelle with your excellent bit of trivia: Judges in this country don't actually use gavels.
Michael
Huuuge "hehe x….no, but is that your thing?" energy here from Mike.
Chanel
Chanel got invited to a funeral once. For a date. You can do better. I believe in you.
Graham
A Tinder profile which does what it says on the tin…
…
…
der.
Shane
FYI Merrill Lynch is a bank, so Shane has lots of lovely lovely money.
Mia
Working for an ambulance service, Mia has probably heard every opener under the sun.
Eanna
Eanna models for H&M in Spain in France, which is where this picture is from.
Wait, sorry, that's wrong. He's a clinical trial coordinator.
Chloe
Life's not fair. Come to terms with this fact and move on.
Danny
Something so deeply boyish about the football kit, isn't there. Not boyish as in "Harry Styles' boyish good looks", but rather "Mum letting you have a Burger King on the way back from training".
Ali
Standing at six feet and four inches tall, and keeping a league-best 21 clean sheets in 38 Premier League appearances last season, this one's definitely a keeper. Shit, that's a different Alisson.
James
James works at Hawk-Eye, the company who tell sports umpires if they've made the right call. You know, when they do the cool replay to find out where the cricket ball would have gone.
Anyway, James is an absolute dreamboat, far far out of your league. So where's he going to take you? Not out.
Taylor
Try telling him that shirt's too small.
Paris
Are those AirPods?
James
Dog pictures are cheating James. Sorry, pal, I don't make the rules.
(I do).
Marcus
Marcus is a student in Leeds. With biceps like that, do you want to hear any more?
The full feature appears in the October issue of Cosmopolitan, on sale now. Pictures courtesy of Cosmopolitan/Antonio Petronzio.
Related stories recommended by this writer:
• Every ridiculous boy you will meet on Hinge right now
• 46 dating app openers to copy and paste when you have zero game
• I put my mum in charge of my Tinder and turns out she's better at pulling than me