The 31 best Area 51 memes, because we're all going to see them aliens
Over two million people have joined a Facebook event to storm Area 51 so we can "see them aliens". This might sound weird, but conspiracy theorists are convinced the world should do it. Off the back of this, a whole bunch of Area 51 memes have taken over the internet.
Now you might be wondering what Area 51 even is, where it is and what on Earth Area 51 memes are. But it all started with the Facebook event.
The Facebook event circulating is called "Storm Area 51: They Can't Stop All of Us" where a million people have listed themselves as "going".
The theory is if everyone goes to the government protected zone, we can all go in and see the apparent aliens that are kept there. Trespassers are said to be shot at if they try and enter, but the theorists believe if we all go, they can't shoot us all!!! Which is probably a fair point.
The event says: "We will all meet up at the Area 51 Alien Center tourist attraction and coordinate our entry.
"If we Naruto run, we can move faster than their bullets. Let's see them aliens."
Btw, Naruto running is named after Naruto Uzumaki, the star of the Japanese anime series. He basically sprints with his arms stretched behind him.
What is Area 51?
Area 51 is a top secret air base in Nevada, USA. The United States Air Force facility (Area 51) is a highly classified remote detachment of Edwards Air Force Base, within the Nevada Test and Training Range.
The remote 4,000-square-mile patch is out in the desert, and was first used to develop spy planes.
The area is under government control and is highly restricted. It is under 24-hour surveillance. Conspiracy theorists believe alien activity is taking place there and the area has been subject to these theories for years. Many believe UFOs have landed and crashed there and it is where the US government stores its secrets about extra-terrestrial activity.
Officially, the US government say what happens at Area 51 is classified for the purpose of national security.
These are the best Area 51 memes right now:
1. Ffs let me join the fun
2. What IS THAT
3. Poor guy
4. Ah damn, here they come
5. TRUST ISSUES
6. Oh… right…
7. I don't know what you're talking about sir!!!
8. Love this song x
9. I will raise this alien RIGHT
10. *Screaming intensifies*
11. RUN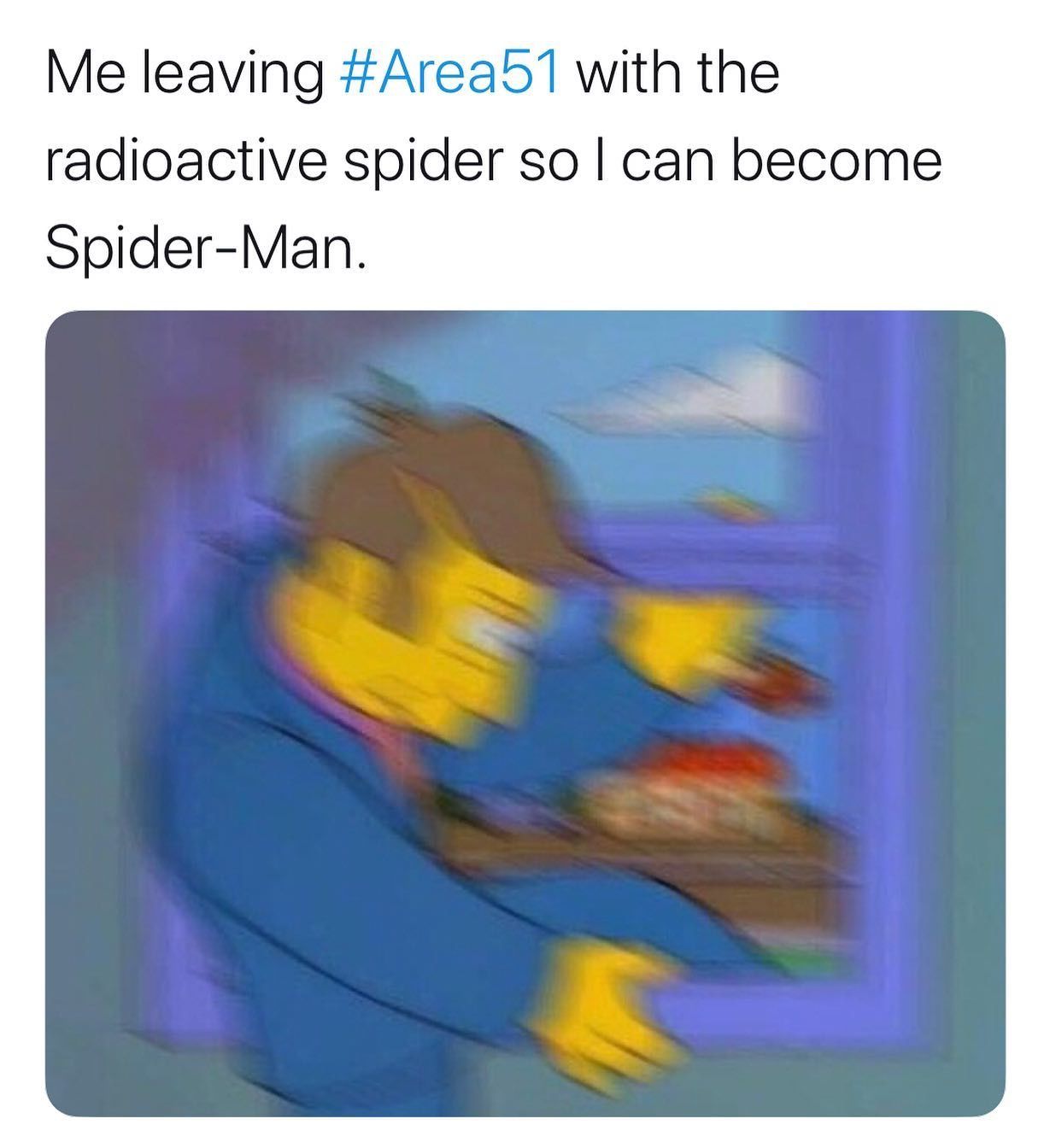 12. TRY AND STOP ME
13. That's some hot girl shit x
14. Ok what do I do now???? Help????
15. You guys are SO funny!!!
16. They know EVERYTHING
17. THEY CAN'T STOP ALL OF US!!!!!!!
18. A lil smol boi
19. Classic, thanks for nothing
20. JUST LET ME DO THIS ONE THING
21. You're going to LOVE this
22. WILD
23. Get it girl
24. What is going on here
25. They've been waiting for so long
26. ALL THE EXTRATERRESTRIALS SAY YEAH
27. Nothing to see here
28. Love u guys
29. Yeah count me in why not
30. VROOM VROOM
31. GRAB AND DASH
Where is Area 51?
Area 51 is in the south of Nevada, about 150 miles away from Las Vegas.
The Facebook event was set up by a meme page, so I wouldn't recommend taking it at face value.
Related stories recommended by this writer:
• Hot Girl Summer is the latest meme you need to live your life by
• Big Chungus: The viral meme explained
• Introducing the 'Florida man' birthday meme, and the wildest examples yet