These 53 savage memes about Casa Amor will definitely turn your head
Oh Michael, Michael, Michael
Casa Amor is well and truly happening, and it's turned up the heat on Love Island 2019 big style. Anna is dribbling over basketball player Ovie, Anton is finally getting some action, Curtis is having doubts and Michael has us all screaming at our televisions. Now, all of this drama has given us some golden Love Island memes.
Gather around the fire pit and enjoy the 53 best Love Island memes about everything that is going down in Casa Amor. These reactions are arguably the best part of the show.
The best Casa Amor Love Island memes so far:
1. I love him
2. We would do exactly the same Anna hun x
3. Give us the REAL DEAL
4. We must protect him
5. BRING US THE DRAMA
6. SAY IT LOUDER FOR THE PEOPLE AT THE BACK
7. Where is his head at exactly?!
8. HOW is this fair?!
9. MICHAEL YOU ARE A TRAITOR
10. We are all going to hell for this
11. He's definitely stolen some girls before
12. HOW could he do this to us?!
13. She is FUMING
14. Michael is CANCELLED
15. NOOO MAKE IT STOP
16. Interesting
17. Oh my god uncanny
18. Jordan who??????
19. Awkward
20. Tommy is an actual angel sent from heaven
21. Anton is my fav
22. Give over girls, we all saw you
23. WELL LOOK AT HIM NOW
24. Help x
25. THEY EVEN HAVE THE SAME HAIR!!!!
26. Wait, who is Jordan again…
27. Fair point but have you seen Ovie?!
28. We do love all the drama though
29. He knew all along
30. Quick question:
31. There's no doubt Ovie is a pro
32. INJECT THE DRAMA INTO MY VEINS
33. We truly are
34. Poor guy has no chance really
35. I have trust issues now
36. Angry AND disappointed
37. He needs to calm down tbh
38. The glasses mean business
39. Uncomfortable to watch
40. I'll never sleep happily again
41. But it already IS
42. Get me some help
43. Are we seeing double?!
44. Amber literally KNEW it
45. I won't be held responsible for my actions
46. I am not the same person anymore
47. Morning girls xxxx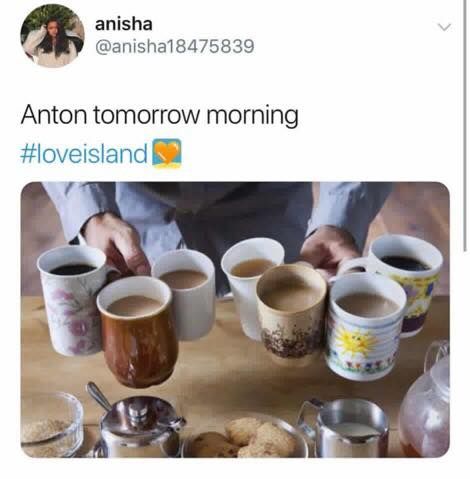 48. Ok why does she always look in pain?!
49. That looks like TURNING to me!!!!!
50. I think he might be evil????
51. YOU'RE AN ADULTERER MICHAEL
52. Sis knew all along
53. Yeah, nice one Michael
For all the latest Love Island 2019 gossip and memes like The Holy Church of Love Island on Facebook.
For hardcore fans, join our exclusive Facebook group – The Official Love Island Group Chat 2019.
Related stories recommended by this writer:
• These are the savage tweets they should have read on Love Island's 'Online Buzz' challenge
• These 29 memes prove Maura is single handedly saving Love Island 2019
• These are the wildest transformations from the Casa Amor cast on Love Island