Love Island Gossip Column: Did Danny and Arabella know each other before?! Plus Yewande speaks out
Welcome to The Tab's daily Love Island 2019 gossip round-up, bringing you the pettiest drama and the least believable tabloid exclusives from around the web today.
Yewande speaks on social media for the first time since coming home!!!
She wrote on her Instagram story: "Hey guys ! I'm baccck. What an emotional rollercoaster. My experience in the villa was cut short but was amazing regardless and has made me a stronger woman. I had my highest highs and my lowest lows.
"I met the most amazing people and made the most amazing memories. The love and support has been so overwhelming. This journey would not have been the same without every single one of you! I love you all from the bottom of my heart. The best is yet to come. Yewande x"
Did Danny and Arabella know each other before the villa?!
People are convinced that Danny and Arabella knew of each other before Love Island because they've both modelled for ASOS. But come on, how likely is that?
People think Arabella has a secret baby at home because she modelled some maternity clothes for ASOS…
I'm more shocked at the fact they don't use real pregnant women.
Speaking of modelling for fashion brands, Jordan's face has popped up on JD Sports
These cute pictures from the villa will make you want to be friends with all the Islanders
I LOVE THEM.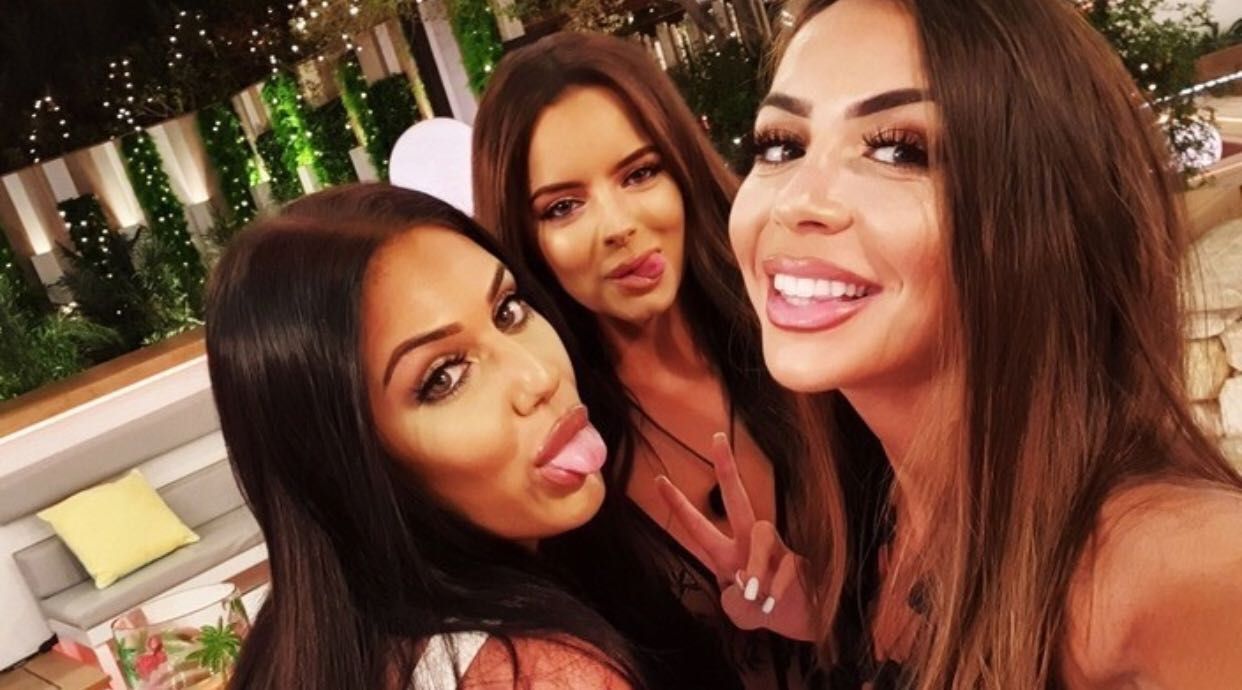 Elma said that loads of Yewande's funny moments and personality wasn't shown on TV
On Aftersun, Elma told Caroline: "Yewande has got so much personality, that I don't even know if it's all being shown. She is so smart, it's sexy. She starts talking and you're just like, tell me more."
People are accusing Love Island of being staged because Anna and Yewande swapped seats in this scene
In a scene where Lucie was showing to be crying after hearing that Amy had spoken about her, she was comforted by Yewande, Amber, Maura and Anna.
But people spotted something weird. Yewande was initially sat on the end of the sofa, but her and Anna swap place in the short clip. Leading people to think the scene was "staged."
Elma has been DMing Joe since leaving the villa ?
Elma told Roman Kemp on Capital Breakfast about her life after Love Island and revealed she's been messaging Joe Garratt, after admitting she had a crush on him.
Yewande's ex cheated on her with multiple women
She told The Sun: "I've only ever had one relationship and it didn't really go well.
"We broke up four years ago and since then I've found it really hard to trust people and date. I got cheated on.
"He cheated on me with multiple people. It was terrible. I lost so much trust in men."
Did Molly-Mae and Maura know each other from before?!
A source told the Mirror Online that they girls were seen to be having dinner at Gordon Ramsay's Hell's Kitchen Dubai restaurant in March this year.
The insider said: "They were sitting there, all dressed up and having dinner together.
"They looked like really good mates, not like they had just met each other. The managers and waiters couldn't take their eyes off them, they were just saying they were beyond-level fit."
"I thought it was really bizarre they were pretending they didn't know each other, and especially as they were love rivals, but then it all made sense to me," she continued.
"If they knew each other and Maura was sent in to stir up trouble then it makes sense she would try and hurt Molly on TV, as it would have all been agreed."
AND the girls have both uploaded pictures of them tagged in Dubai in March!!! Weird.
The girls are going to Casa Amor this year!!!
The shock twist this year is that the girls are going to Casa Amor, which is the second Love Island villa.
A source told The Sun: "In an epic plot twist the female Islanders will head to Casa Amor while the boys stay put at the main villa.
"The finer details are still being discussed with producers but the plan is for all the Islanders to leave the main villa in four Land Rovers.
"The girls will travel to Casa Amor but the boys will be redirected back to the villa."
Feminism!
Jack Fowler has been doing the funniest Love Island commentary on his Instagram
Any excuse to look at Jack's face tbh.
Love Island is facing an Ofcom investigation after 192 people complained Amber and Anna were bullying Danny
After Yewande was dumped from the Island, Amber, Anna and Danny got into a very heated argument. And a total 192 people actually bothered to complain about it to Ofcom. Amazing.
Yewande says almost every couple is faking it
Yewande told the Daily Star: "I think there are two genuine couples in there, Amy and Curtis and Amber and Michael. The rest are not. They are game players." Interesting. ?
Tommy's wise words actually came from Avicii
On Tuesday evening, Tommy said to Curtis: "Life's a game made for everyone and love is a prize." If you thought you've heard those words before, you're correct! They're from Avicii's 2013 hit Wake Me Up.
Recommended stories by this writer:
• Lucie has a REALLY fit sister!!! Plus Sherif spills the tea on other contestants
• Love Island Gossip Column: Has Yewande LEFT the villa?! Plus Maura's been telling lies
• This is who the Love Island cast are compatible with, based on their star signs