A wellness Instagrammer lost her iPhone X in India and exposed herself in a racist rant
We all know what happens when ignorant people go travelling – they expose their hidden racism in the dumbest ways possible! And that's exactly what happened to a wellness Instagrammer MindBodyColleen.
She went to India, lost her iPhone X and managed to insult the entire country and its people by calling it "the poorest most overcrowded" and "scammy" place she's been to. And obviously people are pissed at her voluntourism-esque behaviour.
Colleen Grady, originally from Indiana, is a certified Yoga instructor. According to her LinkedIn, she recently graduated from university with a Health Teacher Education degree.
She posted a picture of herself from City Palace in Jaipur with a caption which described her horrific ordeal of losing an iPhone X.
It read: "Well biggest news that has happened to me… I lost my sleek, expensive, 5 month old iPhone X on the streets of Jaipur. Yep, lost it in the poorest most overcrowded country I have ever visited and one of the most scammy tourist cities in all of India…
"And guess what… I got it back… Shattered and probably ran over by a motorcycle… but better to replace a screen than the device itself.
"I dropped it putting it into my purse. I think subtly I knew the moment I did but consciously did not realise it for about 10 minutes after. Frantically we raced back to the place we were when I slipped it in my bag. We had no luck.
"In Jaipur we decided to stay in a guesthouse with an Indian family. Since Leah is leaving soon we thought we would end up having a more authentic Indian stay. We called the family and zipped around on their motorcycles to get back to my computer to try find my iPhone. Then I found out that it is irrelevant if your phone is on airplane mode. The owner of the guesthouse left some messages to my phone in Hindi in case anyone found it. And I just was still frozen in shock."
She continued: "I felt kind of hopeless. That cell phone is worth more money than some people in this country will have their whole lifetime. The phone was locked and iPhone X's are really complicated to work if you haven't had one. So even if someone found it, they probably would not even know what to do with it, how to get service, or how to even work the screen.
"But then an hour and a half later someone called back from my phone. We raced again on a motorcycle through the chaos to meet some stranger in a dark alley to retrieve it. (All I was thinking was should I have brought my mace?) lol
"Miraculously the person that found the phone also had an iPhone X. Now that is another miracle in itself because hardly anyone in this country has an iPhone period. They gave it back with no problems and didn't want anything in return, just blessings.
"I definitely have some Indian angels in the family we are staying with, the person who returned my phone, and what ever spirits guided the whole equation. Still feeling shock and bliss and blessings."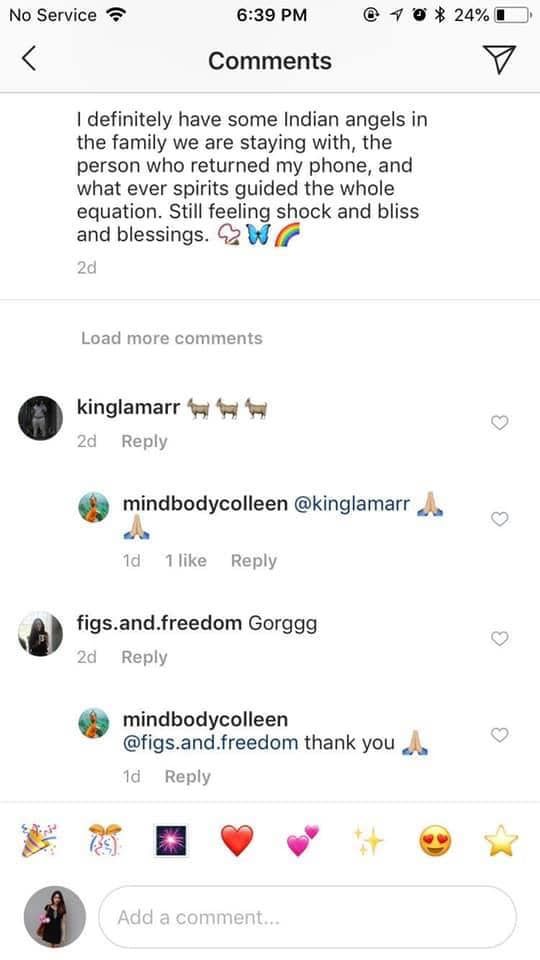 And as you can guess, people had a lot to say in response to her post:
She has since deleted her Instagram page and shut down her travel website. On the front page, you can find a tone-deaf, half-arsed apology:
"I am sorry that my words did not give clarity to the intentions in sharing my story. I had no intentions to belittle the Indian culture. The moral of the story was the blessings and gratitude I had for the Indian people who helped me in a moment of panic when losing my phone in a foreign country. I apologize the most for the amount of pure hate that this has pulled out of so many people's hearts and spread around the world.
"Ask yourself – If you found a smart phone device on the street locked, out of service, broken, no buttons, and the software is not in your native language: would it be easy for you to find the owner and return it? For me, the answer is no. I think most of us would agree the answer is no. This has nothing to do with race, ethnicity, class, education, etc.
"My biggest dream for the last 10 years has been to come to India. I just spent 300 hours studying ancient Indian Vedic traditions and yoga. I have been in India for many months now. I have lived in an ashram. I have volunteered at a remote jungle school. I have lived with a host family. I have spent time in not only the palaces, but also the places of extreme poverty. There is more context behind this one post. People have taken this post, and more so mere words out of my sentences, and pieced together and created an opinion and experience that I have in India.
"I'm sorry my words were perceived in a way that were so far from my true feelings about this country and the people in it. In the future, I will be more aware of my language and how my words are perceived."
Disappointed, but not surprised!
Related stories recommended by this writer:
• You're not helping, you're on holiday – the problem with 'voluntourism'
• Can you believe these girls spent their money and went all the way to China, just to be racist?
• The backpackers begging for money on the streets of SE Asia are the epitome of entitled white privilege