Love Island Gossip Column: Frankie cheats AGAIN and Wegan caught doing bits in an airport toilet
They were in there for 13 MINUTES
Love Island may be over, but it doesn't mean the gossip ever has to stop. So welcome back to The Tab's daily Love Island gossip round-up, bringing you the pettiest drama and the least believable tabloid exclusives from around the internet today.
Jack Fincham's dad was the head of a cocaine empire
It came out over the weekend that winner of Love Island 2018 Jack Fincham's father had been jailed for running a cocaine empire for five years back in 2009.
Jack is said to still be hurt over the incident after having been estranged from his father at the age of 17. His home was raided and £100,000 in cash was uncovered as well as 1.8kgs of cocaine and cannabis resin.
He reportedly pleaded guilty to possession with intent to supply drugs and benefit fraud, and was convicted with four years in prison and a £274,000 fine.
A friend told the Sun On Sunday: "People who know Mark know he's a bit of a wrong 'un, but for Jack the whole thing has been hugely upsetting.
"He told his family he wanted nothing to do with his father. The four-year prison sentence, when Jack was still in his teens, was very much the last straw. He says that winning Love Island doesn't erase the hurt."
Hayley Hughes and Tom Zanetti are an item
Love Island 2018 contestant Hayley Hughes and DJ Tom Zanetti, who appeared briefly on the show, have become Instagram official after the pair posted a picture of them kissing.
They both shared pictures and videos of them kissing on their Instagram stories for their thousands of followers.
Jack and Dani might be going on I'm a Celeb
According to Joel Dommett, the I'm A Celebrity… Get Me Out of Here! Extra Camp, he'd love to see the Love Island 2018 winners on the show.
He said: "I would love to see Love Island contestants in it, because when Love Island finishes you're just like, 'I just want to see more of them'.
"It's been really nice for two months to see them lying next to a pool getting a wonderful sun tan, but I'd also like to see them eating bugs and, y'know, sitting next to a really cold waterfall.
"Dani and Jack are brilliant, to see one of them or both of them go in would be absolutely incredible."
Although he has admitted he won't find out who's going on the show until the rest of the public does.
Dani has more eyelash blowdrying tips for us
Dani Dyer is back at it again with the eyelash blowdrying, posting tips on her Instagram story.
She also wrote: "Washing your lashes with Johnson's baby shampoo and blow drying them keeps them fluffy and fresh everyday! It's not just a Dani thing ???it's the best thing have a go and let me know girls?".
Frankie has cheated on Samira AGAIN and this time there's a video to prove it
This video obtained by MailOnline shows Frankie kissing a girl at Gallery Nightclub in Maidstone, Kent while he was hosting a night there.
The 22-year-old can be seen fully snogging another girl, while Samira was doing her own PA event in Chelmsford.
A witness to the incident told MailOnline he'd also messaged her friend on Instagram asking her to go to his hotel room. When she refused, he blocked her.
…Plus the relationship is fake and Frankie likes licking girls' faces
The same eye-witness said: "He was very flirty with a lot of girls throughout the night." He was back and forth between VIP and the dance-floor and when he saw the girl he just sort of grabbed her and started chatting to her.
"She asked him, 'Aren't you with Samira?' He said, 'No, it's fake. It's all for the cameras.' Then he kissed her and, very weirdly, started licking her face. It was very strange. We were like, 'What the hell is he doing?'
"He was really enjoying himself — but he was acting very much like a single boy. He flirted with so many of the girls at the club."
Samira's Chelmsford PA pic was cringe as fuck
She's just stood in a weird back kitchen posing like she's in the club. Meanwhile her boyfriend is at another club kissing someone else. Awks.
And if all that wasn't enough, the airport reunion between Samira and Frankie was actually fake
According to The Sun, "​​Love Island's Samira confirms she faked airport reunion with boyfriend Frankie". I don't know what to believe anymore.
Megan and Wes were seen sneaking into a disabled toilet at the airport for 13 minutes
The fourth place couple were spotted sneaking into the disabled toilet at Southend Airport and emerging looking 'happy' 13 minuted later, according to an eye-witness.
The source told the Sun on Sunday: "They both popped up to the disabled loos and were in there for 13 minutes. They looked like they were scoping out the scene before they re-emerged. I can't possibly imagine what they could have been doing in there but they looked quite happy when they came out."
When they arrived in Scotland, Meg and Wes were given a massive car to drive after doing a call out for car rental companies on Instagram
Megan put up an Instagram story asking if any car rental companies in Scotland could hook them up with a ride and then next thing you know, they rock up in this Land Rover.
Danny Dyer prank called Dani while she was on the radio to ask about her sex life
Dani Dyer was hosting the Capital Breakfast Radio Show on Friday morning, when her debut was interrupted by a prank call – from her father.
Danny Dyer pretended to be a stranger when he called up with a question for his daughter. He said: "It's a bit of an awkward one – how are you getting on with the Do Bits Society?".
To which Dani responded: "Is that a question or a fact? How am I getting on? Erm… it's fun. A lady never tells." Danny then returned to his own iconic accent and said "That's the right answer Dan", at which point Dani realised who the caller was, shouting, "It's me dad!"
They then continued to have a very cute father-daughter chat on air and Danny interrogated Roman Kemp, asking if he was looking after his "sweet little princess".
A fan at the Love Island Live event had two pretty major nip slips in front of the cameras
An excited fan at the Love Island Live event on Friday managed to expose both her boobs by accident in front of both Megan and Adam while getting photos taken with them.
The 20-year-old from Bournemouth says she blames the clothes for what happened. She has been very open about the situation, tweeting out multiple photos of the incident, saying "Never let me meet celebs again".
She later tweeted she didn't do it on purpose and that she wants to sue Pretty Little Thing for the wardrobe malfunction.
She told the Metro: "Megan didn't notice until she saw Wes howling with laughter. I went with my girlfriend and her and Wes was laughing. She was really lovely she held my hand and we pulled my top up for a decent photo.
"Adam was really embarrassed for me when I met him and was like 'what is happening?' I felt worse about that one.
"I wouldn't have taken the photos and put them online if I didn't feel comfortable. I find it really funny myself and the fact it was accidental just makes me laugh.
"I've had a lot of male followers asking me about my breasts and loads of people saying I've done it on purpose."
Caroline Flack has been pictured having an intimate dinner with her ex
It looks like it might be back on for Flacky and her ex fiancée as they're seen having an intimate pizza date in Shoreditch.
Caroline Flack and Andrew Brady called off their engagement halfway through the filming of Love Island and have since been seen moving out of their house. However, they recently went on a "make or break" holiday in Ibiza, which obviously worked!
Their date at Pizza East on Saturday ended with lots of passionate kissing, according to The Sun. A source said: "Caroline and Andrew are back together again after they decided to rekindle their relationship. Although it hasn't been a smooth road their chemistry is undeniable and they really love each other.
"Wedding bells are still a long way off and she is determined to move at a slower pace this time and doesn't want to run before she can walk, but they're very much a couple again."
New Laura has started a fitness YouTube channel
Laura Crane, who left Love Island with Jack Fowler, has announced her latest endeavour on her Insta story: a fitness account. How original!
Her YouTube channel has 2k subscribers and seven videos, including this Q&A:
It also includes videos on how to stay with with exercises you can try at home! Thanks Laura!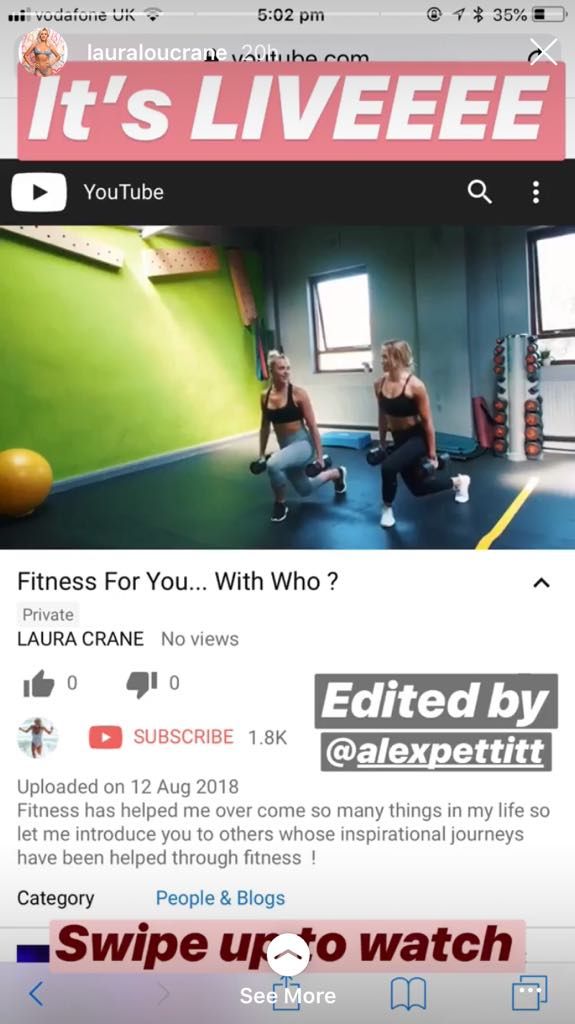 Dr Alex didn't actually apply for Love Island – he was approached by the producers
A lot of islanders have admitted this year they were approached by producers and asked to be on the show, rather than applying for it themselves.
While we were all assuming Dr Alex was one of the only ones who actually applied, it turns out Alex was approached to be on Love Island season 4. But his parents said he shouldn't have accepted the offer as he wasn't "doing very well".
Marcel from season 3 and Lucy Watson from Made in Chelsea have done a really cringe video ad for Gumtree
I… don't know what to say. Just watch the video.
Related stories recommended by this writer:
1) I've got a text! Oh wait, it's the Love Island Clubbers of the Week
2) Here are the most tragic sponsored Instagram posts from the cast of Love Island 2018 so far
3) This leaked Love Island 'production bible' reveals how fixed the show really is