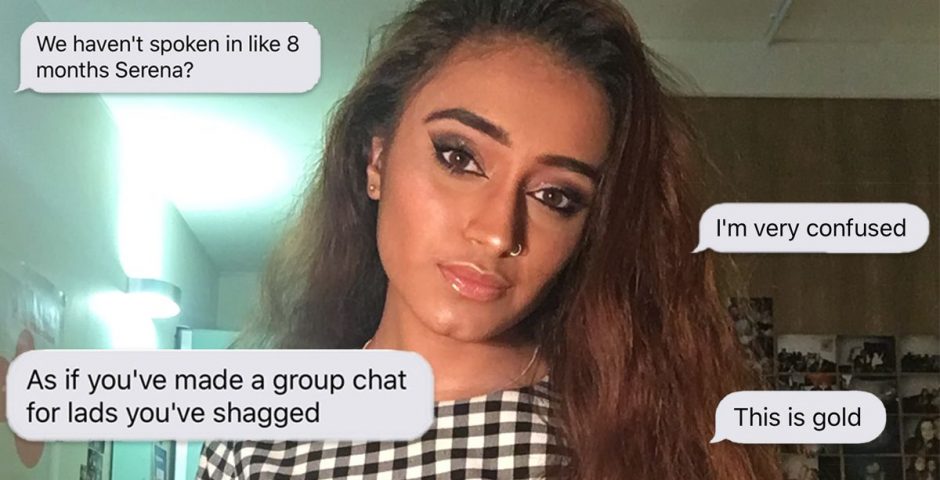 I put all my exes in a group chat and watched all hell break loose
All because I asked them to rate me out of 10
Valentine's Day is usually a day of sobbing into a glass of wine for me, but this year I did something different. No, I'm not in a relationship this year, but rather than simultaneously cry and masturbate, I decided to turn introspective – why am I still single?
After some serious soul-searching, I realised I needed to turn to the people who knew me best – people who'd seen me naked, who'd known me intimately, who'd spent loads of time with me. And I don't mean my closest friends – I went straight to my exes.
So I started a group chat with 10 of my old flames this morning – ranging from full on ex-boyfriends to people I'd slept with once. I hit them up with a simple request: that they answer four questions, so that I might better myself in the event of future relationships.
I wanted to know: What went wrong between us? What was my best asset? How could I be better in bed? And what our best memories were. For those who were ballsy enough, I tacked on the opportunity to rate me out of 10 for those who were up for it.
Here is the message I sent to 10 of my exes all at once:
I sat for about five minutes with this message there, my thumb hovering over send. Did I really want to do this? Could I take the embarrassment? What if no one replied? But I came to the conclusion that, yes, I needed to do this – so I hit send.
Initially, I locked my phone and stuffed it in my pocket and tried to abate the nausea that had swarmed over me. Why the fuck did I just do that? But I couldn't hide away forever: I checked it after ten minutes, and it was already pandemonium.
Suffice to say, there was some immediate confusion.
Oddly, I felt calmer now I'd got some replies. At least I hadn't been pied off by all 10 of them.
To give you all some context, Ben was a fling at the start of uni and we ended on poor terms – hence my eight month silence. And what better way to end the silence than with an upfront message about our past?
Bertie took my virginity and that's pretty much it. I have no bad words to say about him. Look how pure and wholesome his response is.
Ethan was a casual thing that lasted several months, and we actually got on pretty well. A sound guy all round. We good now. Occasionally we bump into each other on nights out and plan to meet up and it never happens.
Whilst some of my more canny old flames sussed me out almost instantly, others were plain confused. But, to my surprise, they quickly got on board with my request.
If my worst issue in bed is "not being on the pill", I'm totally fine with that. That can be easily changed. And I was filled with nostalgia at the memory of playing COD naked – those were the happiest days of my life. I found myself half-falling in love with my exes again, but I reckon I managed to reign in the affection. I was a woman on a mission.
Meet Brandon. Brandon is what I'd call a several-night-stand. That aside, Brandon is generally a pretty funny guy, and he was always a reliable booty call. He reiterated several times over the course of this conversation that he now has a girlfriend, so I'd like to publicly reiterate that that is fine, I'm not out to steal him, and I am not a home-wrecker.
Some were in disbelief at my audacity, but I suppose that just proves my exes always underestimated me.
Answers to my uncomfortably real questionnaire kept rolling in (much to my surprise, tbh) and my heart was warmed with answers such as "uhh, don't really remember our best memory." In his defence, Alex is my boyfriend from Year 8 who wasn't allowed to hold my hand in public because I thought that was "too far."
Jason – a friend of Ethan's, if you remember him. Again, this was a casual thing with a great guy who gave me his Netflix password. I also now apparently have free club entry for life, so I'd 10/10 recommend sleeping with a promoter.
I found myself nodding in agreement with most of his answers. It's true – I'm not Jewish. That's a fair assessment. But no. 3 ground my gears a tad because in no universe is this girl vanilla. I own lube.
Suffice to say, one of them slipped from my clutches before I could get any answers out of them.
Others messaged me privately to check that I was actually okay and not going through some premature midlife crisis or psychotic breakdown, which was nice of them, to be fair. My exes get 10/10 for aftercare.
And I guess this exercise made me realise just that: for all my self-pitying and woeful "I attract such douchebags!" moaning – they aren't all that bad. This became more about them than about me, and at the end of this ordeal, I've managed to take a step back and think maybe there's hope for my future love life after all.
I'm not a magnet for twats. I'm a magnet for slightly-below-average-to-decent guys.
I realised, maybe I shouldn't be so mean to this gaggle of gentlemen who've had the privilege of knowing me. I don't reckon I'll delete the chat – a few of them seem to be hitting it off, so I'll leave them to it – and it's sort of weirdly satisfying to have all my old flames in one little contained space.
More articles recommended by the author:
– This is how to get over your ex at university
– Five reasons not to stay friends with your ex