Who is legitimately the poshest person in Made In Chelsea? An investigation
I mean it's obviously not Ryan Libbey is it
Some things in this world are taken for granted. The sky is blue, coriander is a culinary abomination, and the cast of Made In Chelsea are nail-bitingly posh.
But who is the poshest? You must have wondered. Is it Hugo Taylor, with his limber neck that stretches as far as the eye can see? Or is it Frankie Gaff, Jamie Laing's cotton-mouthed blonde girlfriend who is mean oh so mean?
There are almost too many options, but you needn't worry. We've delved into their chequered pasts to sort the wheat from the chaff and let you know exactly who are the poshest members of the MIC cast.
30. Mimi Something
You cannot be posh and Canadian.
29. Steph Pratt
Likewise with being American, although Steph comes slightly higher due to her Hills riches and the fact she's a bit blonder.
28. Ryan Libbey
Are you surprised? The towering landmass which Louise Thompson calls a boyfriend is only really posh by proxy.
The son of a decorated army brigadier, Ryan grew up in Surrey before studying Sports Biomedicine and Nutrition at Cardiff Met, which is where we assume a botched scientific experiment turned him into the living, breathing accumulation of muscle tissue he is now.
27. Harry Baron
The fact he wears an estate agent's three-piece suit should be the first indicator that "incredibly arrogant man" Harry Baron is not posh.
If his dress sense isn't enough, Harry has spent the last few years as a club promoter, previously having been quite the name on the Hertfordshire skateboarding circuit.
Yes, really.
26. Sam Prince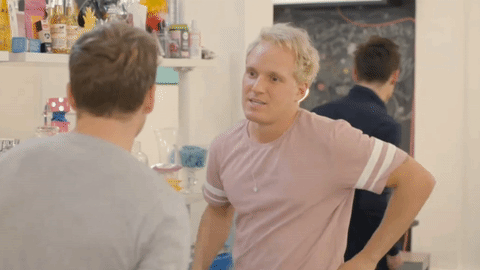 Jamie's new intern spent his formative years studying at St Bede's private school in East Sussex, which an insider recently told us is "not that posh."
So that's that.
25. Alex Mytton
Come on. It's Alex Mytton. The one who wears hoodies under camel coats and has the same St Christopher as your younger brother and probably smells like Lynx Chocolate.
Come on, he's an EDM DJ who went to Oxford Brookes. Even a Lord Wandsworth College education can't save him.
24. Akin Solanke-Caulker
Akin is more-or-less on the same level, although he loses posh points for being born in East London before moving West and joining the same school as Mytton. Still, he beats him by way of having a double-barrelled surname.
When interviewed recently, Akin said: "I'm not an heir to any biscuit throne or anything of that nature," which is boring because a biscuit throne sounds great.
23. Andy Jordan
He went to a posh school in Oxford and he does have a verging-on-unhealthy obsession with surfing in Cornwall, but he's always come across as your average aggressively upper-middle Leeds Uni boy.
22. Caggie Dunlop
Though there's no evidence of a Dunlop dynasty, Caggie went to more fancy schools than you've had hot dinners: Epsom College, the Harrodian School and Wellington College. Hurrah!
21. Ollie Locke
Outwardly posh, inwardly not that posh. Sure, he has sleek hair and expensive clothes, but he grew up in Southampton and went to Newcastle.
And sure, he may have worked at Raffles, but wasn't he the doorman?
20. Ella Willis
Ella's family have homes in Fulham, Suffolk and the Balearic Islands. One of them has a helipad. Go figure.
19. The Watson sisters
There's no denying that Lucy and Tiff come from money – their dad made sure of that when he sold one of his pub chains to Greene King for a cool £70 million.
Still, it's not like The Phene in Chelsea is exactly a 'spoons, but pub money doesn't exactly scream posh money.
18. Frankie Gaff
She's from Berkshire, she studied at the £28,000-a-year Bradfield College and she went to Bournemouth Uni, which is basically the new Oxford Brookes for rahs who can't get into a Russell Group.
Plus she has one of those faces posh people have where they always look like they can smell something awful.
17. The Thompson siblings
Louise, along with pal Rosie, went to the same boarding school as Kate Middleton. Meanwhile Sam, another Bradfield College alumni, racked up a bar bill of around £24,000 on a night out last year.
But is he happy?
16. Josh 'JP' Paterson
Well he went to the same school as Prince Charles, so he has to be quite posh. Plus he loves letting everyone know that his parents raised him well, and that he is indeed a gentleman.
15. Binky Felstead
East Sussex girl Binky went to Taunton School in Somerset, and is sitting on an estimated net worth of £1.4 million. So yeah, the kid is probably going to do alright.
14. Fredrik Ferrier
The milky Icelandic hunk spent his youth between Surrey and Norway, and was educated at the London Oratory School alongside richer-than-rich classmate Francis Boulle. Still doesn't quite get it, though, does he?
He's also a classical musician who founded his own private art dealership so yeah, pretty posh.
13. Rosie Fortescue
Having attended the same school as the Duchess of Cambridge, Rosie knows a thing or two about class. Apart from, you know, when she shagged Millie's boyfriend. To friendship!
12. Julius Cowdrey
What's the archetypal sport of posh people? Cricket, of course – and cricket runs in the Cowdrey family's veins.
His granddad, Lord Colin Cowdrey, was captain of the England team; his dad Chris followed suit, while his twin brother now plays for Kent.
11. Daisy Robins
The only sport posher than cricket, of course, is polo – and Daisy's grandma was responsible for establishing women's polo in the UK back in the 1930s.
10. Oliver Proudlock
The man they call Proudlock went to Eton in the same year as Prince Harry, so obviously he deserves a spot in the top ten.
9. Georgia 'Toff' Toffolo
Her name is Toff.
8. Millie Mackintosh
Although her family have since sold the company, Millie's estimated wealth of £2 million comes from her granddad inventing Quality Street, the poshest chocolate in Britain (other than After Eights).
7. Jamie Laing
Of course, being the Quality Street heiress isn't that impressive next to the guy whose family invented the chocolate digestive and the rich tea biscuit.
Yes, Jamie Laing is the McVitie's heir, meaning every time you eat a Jaffa Cake you're paying for lil J's right to pardy.
6. Victoria Baker-Harber
A Chelsea girl born and bred, Victoria's past is something of an enigma. Judging from her Instagram, her surname and everything else about her personality, though, it involves a lot of money and a lot of time spent on yachts.
5. Olivia Bentley
Yes, Bentley. As in, Bentley. Have you seen her fucking house?
4. Spencer Matthews
Spenny's family own the luxurious Eden Rock hotel in St Barths, a stay at which might set you back around €1000 a night.
Even before the show started he was earning £100k  a year as a foreign exchange trader, as well as holding shares in his parents' hotel and various West London and South of France estates.
Which is all well and good, until your bosses make you do this.
3. Hugo Taylor
Hugo's dad is a QC. Hugo's mum works at Christie's. Hugo used to go out with Princess Eugenie. Hugo is friends with Chelsy Davy.
Need we go on?
2. Francis Boulle
Ah, Francis Maximilien Yvan Christophe Boulle. Francis Maximilien Yvan Christophe Boulle who has been thrice-featured as one of Tatler's "Eligible Young Bachelors"; Francis Maximilien Yvan Christophe Boulle who earns his fortune, like his parents before him, in the diamond mining industry.
Francis Maximilien Yvan Christophe Boulle is apparently worth over £10 million, and he wears clothes like this.
Go figure.
1. Mark-Francis Vandelli Orlov-Romanovsky
You knew it was coming – the man who shuns sleeping bags and thinks Nando's is a wine bar has the biggest claim to being the poshest person on MIC, even though he studied at UCL like a *shudder* normal person.
Mark-Francis' mum is a Russian princess called Diane Boulting-Casserley Vandelli. Mark-Francis' dad was an Italian industrialist.
If Mark-Francis met you, he would hate you. And isn't that what being posh is about?