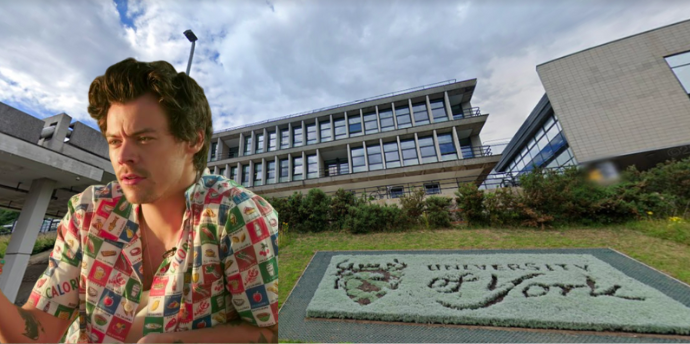 We spoke to The University of York's new Harry Styles Society
They have events such as a Harry Styles club night planned
Calling all Styles fans, a new Harry Styles Society has been set up at York. 
StylesSoc aims to create a "relaxed and inclusive environment" for casual enjoyers to superfans alike and has events planned such as a Harry Styles club night.
The York Tab spoke to the new society to see what they're all about.
https://www.instagram.com/p/CcvgG0dMVSV/
York is already home to the world's first Taylor Swift Society and so disappointment at the current lack of a Harry Styles society inspired the creation of StylesSoc. The group decided to "fill the gap" themselves, wanting to share their excitement about his new album with other fans.
"We want to provide a place to appreciate everything Harry from his music to his acting and his impact on pop culture and fashion, and to meet other people who share a passion for him," the StylesSoc committee said.
Looking ahead, StylesSoc already has a lot of plans for events and activities to launch the society, including a "very exciting Harry Styles club night in the works." They are also planning a casual bar meet up soon to get to know new members.
"We've got plenty of event ideas for the rest of the year." From Harry-themed fashion shows, album listening parties and movie screenings, StylesSoc has plenty in the works. In the long run, they aim to build a society that will "last for years to come" to allow as many people as possible to "share their love and appreciation for the talented human Harry is".
They stressed that the society is open to all fans, ranging from causal enjoyers to super fans. The committee said: "Fandoms can be a really toxic place but they can also be a very positive space and that's what we want. Even if you've just recently gotten into Harry's content, we want to make sure you'll be welcomed with open arms. There will be something for everyone!"
Finally, we asked them what they thought of Harry's ICONIC Coachella performance. They said his collab with Shania Twain was one they "did not see coming" but "are living for it". They also shared excitement over the new songs he played, saying that "we're in for a treat" with the rest of the album. For StylesSoc, the "cherry on top" was his outfit, and overall his performance has left them "excited to see what he does next and to hear the album!"
So whether you've been a hardcore Styles stan since his One Direction days, or if you've only recently started listening to his music, StylesSoc could be for you.
You can stay up to date with StylesSoc through their Instagram where they'll be sharing details about upcoming events
Related stories recommended by this writer:
• Here are six alternatives to Heslington Hall for your classic diss photoshoot
• Results are in for the ugliest building on the Uni of York campus
• Feeling old? Here are seven signs you're a third year at York