The best veggie and vegan places to eat in Nottingham
To put an end to the question: 'Where do you get your protein from?'
Attention veggies! Sick of hearing people tell you things like "your diet must be so restrictive", "what do you even eat though", "it must be so hard to eat out" and the all time favourite "where do you get your protein from?" Well now you can shut them up and show them with our list of the top places to eat veggie or vegan in Nottingham. And no, not one of them involves a salad.
Annie's Burger Shack
You just can't go wrong with a burger, and luckily for you this omnivore restaurant will let you have EVERY burger out of the 30 on the menu as either veggie, vegan or meaty. Yep, that's right, there's actually more than one option. It doesn't just stop there though, you can make all the sides and extras vegan/veggie too and there's even a breakfast menu. You may want to wear a pair of comfy trousers for this one.
Burger in the photo: 'The Sloppy Joe'
Average price: £12 for a mammoth portion of burger and fries.
Website: http://www.anniesburgershack.com
Alley Cafe
An all vegetarian cafe with loads of vegan options that also doubles up as a music venue…the perfect place for us basic bitches. The Alley Cafe serves everything from burritos to burgers to breakfast, all finished up with sweet treats and a vegan beer. Their vegan millionaires shortbread with ice cream is insane. And nothing on the menu is above £8!
Food in photos:
1. Tofu and butter bean curry with Bombay potatoes.
2. Falafel burger with wedges.
Average price: £10 with a drink.
Website: http://alleycafe.co.uk/menu/
Crocus cafe
This volunteer-led Lenton based cafe serves veggie food with a heart. It's Nottingham's oldest community café and not run for profit, meaning that the food is insanely cheap, with food sourced from supermarket surplus and almost always fair trade. Everything on the menu is vegetarian but there are multiple vegan options too, like the all day veggie breakfast with scrambled tofu in place of a fried egg.
Photo sourced from: _aytronnn on Instagram.
Food in photo: Vegan breakfast
Average price: £5
Website: http://www.crocuscafe.com/
Nottingham doughnut co.
In a basement shop in old market square a beautiful thing was created:  a vegan peanut butter and jelly doughnut the size of a human face. While it's clearly easy to eat sweet as a veggie, vegans have it that little bit harder to stuff their faces with all things sugar. But the Nottingham doughnut company are making it easy with a huge selection of doughnuts, each priced at only £2, with multiple vegan options available. Flavours can range from Oreo to biscuit spread and there's even the odd Cinnabon lying about. If you're going to visit the shop, make sure you've got plenty of time though, as queues often pile out the door.
Photo sourced from: time_is_nothing on Instagram.
Average price: £2
Website: https://www.facebook.com/TheNottinghamDoughnutCo/about/?ref=page_internal
The Peacock
Classically British food served up in a classically Victorian pub with a twist- everything is vegan. The pub scrapped its meaty menu this year in favour of vegan alternatives such a steak and ale pie, fish and chips and the famous Sunday roast equipped with a vegan Yorkshire pudding. Talking of pudding, there's a whole selection of them, including an amazing sticky toffee pudding.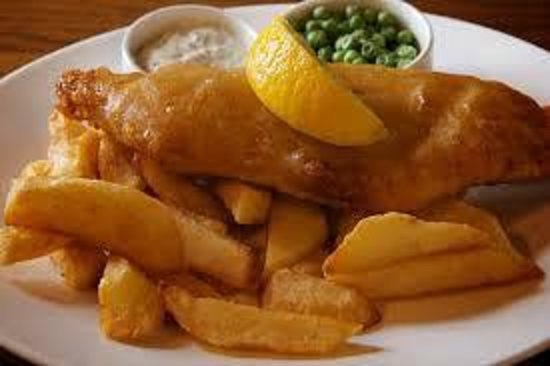 Food in photo: Fish and Chips
Photo to sourced from: Tripadvisor.com
Average price: ranges from £2-£8 (bargain!!!)
Oscar and Rosie's
An independent pizza place with a separate menu dedicated to the vegans. They'll be no "can I just have the vegetarian without the cheese" around here, Oscar and Rosie's have got all the fake meats and vegan cheese you could ever need on a pizza. Pizzas include a take on the classic ham and pineapple, a chicken feast and the standard margarita to name a few and come in 11, 14 inch or table lenghth sizes. Loosen your jean button and dig in.
Photo sourced from: frunkkawaii on Instagram
Average price: £10-£14
Website: oscarandrosies.com