I was initiated into a sorority on my year abroad in Mississippi
When I turned up at The University of Mississippi back in August, I had a vague idea of sororities being something that involved Greek letters and were exclusively reserved for blonde perfectly manicured girls, similar to those at the beginning of the movie Legally Blonde.
However I am now a member of Alpha Omicron Pi (AOII), so I was right about the Greek letters. What I have discovered though is that it is a far more complex system than originally appears, based on friendship and new traditions that are taken very seriously.
"The Brits" and Red Cups:
I arrived in Oxford, the town of the university, with three other girls from Edinburgh, however we quickly adopted Sophie, from Reading University, into our ranks. From the very beginning we were all referred to as "The Brits", a title that we even used when referring to ourselves. By the second week of the semester we had already fallen into the Frat and Srat trap, as the majority of our girl friends were in AOII and our guy pals in the Kappa Alpha order, although crashing Sigma Pi parties lead to some of our more crazy nights. The red cup thing is real, however the frat parties are more like sloppy nights at Edinburgh's Why Not rather than anything as macho as Zac Efron makes it look in the movie Bad Neighbours. Not to mention the frat boy look is in need of variety and should maybe branch out from the "dad wardrobe".
"Rush":
A couple of weeks into the semester, talk of recruitment came up and Alice suggested that it would be a quirky experiment to "rush" – that's what they call the recruitment process – and see if any of the eleven sororities on campus would take us. It's a week-long process, involving matching t-shirts, manic smiling, multiple mini-interviews and "best friend making". For instance on the first day we had to go round each house, and at each one a girl would come out screaming my name, then once she had located me, we would link arms and walk with beaming smiles into the house whose corridors were flanked by all the other members of that sorority singing in unison, clapping and smiling. There was a lot of smiling. So I was relieved at the end of the week, when I was seriously starting to question my own sanity, that I was officially invited to become a member of AOII.
Date nights:
Sororities really go in for organized fun. Similar to English Boarding School socials they have "date nights" where they book a bar for the evening, come up with a fancy dress theme, and everyone takes a date. It's the kind of evening that makes you feel you've gone back in time, maybe to some 1950's dance hall. In contrast to back home, where it's not really necessary to stay with your date all evening, in Oxford Mississippi there are unspoken rules. You can expect to be picked up by your date, have your dinner paid for, dance with them all night, and then be dropped back home before midnight. The girl is passive and coy… something I'm not sure any Opal Lounge-lover in Edinburgh really understands. Obviously these "rules" aren't compulsory so for many of the date nights I just took a friend, and had fun goofing around with the fancy dress.
Football:
A lot of people asked me during the Christmas break if I had become an avid American Football fan, and unfortunately the honest answer is no not really. I went to all the home games, wore the correct colour dress, shouted the chants, and ate the classic stadium pulled pork nachos, but never really learnt the rules well enough to care that much. Obviously I wanted the Ole Miss rebels to win, but where we were in the league didn't really bother me. I did watch some epic touch downs though, but mostly it was about seeing pals and going to Grove tents before or after the game.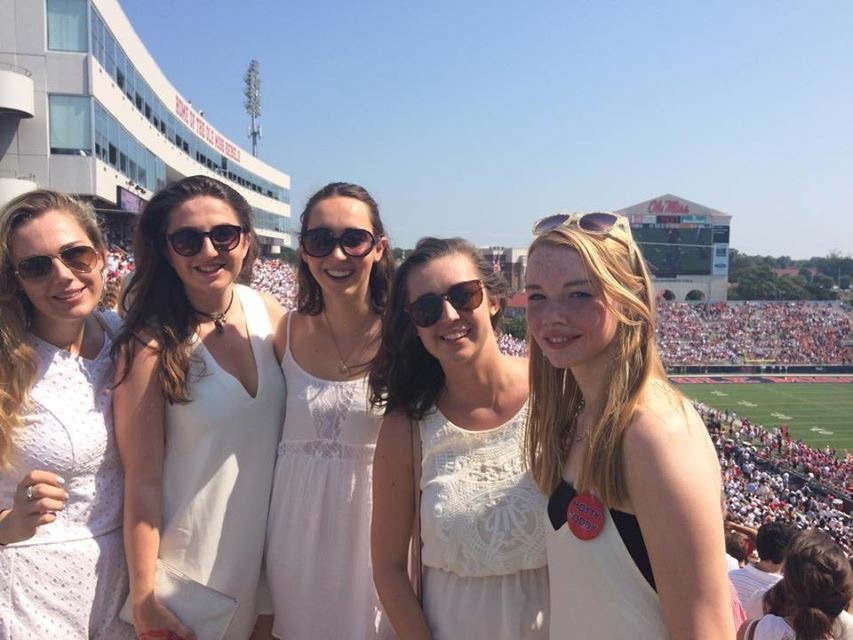 Official Initiations:
I only got officially initiated in my second semester, as we were all on trial for the first. Initiations only lasted a day and involved a ceremony that I vowed not to disclose the details of to anyone outside the Chapter. What I can tell you though is that we all had to wear white, like a multiple mini wedding, and the vows hold for life so the chant "AOII 'til I die" is real. Even though sororities often get a bad rep for being exclusive and cliquey, I will never regret joining AOII. The people I have met and the values that they hold are genuine and loving, and I'm just grateful they let me have a peek into their world.