Meet the Bristol third year who starred on Eggheads this week
They came, they saw, they lost
For the daytime telly addict, BBC's long running quiz show 'Eggheads' is required viewing. But for one Bristol student,  merely watching his favourite TV programme was not enough.
Michael Shennan, a third year historian appeared this week on 'Eggheads' alongside fellow members of the University Pool and Snooker Club.
We sat down with Michael to talk about his 30 minutes of fame, bantering with Jeremy Vine and the challenge of duelling with the intellectual titans of the 'Eggheads'.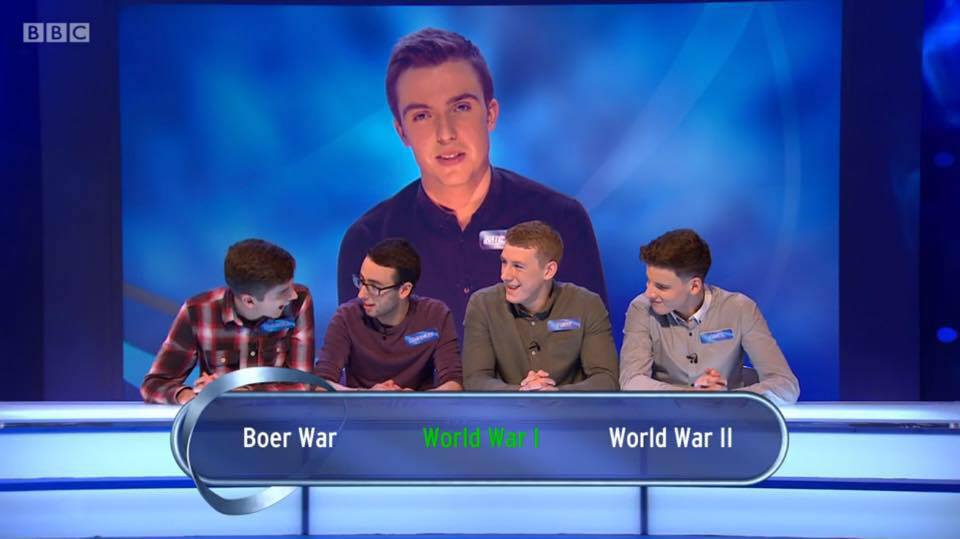 How long have you guys been quizzing together then?
Actually not that long at all. We all play pool and snooker together and quizzed separately, it was only in the couple of months before Eggheads was filmed that we really started taking quizzing at all seriously.
How did your appearance on the show come about?
A couple of the boys at UoBPSC are very keen quizzers who had been trying to get on various quiz shows for months. One of them saw an advert for an Eggheads application and asked around, and being as ludicrously overconfident as I am I thought I'd give it a go.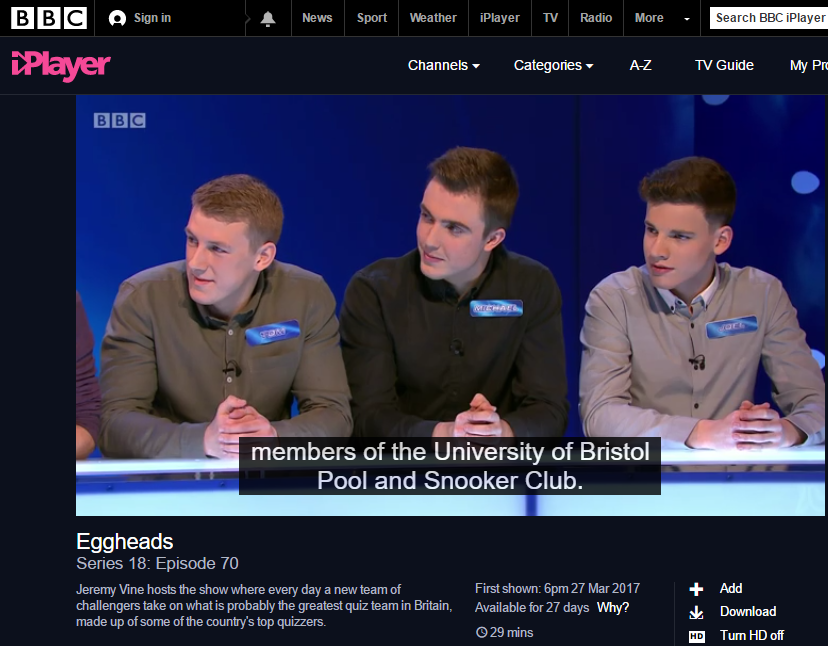 Prior to the show, did you do any prep work?
Well unsurprisingly for those of you who saw our appearance, we probably weren't as well prepared as we might have been. Most of us are in the latter stages of our degrees, so downloading the Eggheads app for the plane journey had to suffice. In fact, most of our prep involved coming up with stupid stories to say on national television, and in that respect we did excellently!
What were Jeremy Vine and the 'Eggheads' like? Did they intimidate you at all?
Not at all. They were actually really friendly, and getting to meet them before and after the recording was certainly a highlight. I don't think they or indeed the recording staff were used to having excitable, loud university students around but it seemed a pleasant change! Jeremy was as likeable calm and calculating as he comes across on TV, and he undoubtedly runs the show when he's on set.
What was it like getting a question on television right (and wrong)?
Well, when I went up for the 'Arts and Books' round I was nervous, given that as a final year History student I manage to spend more time with a cue in my hand than in the library. The first question of the three is usually fairly straightforward, so getting that right was more of a relief than anything. Honestly I wasn't that disheartened when I failed miserably at the following two questions; I'd been on national television and told a stupid story about an orangutan called Tiger Woods that will forever tarnish my name, anything else would have been a bonus!
Be honest: would you have rather been on Eggheads or University Challenge?
Eggheads was great fun as it wasn't too serious and we essentially had a two-day all-inclusive holiday to Glasgow (many thanks to the BBC) where we met some F-list celebs. That being said I do love making a fool out of myself, so perhaps going on University Challenge and getting more questions wrong would have suited me even better.
Finally, what lies next for the quizzers of UoBPSC?
Well unfortunately it seems like that 'The Potter's' have sunk their last ball (sorry), what with various exams and deadlines approaching. Hopefully next year UoBPSC will continue its tradition of television appearances (we also had someone on countdown this year) and move on to even bigger and better things.