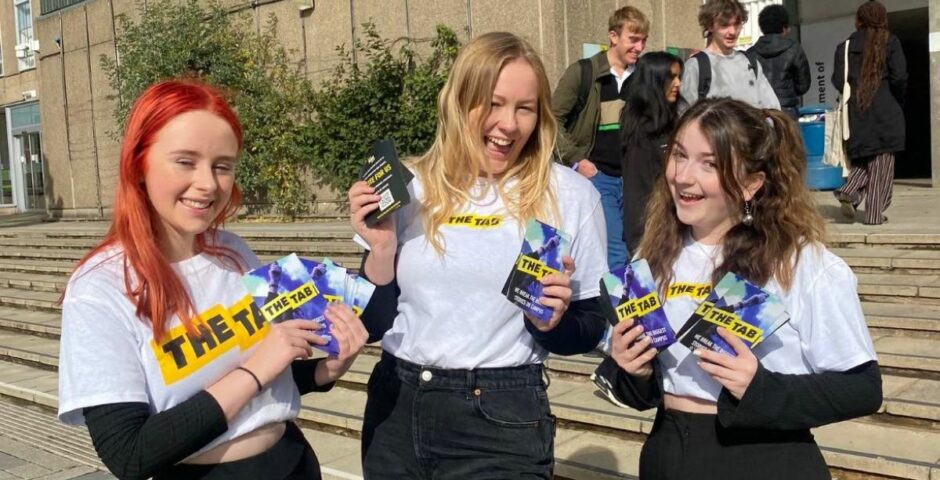 The Bournemouth Tab is looking for new writers and we want you!
Come meet us on the 26th September at 4pm in Dylan's Bar!
Looking to meet new people, create cool content, and be the first to know all the latest news in Bournemouth? The Bournemouth Tab is looking for new team members and we want you!
The Bournemouth Tab is written by Bournemouth students, for Bournemouth students. We will be kicking off with an open meeting on Tuesday 26th September at 4pm at Dylan's Bar on Talbot Campus. You can DM us on Instagram to find out more.
Whether you are an aspiring journalist, hilarious writer, meme maker, content creator or TikTok fanatic, anyone and everyone is welcome to come along and meet our editors. And the best bit is: you don't need any experience.
First of all, what actually is The Tab?
The Tab is a student news site across over 30 UK universities, with over 10 million monthly readers. Writing for The Bournemouth Tab, we'll share your stories to our The Bournemouth Tab Facebook and Instagram pages where we have over 7,650 combined followers!
We're passionate about writing stories for students that they actually care about in a style they actually enjoy reading. There is no limit to the range of stories we cover, we post a bunch of fun features whilst always looking for the next big scoop.
If your stories absolutely slap, they'll get crossposted on all our Tab pages, exposing them to a much wider audience.
We're the first to break stories in Bournemouth, covering important issues, we talk about mental health and hold the university and power to account.
Other Bournemouth news we've covered includes cladding similar to Grenfell found on a building that houses students, a Mumps outbreak on campus and reports of homophobia and racism.
We also do fun features, like how not to get screwed over by your landlord, going to every single 'Spoons in Bournemouth and ranking which is the best.
Why you should join us!
Flexibility and creative freedom.
Whether you want to write about strikes, student mental health and safety or the best spots for a hangover cure, you can write what you want when you want to. 
No minimum, no expectations, no pressure.
It's a CV booster.
In addition to being a recognised organisation to employers, the Tab provides you with the opportunity to practise a variety of skills that can benefit you in future professions. From writing, to organisation, to teamwork. And, most importantly, you can show them the articles you've written!
No experience required.
Even if you've never written an article, we welcome you! Get professional media training, and a platform to take your first steps into journalism.
Come to our open meeting on 26th September at 4pm in Dylan's Bar or message us on Instagram!