Barbarian is the wildest horror film of the year, so here's the chaotic ending fully explained
My jaw is still on the Cineworld floor
If you didn't spend your Halloween weekend at the cinema watching something spooky, you did it all wrong as far as I'm concerned. We've been spoilt for choice with horror releases this year, with Halloween Ends and Smile still playing. But it is Zach Cregger's much hyped Barbarian that has got people talking – and this is the entire chaotic ending fully explained.
Major spoilers for Barbarian ahead – but if you've come to an ending explained article wary of spoilers I think you may be in the wrong place!
This film is truly wild
The power of Barbarian is that it's a film that is constantly playing with your expectations. This is a film that knows where you think a horror film is about to go, and can't wait to take you somewhere else.
We start with our heroine Tess (Georgina Campbell) arriving at an Airbnb in Detroit. When she gets there, there's no key in the lock box and the rental company won't answer the phone. A light goes on in the house, and a man (Bill Skarsgard) opens the door – he's already renting the Airbnb.
Tess and Keith both have correct booking details and dates and the agent has double booked. Keith invites Tess in and despite her unease, she enters. Tess is (understandably so) suspicious of Keith, and Keith seems to be trying his very hardest to look non-threatening. Tess eventually warms up to Keith and the two bond. She's in town for a job interview, and he's a musician in the same industry she's going for an interview in.
The next day, Tess is chased by a homeless man when she gets back to the house and Keith is not back yet. She rings the police, but they're not interested. When she goes down to the basement to get some toilet roll, she ends up locked in. Tess then finds a secret passage that reveals a room with a dirty bed, a video camera and a bucket in it – and a bloody hand print on the wall.
Keith comes home and Tess manages to drop the key to the front door out to him through a small window in the basement, and he opens the basement door as she rushes to leave. Keith wants to see the basement for himself before she leaves and asks Tess to wait for him. He doesn't come back out.
Tess shouts him and gets a faint shout of help back, but after she nervously goes down he is nowhere to be seen. A faint shout still comes from the basement, but after Tess checks she can't find Keith anywhere. That's until she uncovers ANOTHER door that takes the basement into even deeper depths.
Uh-oh
In the second chamber, Tess finds cages and keeps following the screams of Keith – who she finds and who claims something bit him. The two are then attacked by a giant and deformed naked woman who smashes Keith's head into the wall, killing him.
The film jump cuts to LA, where we meet actor AJ as he cruises in his convertible by the sea. He is rang and sacked from the pilot of his new show after his co-star accuses him of rape. It turns out that AJ is the owner of the house in Detroit that Tess and Keith are at, and to cover his legal fees after the accusations he flies to Detroit to go about selling the house.
When he arrives, we're told two weeks have passed since Tess and Keith were attacked – and he's shocked to find their belongings there. Eventually, AJ too descends into the basement and is chased by the woman, referred to as the Mother, when he falls into a hole and finds Tess trapped in there.
The Mother wants them to be her baby, and tries to feed Tess and AJ milk via a bottle. When AJ refuses to drink it, the Mother drags him up to her room and forces him to breastfeed. This gives Tess her chance to escape, as she flees for the window in the basement and gets dragged to safety by Andre, the homeless man who chased her earlier.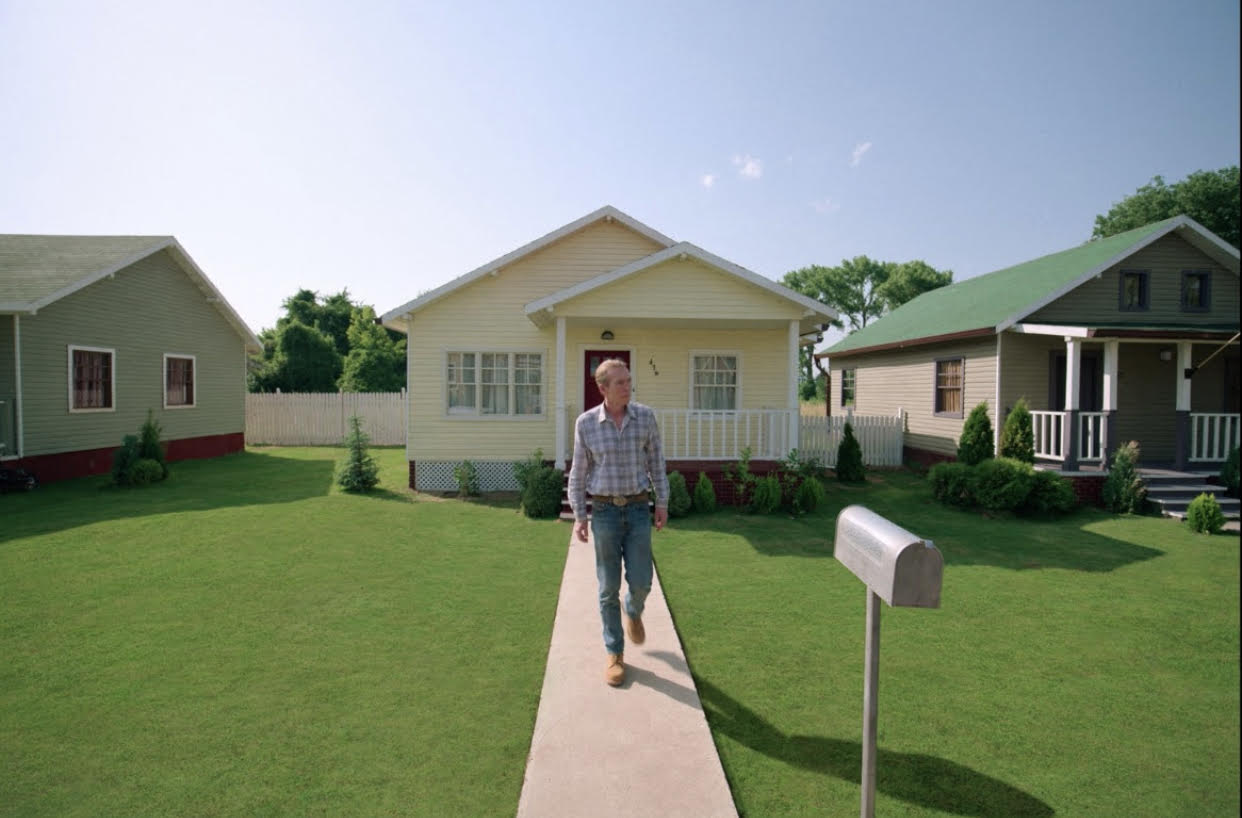 Andre warns her again about the neighbourhood – and the film jump cuts back to the Regan era when the Detroit neighbourhood wasn't dilapidated. The house's original owner is Frank – a serial kidnapper who would kidnap women and lock them in the basement, raping them and then raping the children the women fell pregnant with. The Mother is the product of generations of incest – and Frank is still in the basement, AJ stumbles upon him and sees all Frank's tapes of his crimes. Frank then shoots himself.
The chaotic ending of Barbarian explained
Unaware of AJ's sexual predator nature and the fact he's just an all round dick, Tess goes back to save him. An unexpecting AJ shoots Tess, injuring her. He helps her out the house, but the two are pursued by The Mother. Andre ushers them into his hideaway under a water tower where he says the Mother has never found him in 15 years. She then breaks in and murders Andre brutally – he reallyyyy jinxed it.
AJ and Tess run up the water tower in fear, and in the most shocking moment of the film AJ throws Tess from the tower to distract the Mother and save himself. The Mother launches herself off to save her "baby", and her and Tess lie on the road below. When AJ goes down, he sees that Tess landed on the Mother and that she's still alive. He tries to help her up, but the Mother snaps up, gouges his eyes out and kills him.
She tries to take Tess back to the house, but Tess shoots her and escapes – our final girl is free. What a bloody ride.
For all the latest horror news after Barbarian ending explained and for drops, quizzes and memes like The Holy Church of Netflix on Facebook. 
Related stories recommended by this writer:
• This is what your Halloween costume says about you this year
• A list of things you'll only remember if you went to tragic Halloween parties growing up
• This is what everyone is dressing up as for Halloween, according to Google